4 Inch Memory Foam Mattresses - Reviews Of Popular 4 Inch Mattress Toppers
4 inch memory foam mattress toppers offer just enough thickness to enhance but not compromise the softness or firmness of a mattress.

A lot of consumers don't feel much of a difference with their 2-inch or 3-inch mattress pads.

These thinner mattress pads also provide minimal protection for the mattress, which should be another role that mattress toppers play.

So if you want your mattress topper to make a bigger difference and to protect your mattress better, you should get a 4 inch memory foam topper.

A lot of consumers have shared positive reviews about these thicker, fuller toppers.


Most Popular 4 Inch Memory Foam Mattress Toppers
Serta Ultimate 4-inch Memory Foam Mattress Topper

One of the most widely reviewed and raved-about 4-inch mattress toppers is the Serta Ultimate 4-inch memory foam mattress topper.

Overstock customers give it a 4.6 star rating, Viewpoints a 4.3 rating, and Buzzillions a 4.5 rating. More than 2000 consumers have pitched in with their own comments about the Serta Ultimate 4 inch mattress topper, with a satisfaction rating of 94%.

The Ultimate really seems to live up to its name. It is made of high quality high-density visco-elastic memory foam that's very effective in reducing pressure points and preventing tossing and turning at night. Its 4 inch thickness and 4 lb. density provide the perfect combination of comfort and body-contouring support and reacts effectively to your body's temperature.

The mattress topper also resists dust mites and other allergens and bacteria to protect both you and your mattress.

Positive consumer reviews:
Good price; a bit expensive but offers excellent value for every penny
Great for back pain, arthritis
Very comfortable
Works for a wide range of sleeping preferences; great for sleeping partners
Relieves pressure points
Reasonably priced
Negative consumer reviews:
The foam has a smell, but can be covered up by using bed sheets
Takes two to three days to air out
Does not come with a cover so you'd have to buy one
Despite some disadvantages, the Serta Ultimate 4 inch mattress topper nevertheless leads the market. You can also check out another widely reviewed Serta memory foam mattress topper, also at 4 inches: the Rejuvenator, which is available at a much lower price of just around $90.

Praxis Enviro-Green 4-inch Memory Foam Mattress Topper

Praxis is gaining greater recognition in the mattress industry thanks to the positive response its products are getting from consumers. Just as its mattresses are receiving a warm response, its mattress toppers made of high quality but affordable memory foam are also gaining quite a following.

The Enviro-Green is Praxis' 4-inch memory foam mattress topper, which costs only about $170 and has a 4 star rating.

Positive consumer reviews:
Memory foam conforms nicely to your body shape
Quite affordable
Great for sore spots
Environment-friendly
The 4-inch thickness means the mattress topper can be used as a platform mattress on its own in case there are extra guests in the house
Cover is easy to insert with zipper on three sides
Enough thickness to cushion your body
Negative consumer reviews:
Takes time to air out
Has a bad smell that was rather strong, but this went away when aired out properly
Some consumers found it too soft
Very heavy
Did not come with a cover
The strongest features of the Praxis topper are its comfortable memory foam and its affordable price.

Soft Sleeper 4 Inch Memory Foam Mattress Pad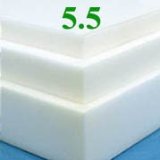 Soft Sleeper 4 Inch Mattress Topper

Reviewers also recommend the Soft Sleeper 4 Inch Memory Foam Mattress Topper for those looking to add a few extra inches of cushioning to their mattress. This model boasts a high rating but is available at a pretty reasonable price.

By investing less than $200, you get a long-lasting memory foam mattress topper made with high density foam.

Positive consumer reviews:
Can ease pressure points and prevent tossing and turning
The memory foam feels like gel and conforms to the body
Adjusts to your body to distribute your weight evenly
Very affordable
Can prevent motion transfer
These 4 inch memory foam toppers can transform your existing mattress into a memory foam bed and the 4 inch thickness can certainly cover up whatever problems you may have and let the memory foam do all the work.






Related Articles
Novaform Mattress Review - Sleep Innovations Novaform Memory Foam Mattress Is Budget-Friendly - Compared vs. Tempurpedic models, Sleep Innovation's Novaform memory foam mattresses and toppers are affordable alternatives.
Serta Gel Foam 3 Layer Mattress Review - The Serta Gel Foam 3 layer mattress is designed to deal successfully with the common complaints of sleeping hot and sinking uncomfortably deep into memory foam.
Memory Foam Mattress Comparison - Guide To Memory Foam Mattress Ratings - Compare memory foam mattresses to make sure you get the best model. Contrary to popular belief, Tempurpedic is not the only company that manufactures memory foam mattresses.
Return From 4 Inch Memory Foam Mattress to Mattress Topper Reviews
Return From 4 Inch Mattress Toppers to Mattress Wiz Home