Air Mattress Reviews
The Best Air Mattresses Are Portable And Affordable
Air mattress reviews can help us determine what is the best air mattress on the market. They also tell us that a full, queen or king size air bed can be a great solution if you need a spare bed on short notice.
An inflatable mattress can even serve as a surprisingly comfortable replacement to a more traditional type of bed. The most important thing is to choose one that will allow you to get the proper rest that you deserve.
Choosing the right kind of bed is hard, but thankfully today you can use the internet to read air bed reviews to find out who makes the best air beds or do extensive research on other types of beds.
For instance, if you want to purchase an inflatable air mattress for camping, guests, or a permanent bed, there are literally hundreds of air mattress reviews available for you to read to ensure you're getting the best air mattress on the market.
Within the industry there is a wide variety of air bed styles from which to choose. In order to find the best air mattress that suits your needs, think of the single most important quality you are looking for, whether it be cheap, easy-to-use or durable.
You will find that if you take in a wide variety of opinions, the right choice for you becomes clear. We recommend these models that scored well in air mattress reviews...
Top Rated Air Mattresses
Best Air Mattress For Long Term/Everyday Use
The Wenzel Insta-Bed Queen Raised Sure Grip Bottom Airbed is relatively more expensive than most air mattresses, but consumers find it is worth every penny.
This is the best air bed for you if you're using an air mattress everyday as a permanent bed. With over 400 reviews on Amazon.com, this air bed scores a solid 4 star average customer rating.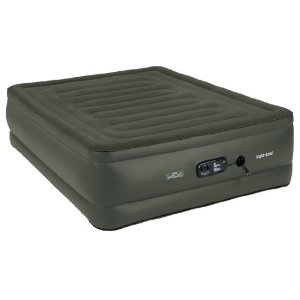 Wenzel Insta-Bed Queen Raised
Sure Grip Bottom Air Bed
And with its super-convenient inflatable setup, it can also be used as an overnight guest bed.
The Wenzel Insta-Bed has plenty of positive features:
Rises 22 inches off the floor, giving it the same height as a regular mattress.
Hold air very well - doesn't need to be inflated often.
Easy to setup - the built in Insta-III AC 120-volt pump inflates and deflates the bed.
Easy to store - just deflate and slip it into the included nylon carry bag.
Very stable. The underside grips keep the bed from sliding.
Comfortable and luxurious - the flocked top feels soft to the touch.
Unique flex coil construction helps keep your body in a stable position all night.
This top quality air bed is from Wenzel, a brand marketed and produced by American Recreation Products. According to inflatable air bed reviews, its reliable and high-quality construction gives it several key advantages, such as longer air retention and equal pressure distribution. Both advantages help make it as comfortable as a regular mattress.
Best Air Bed For Guests Or Temporary Use
The 2011 Intex Queen Supreme Pillow Top Ultra Plush Deluxe Airbed is known as the best air mattress specifically designed for guests. There are many reasons why both you and your guests will love this airbed. Here are some of them:
Feels soft and comfortable. Made of quality tested 21.2 gauge or 0.53mm flocked top and sides that are super soft to the feel. This makes sure your guests will feel right at home.
Waterproof surface helps protect it from perspiration or spills.


2011 Intex Queen Supreme Pillow Top
Ultra Plush Deluxe AirBed Guest Mattress

More stable than other airbeds. The durable 15 gauge bottom has special contours that grip the floor better, giving the bed extra stability.
Added stability makes it easier for guests to adjust to the unique feel of an air bed.
Raised design rises 18 inches off the floor, high enough to make it feel like a real bed.
Inflates in 4 minutes.
Easy to setup. The built-in electric pump is ideal for when you need to prepare a guest bed fast.
According to air bed reviews, consumers are impressed with the feel of the pillow top, which has enough give to accommodate the unique curves of your body.
They also liked the raised lip along the sides of the bed, which means your guests won't roll off the sides even if the airbed is accommodating two people. And with the mattress selling for under $60, consumers find it a great buy.
Coleman Air Mattress Review: Coleman 4-in-1 Quickbed
Coleman has been a household name in outdoor and camping products since its beginning in 1900. They are best known for their camping stove but have developed a solid reputation for quality, dependable products to fit all camping needs.

The Coleman 4-in-1 Quickbed gets very positive air mattress reviews from consumers and is one of their highest rated products. It is an inflatable bed designed to be used as a spare bed for guests. It is a two piece unit that can be used in four different combinations for a variety of purposes.

The two twin-sized beds can be used as two separate beds or zipped together to form one king sized bed. Another option is to stack one bed on top of the other to create a bed that is higher off the floor and easier to get in and out of. The beds snap together to hold them securely in place.

The Coleman 4-in-1 air mattress is constructed with a coil system that makes it more comfortable than an ordinary air mattress. A double lock valve makes it easy and fast to inflate or deflate and it is designed to be puncture resistant. It can be rolled up into an attached bag for storage.

Most air mattress reviews agree that you shouldn't rely on the Coleman bed for long term use, but its price makes it great for camping or road trips.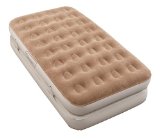 Coleman 4-In-1 Quickbed
Uses standard sized sheets
Versatile, use for guests or camping
Converts from king size into two twin size mattresses or one double-high twin
Rolls up into attached bag for handy storage
Leak free guarantee
Best AeroBed Air Mattress
The Aerobed Guest Choice Inflatable Bed is an inflatable mattress designed to provide you with an instant guest bed that is more comfortable than sleeping on a sofa or in a sleeping bag. It works well in a variety of situations from the dorm to home.

The AC pump makes inflating it fast and easy to do and the coil construction provides plenty of support and comfort. Using the integrated pump you can have it ready to sleep on in less than 60 seconds and deflating the mattress takes just 15 seconds.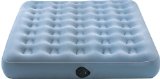 Aerobed Guest Choice Inflatable Bed
This AeroBed air mattress is 8 inches thick when inflated, has a soft sleeping surface and uses standard sized sheets. It is made of non-allergenic PVC vinyl that is puncture resistant and rolls up for easy storage. It comes with a one year limited warranty.
This model is one of the best selling air mattresses and is available in two sizes. The twin size will hold up to 450 pounds and is 74" long and 29" wide. The queen size will hold up to 750 pounds and measures 78" x 60". Prices are reasonable at $55 for the twin and less than $80 for a queen size.
Easy to store and transport
Comfortable sleeping surface
Great spare bed for guests or travel
Quick and easy to inflate and deflate
The Intex Raised Downy Queen Airbed with Built-in Electric Pump is designed to provide a portable sleeping option on a raised air bed platform. It is also a great choice for camping or use outdoors.

A built-in electric pump makes it easy to inflate and deflate the air mattress and it is equipped with dual air chambers. It is better to buy an air mattress with dual air bags than a single air bag because it allows you to adjust the firmness separately. Extra air in the lower half provides the firm support of a box spring and while a softer inflation on the top provides the comfort of a mattress.

This queen-sized air bed mattress measures 60" x 22" x 80" and has a 600 pound capacity. When inflated it is 22" off the floor. Indented on the sides, fitted sheets stay comfortably in place. The top of the mattress is covered with waterproof flocking for added comfort and reliability.

It comes with a duffle bag for storage and a shoulder strap for carrying. Priced at about $55.
Raised queen size air bed mattress
Built in electric pump
Two chambers
Waterproof
Read More: Read The Full Review
Air Mattress Pros and Cons
Possibly the greatest advantage of an inflatable mattress is its portability. Unlike traditional mattresses that are stuffed with solid material, air bed mattresses are only stuffed with air. This means that they can be deflated and rolled up to a fraction of their original size.
Most models are also much cheaper than other bedding options. Some of the best air bed mattresses cost less than one hundred dollars and will last years with proper care.
However, despite these advantages, there are some precautions you need to take while using your air bed mattress. They are not as durable as traditional mattresses. It is extremely important to keep them away from sharp objects.
They also should not be used as children's beds because of the risk of frequent punctures. Air mattresses, even when properly taken care of, may not get a puncture or tear, but they will develop a slow leak.
If you are using one for your bed every night, you'll find that you need to pump it up every few days to one week. One the other hand, this also makes it very easy to adjust the firmness of the mattress.
Some people also complain that they find it difficult to sleep on the rubbery texture of an air bed mattress, even when it is covered with a sheet. When this problem is addressed in air mattress reviews, most people advise using a quality mattress topper over the bed before you put on the fitted sheet.
No other mattress is more affordable than an air mattress. You'll also find that they are more portable than other types of beds. However, if you are looking for guest bedding, futons are more versatile and durable than air mattresses. They are also quicker to set up at night and better for use during the day.
Overall, inflatable air beds receive good air mattress reviews. The best air mattresses we just reviewed are praised for their quality, prices and their versatility.
Even if you already have another bedding solution, keeping an air mattress in the closet is a surefire way to have an extra, comfortable bed at a moment's notice.
Related Articles
AeroBed Air Mattress - Sleep on the Great Value of Aero Air Mattress Beds - AeroBed air mattresses have been keeping consumers consistently happy. When you compare air mattresses you will find owners are extremely satisfied with their Aero air mattresses.
Air Mattress Guest Bed - Intex Raised Air Beds And Other Models For Your Guests - An air mattress guest bed is an excellent item to keep handy. Guest beds have different requirements from beds that are used every day.
Intex Air Mattress Reviews - Why Intex Air Beds Are Taking The Market By Storm - An Intex air mattress may be the solution to your sleeping woes. Intex is one of the top three names that offer the market's most popular inflatable air beds.
Queen Size Air Mattress - Best Models From Coleman, AeroBed And Others - A queen size air mattress is practically the perfect portable guest bed option and it is just the right size.
Simmons Air Mattress - Simmons Beautyrest Air Bed Reviews - A Simmons air mattress can let you have an air bed with the trusted quality and benefits of the famous Beautyrest mattresses, which are carried over to the Simmons BeautyRest air bed collection.
Intex Raised Downy Queen Airbed with Built-in Electric Pump Review - Our in-depth review of the inflatable Intex Raised Downy Air Bed reveals why it is one of the very best air mattress choices on the market, either for camping, sleepovers or accommodating guests.
Share Your Air Mattress Review!
Have you ever owned or slept on an air mattress? Tell us what you thought of it!


Consumer Air Mattress Reviews
Click below to see reviews posted by other visitors to this page...

Return From Air Mattress Reviews to Mattress Buying Guide - Home
More Reviews
Coleman Air Bed - Features, Technologies And Best Coleman Air Beds - A Coleman air bed is one of the best choices you can make. Coleman has made a name for itself in the outdoor equipment market.
Camp Mattress Reviews - Best Air Beds For Camping Looking for the best air mattress for camping. A good camp mattress is a must-have for every family who loves camping.
King Size Air Mattress - Plenty Of Sleeping Space With King Size Air Beds - A king size air mattress can be particularly useful in larger households. Just inflate the king size air bed and there's plenty of space for everyone.
Serta Air Mattress - Best Serta Air Beds Reviewed - The Serta air mattress collection consists of inflatable air mattresses that can come in handy when you have guests over or you need an extra bed and you don't want to make a big investment.
Finding The Best Air Beds - Reviews Reveal The Number One Convenience Sleep Solution - A comparison of air beds, reviews from consumers, and air mattress technology reveals that consumers are rating air beds with greater overall satisfaction and attaining greater comfort than ever before.
Aero Bed Queen Size Mattress - Best Deals and Popular AeroBed Models - An Aero Bed queen size mattress can help you make your guests feel right at home and can also give you a durable, cool, and affordable mattress that offers an excellent combination of comfort and support.
Full Size Air Mattress - Comfortable, Convenient, and Affordable - A full size air mattress is designed to give you a sleeping experience that is not far from sleeping on an actual full-sized regular bed, except that your mattress is lighter, easier to move around, and can be deflated when not in use.
Best Air Mattress - What Is The Best Inflatable Air Mattress For Different Needs? - Air mattresses are most useful for families with a knack for outdoor activities, but it has become a common thing to have at least one air mattress for use by unexpected guests or for spare bedrooms.
Eddie Bauer Air Mattress - The Eddie Bauer Air Bed - The Eddie Bauer air mattress is blazing its own trail in the air mattress industry. It has one of the most colorful air bed collections, both literally and figuratively.
Share Your Review!
Have you slept on an air mattress? Tell us what you thought of it!
Air Mattress Consumer Reviews
are all written by visitors to this site. You can help others make a better buying choice.
---
Like Mattress Wiz? Please Tell A Friend
---
Please Take A Quick Poll
&nbsp