Best Crib Mattress - Because Your Baby Deserves the Best
The best crib mattress is definitely a must-have in your baby's room. Your baby deserves the very best, so there's no reason to settle for anything less.



Baby crib mattresses can make a huge difference in the growth and health of your baby. Good mattresses can offer excellent posture, plenty of protective cushioning, and comfortable surface feel for your baby's sensitive skin.

They can help your baby sleep soundly through the night. However, bad quality mattresses can make your baby irritable and can cause discomfort. Low quality crib mattresses have also been associated with SIDS or Sudden Infant Death Syndrome.

Therefore it is not just important to find the best crib mattresses - it is a must.

Unfortunately, choosing is not an easy task. You have different types to choose from, and after that, different brands, then different models. You have to decide on the firmness level of the mattress, on whether you get a foam mattress or an innerspring mattress, and on how much you are willing to pay.

For babies, the best crib mattresses should have a relatively firm surface so they won't move out of position, which can be dangerous for infants. In terms of performance, foam and innerspring mattresses both provide good cushioning and support, so this is a matter of preference and budget since foam mattresses are typically more affordable than coil mattresses.

So which mattresses offer the best packages of quality, value, and price?


Best Crib Mattresses in Quality, Value, and Price
Best in Quality: Naturepedic No Compromise Organic Cotton Classic 150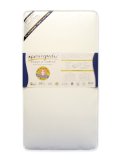 Naturepedic Organic Cotton Classic 150

If you want the safest, healthiest and best quality crib mattress for your baby, your number one choice (and also the number one choice of a lot of mothers out there) is definitely the Naturepedic Organic Cotton Classic 150 crib mattress.

Priced around $260, this reliable mattress features a fully organic cotton surface to provide superior comfort feel for your child and a luxurious but breathable waterproof finish.

The use of organic cotton for both the surface and the filling means that the Naturepedic crib mattress will not release any harmful chemicals or gases thus ensuring a safe, non-toxic environment for your baby's maximum protection.

Also, according to the Consumer Product Safety Commission, the recommended crib mattress for babies is firm and flat and Naturepedic achieves this with its firm innerspring construction.

Pros:
100% organic cotton, no toxic chemicals
Designed under direction of an engineer from American Academy of Environmental Engineers and a qualified professional from Institute of Environmental Practice
Has exclusive non-toxic fire protection features
Heavy duty border rods and center support
Firm and very comfortable
Best Value: Colgate Classica I
Colgate Classica I

Priced reasonably at $150, the Colgate Classica I crib mattress nevertheless boasts the highest quality standards in terms of health and safety for use by infants. The Classica I, however, is an extra firm foam mattress for those who prefer the extra firm surface for their babies.

Passing the standards of several medical experts, the mattress has a lightweight, breathable foam construction that's safe and healthy for infant use.

Pros:
Eyelet vents added for breathability
Strong seams
Wet-proof
Tear-resistant
Triple layer of protection with vinyl cover
Very affordable
10 year warranty
Best Crib Mattress at a Budget-Friendly Price: Sealy Baby Ultra Rest
Sealy Baby Ultra Rest

If you want a great crib mattress that you can easily afford, with no sacrifice in quality, there's the Sealy Baby Ultra Rest crib mattress. This often tops the charts and gets top ratings from experts and consumers alike.

The mattress is made with 204 heat tempered coils and steel vertical support bars to evenly distribute the baby's weight. And to provide the perfect balance of cushioning and support, the Baby Ultra Rest comes with three non-allergenic layers, two for support and one for cushioning.

Pros:
One of the most comfortable crib mattresses
Border rods around the whole mattress keep edges firm
Not too soft, firm for safety
Non-allergenic
Fits snugly in crib
Waterproof, but without plastic sound

Now that we've rounded off the top three best crib mattresses for different needs and different budgets, it's just a matter of determining which one suits your child best.






Best Crib Mattress - Related Articles
Related Articles
---
Like Mattress Wiz? Please Tell A Friend
---
Please Take A Quick Poll
&nbsp