Best Mattress Topper
Top 3 Mattress Enhancers For Your Needs

The best mattress topper has to be able to do a lot of things. But to understand how to choose the right mattress topper, it helps to go back to the basic objective of a mattress topper.

A mattress topper, which also goes by other names such as mattress pad, mattress protector or mattress enhancer, is additional bedding that is placed on top of your mattress. This is removable and besides increasing the comfort of your bed, is designed to do two things.

First, it has to provide more protection from any unwanted particles that may be sitting on your mattress such as dust mites, mold, allergens, and so on. Second, it has to provide protection for the mattress. Mattress toppers can also help extend the life span of a mattress.


The Best Mattress Topper Overall
If you want the best possible mattress topper and price is not a factor, then you should go for the Homedics Luxurious Comfort 3 Inch Memory Foam Mattress Topper.

Priced at $250, even the name of the mattress topper itself denotes what it is and what it offers: luxury. Combining the top features and technologies available in the mattress topper industry, the Homedics Luxurious Comfort mattress topper is definitely the most comfortable and the plushest memory foam topper there is.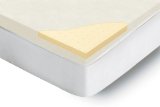 Homedics Luxurious Comfort Mattress Topper

The Homedic offers 3 inches of premium memory foam to give you 3 inches of extra padding. The memory foam technology is exactly what a professional-grade memory foam should be, with less motion transfer and a good mold.

The 3 inches provide enough additional padding even for people with heavier builds. Aside from that, the Homedics memory foam mattress topper is known as the best mattress topper because of its CoolCore ventilation system which ensures breathability and keeps you cool and dry all night long.

This mattress topper also comes with an integrated skirt that can fit up to 18-inch mattresses. The pillow top is also made of 100% cotton to maximize your comfort feel.

Homedics is a well-established manufacturer of mattress toppers and they have gained respect for the Luxurious Comfort mattress topper as well as for its other memory foam offers which are often included in most lists of the best mattress toppers.

One example of this is the Temp-Rite model, which offers 2 inches of memory foam with almost the same quality as the Luxurious Comfort. Most of its memory foam toppers, however, come with the CoolCore ventilation system.

Learn more about the Homedics 3 Inch memory foam mattress topper at Amazon.


Best Mattress Topper Based On Value for Money
If you want to get the best possible value out of your investment, you should choose your mattress topper wisely. One of the best mattress toppers that squeeze in as much value as possible to your purchase is the Visco2 ventilated mattress memory foam topper offered by Sleep Studio.

This is a relatively new item that provides a balanced combination of support and comfort while also regulating the right temperature to keep you healthy and comfortable when you sleep.

The Sleep Joy 2 Inch ViscO2 Ventilated Memory Foam Mattress Topper is known as one of the best mattress toppers that use memory foam. The memory foam is a type of foam that conforms to the shape and contour of your body.

This helps make the mattress topper as comfortable and supportive as possible. The memory foam mattress toppers are the best mattress topper type because it eliminates motion transfer, offers support for the entire body, and are very durable.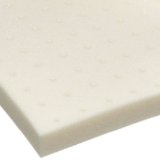 Visco2 Ventilated Memory Foam Mattress Topper

The Sleep Studio, however, is best even in the memory foam comparison because it is able to return to its original size in less time than standard memory foam toppers.

The Sleep Studio Visco2 is also especially breathable. It boasts of 5 times more airflow than other memory foam mattress toppers, thanks to its 3-zone ventilation system. The product is also treated to provide anti-microbial and anti-bacterial properties.

Aside from that, it is made using natural and environmentally friendly materials. The mattress topper is available in thicknesses of 2 inches and 3 inches.


The Best Mattress Topper with Best Price
If you are searching for the best mattress topper with the best price, your best bet is the Sleep Better 2 inch Visco Elastic Memory Foam Mattress Topper, which is a bestselling item on Amazon.

This mattress topper sells for only about $75 for the queen size. It provides 2 additional inches of comfort to your mattress for a very reasonable price.

The firm 2 inch topper is also more ideal for those who prefer their beds firm for extra support and a no-sag feel. It also helps relieve pressure points to make you comfortable and healthy.

The Sleep Better mattress toppers are made of 100 percent foam and are guaranteed clean and long-lasting. It has 2 1/2 lbs of density in each cubic foot. According to consumer reviews, the mattress topper from Sleep Better really helps you to sleep more soundly and to prevent frequent tossing and turning by ensuring a comfortable feel.

And while some low-cost mattress toppers tend to make the users sweat, this is not the case with the Sleep Better mattress topper, even if it costs you very little. This is because the Sleep Better mattress topper uses a special feature called temperature-smart, which uses an open cell foam that helps keep everything cool when you sleep.

This is why it is known as the best mattress topper at a budget price.


The Most Ideal Type of Mattress Topper
A lot of people are confused about which makes the best mattress toppers: the memory foam toppers, the latex foam toppers, the feather and down toppers, or the wool toppers. Each type has its own advantages and disadvantages.

The memory foam models are considered some of the best because they are not too soft and not too hard and provides you with the best comfort and support combination.






Related Articles
Best Mattress For The Money - Best Queen Mattress Under $500 - What is the best mattress for the money? Compare reviews of the best queen size and memory foam mattress under $500 and choose the best value for your money.
Sleep Joy 3 Inch Memory Foam Mattress Topper Review - The Sleep Joy ViscO2 Ventilated Mattress Enhancer can add a welcome layer of cushioning to your bed while helping to keep you cool while you sleep.
Mattress Topper Reviews of Tempur-Pedic, Latex and Memory Foam Toppers - Reviews of latex, memory foam or Tempurpedic mattress toppers which are becoming increasingly popular.
Return From Best Mattress Topper to Mattress Ratings
Return From Best Mattress Toppers to Mattress Wiz - Home
Popular Pages
---
Like Mattress Wiz? Please Tell A Friend
---
Please Take A Quick Poll
&nbsp