The Best Mattresses For Modern Sleepers
What Is The Best Mattress For The Money? Finding the best mattress for your bed is not an easy task. Far from being just another piece of furniture, a mattress is an important part of daily health and well-being, and choosing the right one is instrumental to good sleep and a happy home.
Shopping for top rated mattresses can be tedious. With so many choices and a virtual sea of manufacturers and model types, finding the best mattresses possible can seem like a serious chore.
Through discovering what makes a mattress great, however, and understanding personal needs and preferences, a perfect match can be singled out for years of satisfaction and comfort.
Whether in search of the best mattress for back pain, the best memory foam mattress, or even an air bed or crib mattress model, you can achieve great results for your bed with just a bit of preparation.
When attempting to answer the age-old question of what is the best mattress for the money, seeking out the right combination of support, durability, material, style, and special health considerations can deliver a tailored answer capable of sending you off to a dreamland of your own design.
Top Rated Mattresses Under $1000
Sleep Innovations Sure Temp Memory Foam Mattress
Sleep Innovations' Sure Temp Memory Foam Mattress is a popular choice in the memory foam market. The mattress is designed to deliver comfort and support that's individually suited to the unique needs of each person's body, thanks to the exclusive Sure Temp memory foam technology from Sleep Innovations, a company that has been fabricating foam mattresses, toppers, pillows, and other sleep accessories since 1996.
The Sleep Innovations Sure Temp mattress is equipped with a 2.5-inch thick layer of Sure Temp memory foam. This specially designed memory foam is known for its superior responsiveness and its ability to adjust to the body, providing cushioning that envelops your body as well as support where your body needs it most.
Compared to other memory foam mattresses, the Sleep Innovations Sure Temp is relatively inexpensive - selling for under $600. Read My Full Review...
DreamFoam Mattress Ultimate Dreams Latex Mattress
The Ultimate Dreams Latex Mattress from Dreamfoam Mattress gets rave reviews from people who have slept on one.
This 10 inch mattress is composed of a generous 3 inch layer of Talalay latex foam on top of high-density base foam which results in comforting softness and firm orthopedic support.
The top comfort layer of latex contours to your body's unique shape to provide relief from pressure points.
Each mattress is made to order and customized to your preferred firmness level. As a bonus, it is also dust mite resistant and completely hypoallergenic.
You may not have heard of this brand before, but its owners remarked that the quality of this latex bed is quite comparable to higher priced beds from the major brands. Read My Full Review...
Serta 12 Inch Gel Foam Mattress
Looking for a firm memory foam mattress that also stays cool and won't let you sink too deeply into the foam? That's just what you may find with the Serta 12 Inch Gel Foam 3-Layer mattress which is designed to deal with the common complaints of sleeping hot and sinking uncomfortably deep into memory foam. The best part: its a really good deal at less than $800 for a king size and under $600 for a queen size mattress.
This affordable and unique three layer foam mattress is made with an advanced material called gel memory foam which helps you keep your cool and enjoy a comfortable sleep. It is getting very impressive ratings from current owners.
The Serta Gel Foam mattress is also winning over heavy people as well as married couples with different firmness preferences because of its very firm but still comfy support. Read My Full Review...
Silver Rest Luxury Grand 14 Inch Memory Foam Mattress
Can you really buy a good quality memory foam mattress for less than $1000? The answer to that question is yes - if you ask owners of the SilverRest Sleep Shop Luxury Grand 14 Inch Mattress. This foam bed compares well to the famous Tempur-Pedic Grand in sleep comfort and quality of construction - but not in price range. The Luxury Grand 14 inch queen size mattress is priced in the $800 range.
Consumers who currently sleep on one like the affordable price, firm back support and relaxing, cushioned feel of this mattress. Some even claim it has relieved their aches and pains. The generous 14 inch thickness creates a very firm and stable sleep surface with just enough give to cushion those annoying pressure points. A noteworthy bonus: it also seems to be free of the harsh chemical odor that plagues many foam beds. Read My Full Review...
Sleep Shop 12 Inch Therapeutic Memory Foam Mattress
Sleep Shop's 12 inch Therapeutic Memory Foam Mattress incorporates a layer of foam, 5 inches of 5LB viscoelastic memory foam, to be exact, based on foam material that was designed by NASA, no less.
You associate NASA with space and all the things we put up into it, but not really with mattresses. NASA didn't design this mattress, but they did develop the unique foam material it is made of.
Some heavily advertised mattresses seem to cost as much as a ticket on the Space Shuttle. But this mattress only costs about $500, and according to consumers it is a great value for the price. Read My Full Review
What Dreams Are Made Of? The Best Memory Foam Mattress
Ever since mattress giant Tempur-Pedic introduced its line of memory foam mattresses for consumers in 1992, this type of mattress has generated a lot of hype.
Experts who have performed extensive research on memory foam and other sleeping aids, conclude that memory foam mattresses aren't all created equal, and suggest that those incorporating US-made materials and layers of varying density are most likely to meet your expectations for comfort --as well as value for the often large amounts of money needed to purchase such a model.
A memory foam bed should be considered for its ILD (Indentation Load Deflection) rating, which indicates how many pounds of pressure is needed to compress the material a given percentage of its total height, usually 25%. The higher the ILD rating, the more firm a memory foam mattress will be.
Choosing a memory foam bed with a resilient base that gradually lowers its rating towards the top to allow for better joint support is a recommended method for getting the most out of this popular material. Tempur-Pedic's two-layered, 8-inch thick standard is enjoyed by many, but less expensive models with shorter profiles and varied densities may be a better fit for some sleepers.
How to Find the Best Mattress for Back Pain
Unfortunately, back pain is a reality for scores of people of all ages, and issues from chronic discomfort to spasms can detract from sleep quality. Today's mattress offerings often specialize in attending to the needs of those with back pain, however, and there's sure to be a suitable model for you no matter the problem and personal preferences involved.
While some sleepers enjoy the conforming nature of foam or water beds for their back pain, others insist that variable support and the ability to achieve a firm feel without a stiff surface is key to pain relief.
Best Mattress For Back Sleepers

Traditional spring mattresses can lend much-needed spine support to those with back pain. VI-Spring discovered the benefits of individually-wrapped coils, often called "pocket springs," for comfort and support in the early 20th century, and such models are still widely used today for lower back pain as they provide the right firmness for consistent lumbar support.
Sleepers with acute back issues such as herniated discs or injuries may prefer adjustable beds that incorporate air and other materials along with pocket springs to provide different levels of support in different parts of the mattress.
Ultimately, a mattress for back problems should be chosen from the top rated mattresses on the market to suit personal needs.
What's the Best Mattress for Side Sleepers?
One of the most popular sleeping positions, and one often recommended by chiropractors and other back experts, is on one's side, as this position can help relieve pressure on the spine and encourage proper alignment.
Side sleepers tend to exert more pressure on certain points of the body, however, such as the shoulders, hips, and knees, which makes them ideal candidates for softer mattresses that allow for even weight distribution.
The best mattresses for side sleepers are those that offer gentle support. As a result, many side sleepers choose memory and latex foam mattresses. A quality foam mattress produced by a reliable brand can offer consistent comfort and improve sleep for those who often toss and turn during the night.
Saying "Goodnight" Right with the Best Latex Mattress
Originally developed for British royalty, latex mattresses have been in use since 1926 and are increasingly adopted by consumers who appreciate the comfort of even weight distribution and gentle contouring.
A latex foam mattress is typically softer and more pliant than a traditional spring-based model, and varying degrees of firmness allow for different depths of weight support.
You may be inclined to sleep on natural or organic latex foam, which is more expensive but which is environmentally friendly. Synthetic latex beds can help save on costs but are produced from petrochemicals.
An important consideration in latex mattresses is the production method. Traditional Dunlop manufacturing produces a firm mattress, while the newer Talalay method results in softer models.
Both methods use natural rubber for the production of a true latex foam, but many consider Talalay mattresses to be more luxurious. Insisting upon the disclosure of material and production information on a given latex mattress can help you pick the mattress best suited to individual needs.
Pumping Up: Who Makes the Best Air Mattress?
Air mattresses aren't just for camping or accommodating overnight guests. Many sleepers are choosing to make air beds an everyday part of their homes, and there are many models and types from which to choose. Some of the most promising are those that allow for variable pressure through easy-to-use controls, making it easy to suit multiple sleepers or to change firmness levels whenever desired.
Companies with long-term investments and research interests in the inflatable mattress sector are likely to be the most rewarding choices. While a specialized boutique air bed isn't necessarily the only way to achieve great comfort, some sleepers insist upon air bed-only manufacturers.
Wenzel Insta-Bed Raised Sure Grip Bottom Air Mattress
The Wenzel Insta-Bed Raised Sure Grip Bottom with Built-in Pump is a luxurious air bed that feels just like a real bed. With a lot of positive reviews to its name, this air mattress is often hailed as one of the best in the market, mainly because it combines the best features that an airbed should have:
A raised height of 22 inches, the same as a regular mattress, provides plenty of cushioning and less chance of waking up on the ground
Sure Grip bottom keeps the airbed from sliding around
Built-in pump that inflates the airbed quickly and ensures you won't misplace your pump
Aside from those three excellent features, the Wenzel Insta-Bed stays true to its name by inflating to its full size in just 90 seconds, as long as you use the Insta-III pump with an AC 120-volt power supply.
Although airbeds are often used as temporary bedding, this airbed comes with a flocked top that feels great on the skin and a flexed coil construction that keeps the bed steady and firm even if you sleep in various positions. It's so high, stable, and comfortable that it can be used as a regular bed. Imagine spending only $120 for a mattress you can actually sleep soundly on throughout the night.
The Wenzel Insta-Bed is manufactured by American Recreation Products, a well known brand that also produces sleeping pads, sleeping bags and camping furniture. Although Wenzel has a wide array of products, it is most recognized in the air mattress industry for providing great value. And sure enough, packed with a nylon carry bag with shoulder straps for portability and easy storage, the Wenzel Insta-Bed is definitely a great deal, whether you intend to use it just occasionally or often.
Sleeping Healthy When You're Heavy
Heavy weight places special demand on a mattress. While there are scores of specialty toppers and pads that can offer the basic feel of foam and air mattresses, opting for a firm spring model is often the best route for sleepers with a lot of weight to go around.
The best mattress to buy when weight is a major factor is one that offers long-term, serious support, allowing the body to be uplifted throughout the night while improving the longevity of the unit and promoting better sleep. The best mattress for heavy people doesn't have to be stiff and uncomfortable, but should incorporate pocket springs and sturdy lining.
What's in a Name? Discovering the Best Mattress Brand
The best rated mattress is bound to be one that's bought and used quite frequently, while other models may offer superior quality with a less concentrated user base. Finding the best mattress reviews can help you determine the right brand for your needs, though a combination of reliable reviews and personal experience should be used to arrive at the perfect choice.
The top names in today's mattresses, from Swedish Tempur-Pedic to the US' Simmons Beautyrest and Sealy, offer mattresses that frequently win raves among sleepers of nearly every persuasion. These brands can be great for offering basic buying guidelines, but the ultimate test is in trying out the mattress firmness and feel in person.
Best Baby Crib Mattress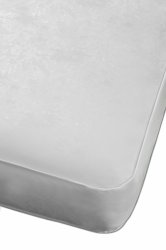 Safety 1st Heavenly Dreams White Crib Mattress
The Safety 1st Heavenly Dreams White Crib Mattress is an excellent choice.
A good baby mattress doesn't take up too much space but is just as important as its full-size cousins is the crib mattress, which serves as a retreat for sleepy infants. Crib mattresses can be found in a variety of types, from spring-models to memory foam, and choosing a unit that supports a baby while also offering soft comfort is ideal.
A baby mattress should deliver enough firmness to safely support growing bones and joints and to prevent sinking into the material, yet a soft top layer is a good idea for facilitating easy sleep.
Best Innerspring Mattress
Innerspring mattresses use wire coils as the main support structure of the mattress. Each time weight is applied, the resilient coils contract.
The coils help prevent sagging, which is common in foam mattresses. Here are some things to remember about innerspring mattresses.
The more coils there are, the firmer the mattress.
The gauge of the steel coils affects the responsiveness of the mattress.
Some innerspring mattresses feature special "zones" for the different pressure points of a body wherein there are more coils for better support.
Sealy Posturepedic
The
Sealy Posturepedic
is the popular collection from famous mattress manufacturer Sealy when it comes to innerspring mattresses. Sealy also has a spring-free latex version of the Posturepedic, but the original is the innerspring model.
The Sealy Posturepedic sells particularly well due to its excellent performance coupled with a great price. Sealy is a very famous brand, so they have a very active production, which means they are more able to offer lower prices to customers. Sealy gets an A rating from BBB for reliable, well-designed products.
Kingsdown Crown Imperial
The only A+ awardee from BBB when it comes to the best mattresses with springs is the
Kingsdown
innerspring mattress. The Kingsdown secret, however, rests with its patented computer system it calls the DormoDiagnostic.
This computer system helps sleepers determine their body profile then point them to the best Kingsdown mattress for them. Kingsdown keeps its focus on the needs of the body.
Its best product is the Crown Imperial model, which uses a special ProEdge Spring System using 832 strategically positioned coils supported by layers of conjugate fibers, quilting foam, convoluted qualatex, and two layers of Flexatron combined with high density Supersoft Foam.
These are the mattress models and brands that can answer the important question of what is the best mattress for you.
Related Pages
Best Mattress for Back Pain - Top Mattresses for Back Pain and Proper Spine Support - Find out what is the best mattress for back pain or bad back and put an end to your sleepless and tiring nights. A good lower back pain mattress gives comfort and support where your body needs it.
Best Queen Size Mattress - Three Best Queen Mattress Models By Quality, Value, and Price - The best queen size mattresses take some time to find. After all, the market is full to the brim with several outstanding choices.
Best Firm Mattress - For When You Need More Support - The best firm mattress for every individual could be different. After all, we have different firmness and softness preferences.