Mattress Pad Reviews
Electric Heated And Memory Foam Mattress Pads
Mattress pads reviews are often the last thing on your mind when looking for a new bed. After all, it is the mattress that is the expensive purchase, often thousands of dollars.
A mattress pad or cover can cost as little as twenty dollars, depending on the quality. A memory foam mattress pad may be purchased for a fraction of the price of a whole new bed.
However, it should not be overlooked as it can provide valuable comfort to your sleeping experience. You may feel that if you own a good mattress that should be enough. However, everyone has different sleeping comfort needs.
Table Of Contents (Select a title to jump ahead to any part of this page)
While a mattress cover may initially seem like an afterthought, it may be one of the wisest purchasing decisions you can make no matter the specific mattress you eventually choose. Covers may also be useful for battling problems with existing mattresses, such as infestations, moving and renovation issues, pet problems, incontinence, and other considerations.
By picking out the mattress pad or cover that's right for you, you'll be able to enjoy your bedroom furniture longer and more comfortably while potentially saving your wallet a lot of stress.
Reasons For Adding A Mattress Pad To Your Bed
An ordinary mattress might not provide the level of comfort you need. Thankfully, with the simple addition of a mattress pad you can drastically improve your sleep.
The Simmons Beautyrest Mattress Makeover Jacquard Mattress Pad is an excellent choice and is highly rated by consumers.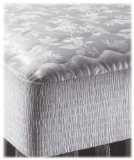 Simmons Beautyrest Mattress Makeover Pad
Mattresses are the most expensive part of your sleeping system. In order to keep them in good shape, you should do what you can to protect them. A pad on the mattress can keep out stains and moisture.
Some mattresses, such as those made out of latex and memory foam are naturally dust mite, mold, and bacteria resistant. However, inner spring mattresses, what most of us sleep on, are not.
In that case, a mattress pad or cover on the bed that has been treated to resist these allergens can help you stay healthier.
Many electric blankets can be dangerous to use, especially if you forget to turn them off. They only warm the blanket and do not help soothe away back problems and achy joints.
However, a heated mattress pad can make your entire bed warm in just a few minutes and will help to alleviate back pain before you go to sleep.
Comfort, allergen control, mattress protection, and pain relief are all factors that you need to consider when buying your mattress pad.
Even though mattress pads are not as expensive as mattresses themselves, it is still good to do some research as well as read customer reviews about them before you make your purchase.
The size of your mattress pad should be based on the size of your mattress. You can find them in all the standard sizes: twin, full, queen, and king.
Most mattress pads are fitted to go snuggly over mattresses of a standard depth. If your mattress is extra deep, you'll want to look for a guaranteed to fit size. These pads can stretch to a depth of two feet.
Even if you don't need a specialized pad, you should still get a simple pad, if only to protect your mattress from stains. A simple pad is usually made of cotton or a poly/cotton blend and with a thin polyester-batting fill.
You can also get mattress pads that will add support to your sleep system. Egg crate mattress pads, feather bed pads, or memory foam mattress pads all fall into this category.
Convoluted pads look like an upside down egg crate made of foam. Their design distributes your body weight more evenly.
Feather bed pads are filled with down. They are made to cushion and cradle your body as you sleep. Some people like the extra cushioning provided by these two types of pads, whereas other people feel too hot or too confined.
Warm Up With A Heated Electric Mattress Pad
However, if you are feeling cold at night, or want to use heat to massage away your aches and pains, you can get a heated or electric mattress pad. Within the pad are coils of extremely thin wires that heat up when you plug it in and switch it on.
In years past, people had complaints about lying on the wires. They said that they could feel them. However, today most wires are both incredibly thin and padded with foam and fabric so you won't even notice them.
Heated mattress pads such as the Sunbeam electric pads are used to either heat up the bed before you get in or to provide a low level of heat all night. You can also use them to soothe aches and pains.
The Soft Heat Warming Mattress Pad is a highly rated electric mattress pad that you can get for a reasonable price. It warms the bed at variable temperatures without bunching like an electric blanket does.
It's overwhelmingly positive consumer reviews call it thick and comfortable. Consumers who own these mattress pads like that it keeps their bed nice and warm, so they save money on heating bills by lowering their thermostat setting at night.
As you can see, mattress pads are an important part of your overall sleep system. They can be a welcome and needed addition to make your entire night's sleep even better.
Can you put a heated mattress pad on a memory foam mattress? Manufacturers do not recommend using a heated electric mattress pad on a memory foam mattress. Memory foam is designed to respond to heat and a heated mattress pad can change the feel of the mattress or possibly cause damage.
Memory Foam Mattress Pads Add Comfort
Memory foam pads add a thin layer of visco elastic foam to the top of your mattress. This type of high-density foam responds to the heat in your body and will mold itself to your shape as you sleep.
Many people like memory foam mattress pads because they provide the firm support of a memory foam mattress for a fraction of the cost.
A complete memory foam mattress can easily cost two thousand dollars or more. You can buy a memory foam pad for about a hundred dollars.
One well-regarded brand of memory foam mattress pad is the ViscO2 Ventilated Mattress Enhancer from Sleep Studio. It provides a very good night's sleep. The three-zone air circulation system disperses most of the body heat that would normally be stored in the memory foam.
This eliminates a common complaint that many people have about sleeping on memory foam. A cooler, more comfortable sleep temperature leads to more refreshing sleep. Read the complete review...
Breathe Easy with Allergy Mattress Covers
Grappling with the symptoms and consequences of allergies can be taxing on patience as well as health, and the bedroom should offer relief and respite from exposure to common allergens.
While mattress manufacturers are increasingly interested in developing materials and mattress models that resist or repel allergens, one of the best ways to ensure a good night's rest even if you have allergies is to purchase a hypoallergenic mattress cover that's fully zippered and easily washable.
Dust mites are some of the most common culprits in causing overnight irritation, and even frequent laundering of sheets and pillow covers can fail to fully address the problem for sensitive sleepers. A dust mite mattress cover can help eliminate problems caused by dust mites within existing mattresses, and can help prevent new mattresses from building up mite colonies and remains.
Make sure you purchase a zippered mattress cover that's rated for combating dust mites, as the weaves on general covers may not be small enough to prevent penetration, and covers with snap or button closures will fail to deliver the desired level of protection.
Purchasing a memory foam mattress is a good idea if you're especially sensitive to allergens, as many models are more resistant to mites, pollens, and other nuisances. Some even claim to be completely allergen-proof, but as surface materials and seams can still be affected by foreign materials, it's best to invest in a mattress cover to ensure a better night's sleep.
Expect to pay over a hundred dollars for a premium allergy mattress cover, with prices reaching higher for larger and thicker beds.
Bed Bug Mattress Covers Protect Your Bed and Family
You have probably noticed at least one of the many online bed bug mattress cover ads when browsing on the Internet. Do you really need one though, or are these products a waste of money?
Mattress covers for bed bugs can prevent or eliminate an infestation of these pests. Once bed bugs move in they can be very difficult to get rid of.
Choose a Waterproof Mattress Cover to Keep Your Bed Dry
From accidental spills to overnight incontinence and beyond, the risk of your mattress enduring liquid damage is a reality. While some wetness can be tolerated and easily cleaned, other incidents can result in significant problems, and may result in irreparable damage or the voiding of a mattress' warranty.
When liquid damage is a high-risk consideration, your best bet is to look for a waterproof mattress cover to ensure that no matter what, your bed will retain its value and usefulness.
A plastic mattress cover is an easy option, though cheap models may cause undesirable noise or create an unpleasant feeling underneath sheets. Using an extra mattress pad or topper can help avoid this issue, though these materials will not, of course, be protected should any liquid damage occur.
A vinyl mattress cover can provide solid protection without some of these downsides, though the best mattress cover for each individual household --and every sleeper-- is sure to be a matter of personal preference. The right combination of protection and discretion is at the heart of any waterproof mattress cover shopper's search.
Depending on the type of waterproof model you choose, your investment may set you back a few tens of dollars, or upwards of a hundred.
Mattress Covers for Moving
Damage to mattresses is often considered in terms of the threats that exist inside a home, but some of the most problematic and frequent issues occur in transit. Moving can expose a mattress to dust, dirt, liquids, and other materials you probably don't want touching your bed. With the help of a mattress cover for moving, you'll be able to maneuver your bed in whatever way is needed without worrying about ruining or damaging it.
A mattress cover for moving doesn't have to be a fancy affair; sturdy plastic or vinyl will do the trick, and covers can often be found at moving companies along with boxes and other packaging materials. You can also typically purchase mattress covers for moving from a local post office or furniture store.
Inspect the model for any tears or holes before putting it on your mattress, and make sure you purchase an adequate size. Beyond these basic considerations, you can choose nearly any product, and probably won't pay more than ten to twenty dollars.
More Reviews
Organic Mattress Pad - Choosing An Organic Cotton Mattress Pad - Organic mattress pads offer you the safer, healthier, and greener option for softening, firming up, and protecting your mattress.
Sealy Heated Mattress Pad - Keep Your Bed Cozy with a Sealy Mattress Pad - A Sealy heated mattress pad is a great choice if you are tired of sliding your feet down through layers of icy cold sheets.
Egg Crate Mattress Pad - Eggcrate Foam Mattress Pad Brings Uncommon Comfort - Eggcrate foam mattress pads are a great way to increase the cushioning on your mattress without spending a lot of extra money.
Best Mattress Pad - Three Best Rated Mattress Pads - Some mattress pads can provide additional support for health-related concerns or can simply make your mattress more comfortable.
Sunbeam Heated Mattress Pad, Sunbeam Electric Mattress Pad - Go To The Next Level Of Comfort - A Sunbeam heated mattress pad might be just the solution if you are looking for a way to warm your bed without using an electric blanket.
Isotonic Foam Mattress Pad - The Benefits of Isotonic Memory Foam Pads - An isotonic foam mattress pad uses a special type of foam called isotonic foam, which is made from visco-elastic memory foam.
Share Your Mattress Pad Review!
Do you have a mattress pad on your bed? If Yes, please tell us about it!

Consumer Mattress Pad Reviews
Click below to see reviews posted by other visitors to this page...

Sealy "Heated" Mattress Pad - King Size Sealy Electric Heated Mattress Cover

I have been using this Sealy heated mattress pad cover for about 6 years now. I absolutely love it and would recommend it to everyone. …
Total Protection Mattress Pad with Teflon Not rated yet
I bought this mattress pad a year ago, and it has stood the test of time! This pad is both soft and cushy on my king bed and is water-resistant, 200-thread …
Return From Mattress Pads Reviews to Mattress Wiz - Home