Memory Foam Crib Mattress
Choosing a Soft and Safe Baby Crib Mattress
A memory foam crib mattress can let your child enjoy the same benefits you enjoy with your memory foam mattress. There are several manufacturers who make high quality memory foam beds for baby cribs.

It is important for your baby to be perfectly comfortable and safe throughout the night so you, as the parent, won't have to stay up all night long tending to your baby.

The many benefits of memory foam can create a more pleasant sleeping environment to keep your baby sleeping soundly all through the night.

But several other standards are used to evaluate the quality and overall usage rating of the different memory foam crib mattress models. Babies have a greater number of and more sensitive needs than the average adult, so crib mattresses should not just be comfortable but should also take several other factors into consideration.

The crib mattresses should also be:
Hypoallergenic
Antimicrobial to help prevent germ buildup especially since the mattress will be exposed to diaper mishaps and spit ups.
Resistant to dust mites, mold, and mildew
Free from any odor
Should fit the crib perfectly
Should not be very expensive - you can buy a mattress for under $150 that will last through your baby's toddler stage
Is Memory Foam Safe for Babies?
Memory foam mattresses are not the most highly recommended choice for baby mattresses, but if you know how to look for the right product, your baby will only enjoy the benefits of memory foam and not experience its disadvantages.

Memory foam isn't naturally hypoallergenic and antimicrobial, so you should get a memory foam crib mattress that offers resistance to allergens. Some manufacturers add features and technologies to make their crib mattresses safer from allergens and bacteria.

This, however, means that some chemicals might be used. The best way to find a safe choice is to trust only the more reputed brands, which use only the safest materials.

Memory foam is also known to have some odor caused by off-gassing. Try to look for a mattress that does not have this problem, or you can check out consumer reviews so you'll know if the initial odor of visco foam crib mattresses you are considering eventually goes away.

Usually, the odor goes away after a few days of letting the mattresses air out before using them.

And one very important reminder is that baby mattresses should be more firm than soft. The younger your baby is, the more important it is to find a firmer mattress. Although most adults prefer softer mattresses, remember that you are buying for your baby, not for yourself.

You should get a firmer mattress to keep your baby from getting turned over when they move around. In using soft mattresses, they might get turned around and won't be able to lift their face. Majority of visco foam crib mattresses are more soft than firm, so you should specifically look out for a mattress with higher level of firmness.


Highly Recommended By Consumers: LA Baby Memory Foam Crib Mattress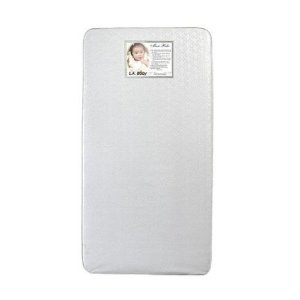 One of the best reviewed memory foam crib mattresses is from LA Baby, and it only costs around $110.

This is a still fairly reasonable price for a memory foam crib mattress with a lifetime warranty and cover included in the package.

In fact, the cover is even water-resistant, so you really get a good deal for your money.

As for the memory foam crib mattress, it comes with several important features and benefits that also make it a great choice.

Amazon's 4 star rating shows that this mattress, though memory foam, can be used safely and beneficially for your baby's crib.

Features and benefits:
Very comfortable - helps your child sleep better
Anti-bacterial memory foam
Comes with durable insulator pad for enhanced comfort
Easy to clean - triple-laminate water-resistant vinyl cover
Can be used by newborns and toddlers
Two-sided for longer use
Affordable price

Take note that only one side of this mattress is made of memory foam. This memory foam side is meant to be used by toddlers.

It is a bit softer and more comfortable for a growing child. The other side, however, has an innerspring support to make it firm and safer for newborn babies.

This multi-purpose and safe mattress allows you to get a memory foam crib mattress that helps overcome the problems associated with memory foam.


Memory Foam Crib Mattress - Related Articles
Return From Memory Foam Crib Mattress to Memory Foam Mattress Reviews
Return From Memory Foam Crib Mattress to Mattress Reviews
Popular Pages
Related Articles
---
Like Mattress Wiz? Please Tell A Friend
---
Please Take A Quick Poll
&nbsp