Memory Foam Mattress Reviews
Making the Right Decision on a Memory Foam Mattress
Reviews of memory foam mattresses can help you find the best memory foam mattress and compare the advantages and disadvantages of visco-elastic foam mattresses and sleep systems.
Memory foam is manufactured into mattresses, toppers, pillows, and other products by a large number of brands, with varying emphasis on quality and accompanying materials. Memory foam reviews vary from one type to the next, and while some sleepers are enthusiastic fans of this type of mattress, others prefer the more traditional feel of innerspring or latex foam models.
Memory foam represents one of the newest developments in mattress technology, though its origins date as far back as the 1960s, when visco-elastic polyurethane foam was first studied for its potential as a safety material for use in air and spacecraft.
A memory foam bed may be the key to a better night's sleep, or it can fail to deliver the right kind of support, depending on your personal needs and preferences. To find the best memory foam mattress for you, and to discover whether this material is right for you at all, it's best to explore the modern possibilities.
Top 3 Memory Foam Mattresses
Sleep Innovations 12 Inch SureTemp Memory Foam Mattress
You know those nights when you're hanging out with friends and no one can decide where to eat? Everyone's got a favorite place but no one can agree on the perfect spot? It's kind of like that with mattresses too. We've all got different preferences and no one really wants to compromise.
The Sleep Innovations 12 Inch SureTemp Memory Foam Mattress will either send you off to dreamland, or make you long for the simple days of metal coils and box springs.
At the end of day, the debate over whether the SureTemp is "medium to soft" or "medium to firm" continues. Personally speaking, I can't imagine life before memory foam. What's not to love? Read more...
DynastyMattress Cool Breeze 12 Inch Gel Memory Foam Mattress
Did you know that the Swedes were the first to test out a new generation of mattresses made from this visco-elastic wonder called memory foam? They wondered, "Could it really offer relief from pressure point aches and pains?" Beta testers agreed the stuff was pretty awesome and news spread fast to the USA.
Memory foam was here to stay. But just when things couldn't get any better, an even sexier generation of memory foam came along infused with cooling gel beads. Soon our beds were getting the spa treatment…and we were in heaven. The Cool Breeze Gel Memory Foam Mattress from DynastyMattress is that kind of bed. Read more...
LUCID 12 Inch Triple Layer Memory Foam Mattress
The LUCID 12 Inch Triple Layer Memory Foam Mattress is a revolution in modern bedding, and a revelation to your way of thinking if you haven't changed your mattress in a while. This is the leading edge of sleeping technology.
The memory foam is in three layers, each one serving an important function that adds to your comfort. The nights of tossing and turning on a lumpy mattress with springs jutting into your spine will be a long gone memory with this triple-layer plush viscoelastic memory foam mattress under your body.
The LUCID by LinenSpa 12 inch memory foam mattress gets rave reviews from mattress owners who need support with extra firmness. Although this mattress is not for everyone, it is one of the best choices if you prefer sturdy support over cushioned comfort.
According to reviews, the extra firmness proves especially helpful for proper back and posture support. Read more...
Serta Gel Memory Foam Mattress
Looking for a firm memory foam mattress that also stays cool and won't let you sink too deeply into the foam? That's just what you may find with the Serta Gel Memory Foam Mattress which is designed to deal with the common complaints of sleeping hot and sinking uncomfortably deep into memory foam.
The best part? It's a really good deal - selling for under $800.
This affordable and unique three layer foam mattress, which carries the Serta name but is manufactured by Sleep Innovations, is made with an advanced material called gel memory foam (viscoelastic memory foam infused with gel beads) which helps you keep your cool and enjoy a comfortable sleep. Read more...
Silver Rest Sleep Shop Luxury Grand 14 Inch Memory Foam Mattress
The Silver Rest Sleep Shop Luxury Grand 14 Inch Memory Foam Mattress has all the luxury and comfort of the GrandBed by Tempur-Pedic, but not all of the price.
This is a bed for the more discerning sleeper, someone who values their time spent between the sheets, and who knows what makes a good bed great.
We spend a third of our lives lying in bed after all, so it makes sense to spend that time in the kind of luxury and comfort that keeps you smiling, warm and comfortable, all night through - every night through. There are seven separate layers of foam in the Luxury Grand 14 inch memory foam mattress. The base layers are made from durable, strong polyurethane foam, and the top comfort layers are made from four layers of 5 pound visco-elastic memory foam. Read more...
Sleep Innovations 10 Inch Sure Temp Memory Foam Mattress
Currently one of the most promising memory foam mattresses on the market, the Sleep Innovations 10 Inch 'Sure Temp' Memory Foam Mattress is climbing up the charts at record speed.
It's not surprising, either, given that the mattress meets all the important requirements that make a good memory foam product and that it not only satisfies but also exceeds consumer expectations in most of these factors:
1. Proper air circulation
2. Pressure point relief
3. Proper spinal support
4. Reduced motion transfer
5. Hypoallergenic and antimicrobial
6. Quality materials
7. Eco-friendliness
8. Fire protection
Let's look into the details of why the Sleep Innovations 10 Inch Sure Temp memory mattress is worth considering. Read more...
Serta iComfort - Serta's Advanced Memory Foam Mattresses
The Serta iComfort sleep system is Serta's newest and most innovative product.
Serta tweaked the old memory foam mattress to eliminate its major disadvantages. The result is the Serta iComfort mattress. This is memory foam but with a few modifications. It has been infused with Serta's special MicroSupport Cool Action gel, which provides added support and a much-needed cooling action.
According to Serta, the iComfort is designed to provide more superior pressure relief, provide targeted support, and keep sleepers cool all night long. Read more...
What's Memory Made Of? Understanding Memory Foam Mattresses
When memory foam mattresses first became available to the public, they were sometimes described as "miracle" products or described as "revolutionizing" the way people would sleep.
As these superlatives have worn off, general knowledge about what makes memory foam attractive has become more widespread, and you should feel comfortable talking to retailers about the technical aspects of a mattress you may be considering.
The essential ingredient of memory foam is simply polyurethane foam, which is treated with certain chemicals to create visco-elastic polyurethane foam, making it more dense and responsive to body heat and pressure. Not all types of memory foam are the same, however; different compositions and creation processes result in foams of different firmness.
The firmness of a memory foam mattress is measured according to its IFD, or Indentation Force Deflection. This rating typically describes how many pounds are needed to compress a piece of foam by 25%.
Watch: Memory Foam Mattress Video
The pros and cons of memory foam beds vary based on your personal needs. If you want truly solid support and firmness, even the highest density memory foam beds may feel too soft, and opting for a memory foam mattress topper may be preferable.
For soft comfort that's temperature sensitive, relieves pressure points, and preventing motion transfer, however, a thick memory foam mattress can be a godsend. Reviewers sometimes argue that the price for this material is simply too high, but a superior quality bed is worth considering a bigger blow to your wallet.
Reaching for Reliability: Memory Foam Mattress Ratings
While no test or recommendation can truly beat the act of trying out a mattress for yourself, memory foam mattress ratings may help you rule out certain brands or models, or help lead you to the right choice.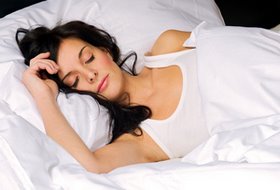 Finding reviews online and among friends and family should be fairly easy, but always make sure you get the full story, so you can decide whether any negative points are really the fault of the mattress, or are just specific to the sleeper.
Some of the models that receive the most broadly positive reviews are made by Sealy, which offers its Sealy memory foam mattress under the name Sealy Embody. Serta fans swear by the Serta memory foam mattress, and the Memoryworks mattress is another popular favorite.
Sleep Innovations, Novaform, and Spa Sensations all offer memory foam mattresses with specialized construction and finishes, and while they may be on the pricier end, ratings are often high for these brands.
Putting the Tempur-Pedic Memory Foam Mattress to the Test
One of the best-known names in memory foam mattresses, Tempurpedic is a definite market leader, though reviews aren't always glowing. The company has developed a high reputation for quality products and was one of the first brands to reach the public with the material.
Tempur-Pedic mattresses are available in a variety of models, which differ in terms of their layer construction and depths. Adjustable bases, foundations, and other Tempurpedic bed accessories are also available.
By far the most common complaints about Tempurpedic revolve around the brand's prices. While it's certainly possible to find more expensive memory foam products, you won't want to shop for a Tempurpedic unless you're prepared to spend up to a few thousand dollars on your bed.
If you have painful back injuries, a Tempurpedic may not deliver the right support for your spine. Many reviewers, however, are quick to applaud the long-term comfort and durability this brand can offer.
Foam Foes: Memory Foam vs. Latex
If you've been considering moving away from innerspring mattresses, it may seem that there's a sea of foam confusion to sort out.
While latex foam and memory foam may share parts of their names, they're actually quite different, both in terms of their physical makeup and in the type of support they provide.
In general, a latex foam mattress is much firmer and less affected by pressure and heat than memory foam, making it a good choice if you find memory foam to be too lenient to the touch.
Memory foam may also result in greater heat retention, which can be uncomfortable in certain climates as compared to a latex bed. The best option for comfortable sleeping between the two types of foam depends on your preference: when being "hugged" by the bed feels right, memory foam is probably the way to go.
Deciding on the Best Memory Foam Mattress
After you've examined the brand options, tested different densities, and are sure you'd like to purchase a visco elastic memory foam mattress, arriving at the right choice is simply a matter of putting all a model's elements together.
Though the best memory foam mattresses are certain to be more expensive than traditional mattress types, that doesn't mean you'll have to break the bank. When you find the right mix of price tag and plush comfort, you'll know you've found the right furniture to play host to your dreams.
The potential benefits of a great memory foam mattress are many, and they all add up to providing an improved night's sleep. Shop wisely and you'll discover this mattress material is easier to start enjoying than you've ever imagined.
More Memory Foam Reviews
Memoryworks Mattress Reviews - Macy's Memoryworks Vs Tempur-Pedic - Reviews of the Memoryworks mattress from Macy's. Compare pros and cons of Macy's Memoryworks memory foam mattress compared vs Tempurpedic and other top mattresses.
Bob-O-Pedic Reviews, Bob-O-Pedic Vs. Tempur-Pedic Mattress - Bob-O-Pedic reviews talk about the foam thickness or sleep comfort that these beds offer. A Bob-O-Pedic bed is comparable to Tempur-Pedic beds and includes exceptional materials.
Therapedic Mattress Review - Discover the Benefits of the Therapedic Mattress - Therapedic is another innovative mattress manufacturer that has discovered the secret recipe to the perfect comfort and support a mattress can provide.
Novaform Mattress Reviews - Novaform Is Budget-Friendly - Compared vs. Tempurpedic models, Sleep Innovation's Novaform memory foam mattresses and toppers are affordable alternatives.
Bergad Isoform Mattress Reviews - Better For You And The Environment - Choosing a Bergad mattress to sleep on can be a wise choice for your own personal sleeping health.
Bragada Mattress - Satisfied Consumers Sleep On Bragada Mattresses - Let's a take closer look at Bragada mattresses and see if you come to this conclusion as well.
Cheap Memory Foam Mattress - Three Affordable Foam Beds - A cheap memory foam mattress is what you need to reap the benefits of this highly innovative foam material without being too hard on your pocketbook.
Memory Foam Mattress Comparison - Compare memory foam mattresses to make sure you get the best model. Contrary to popular belief, Tempurpedic is not the only company that manufactures memory foam mattresses.
Share Your Mattress Review!
Have you slept on a memory foam mattress? Tell us how you feel about it!


Latest Reviews
Click below to see reviews posted by actual mattress owners...

Return From Memory Foam Mattress Reviews to Mattress Wiz Home