Macy's Memoryworks Mattress Reviews
Memoryworks mattress reviews show that the Memoryworks mattress from Macy's is one of the fastest rising memory foam mattresses on the market.
This is another brand that is trying to give Tempur-Pedic memory foam mattresses a run for their money.
Memoryworks offers cheaper memory foam mattresses that promise the same level of comfort and support that people who buy memory foam beds are after.
Memoryworks has one major advantage though - their mattresses are widely available in all Macy's stores nationwide.
So for a good memory foam mattress, you'll know where to go.
What Consumers Think of the Memoryworks Mattress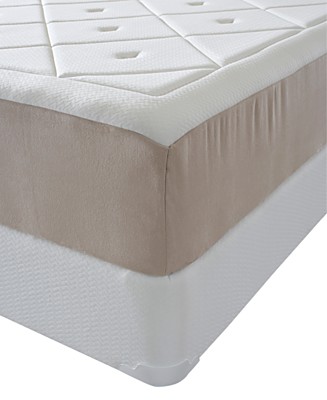 Memoryworks Mattress
Based on its performance in reviews, the Macy's memory foam mattress is very popular among consumers. The main reason is that Memoryworks mattresses are some of the cheapest memory foam offers on the market, and consumers find the mattress very comfortable.
This means that they have the same level of quality as other more expensive memory foam mattresses, but they are way friendlier to your wallet.
What consumers liked best about the mattress, according to Memoryworks mattress reviews, is that it is completely made up of foam, so it is resilient but also very soft. It provided good support for the back and doesn't curve down too far. It also doesn't sag, which means its softness is just the right level.
The mattress also comes with a special cover that allows air to flow freely through it. This way, you won't find yourself sleeping hot. All in all, the purchase of a Memoryworks memory foam mattress is money well spent.
Memoryworks Mattress Models
Olivewood. The Olivewood mattress from Memoryworks comes in King, Queen, Twin, Full, and Cal King sizes. It also comes in different versions with varying comfort layers, such as Ultra Plush and Cushion Firm Euro Pillow Top.
This model has a total height of 13.5 inches, 6 inches of which are entirely memory foam with 4.5 lbs. per cubic feet density. It fares well in Memoryworks mattress reviews because of its luxurious thickness and its thick layer of memory foam.
Autumn View. This Memoryworks model is available as a Tight Top Cushion Firm model which features a 5 inch layer of MD-3 memory foam and circular knit woven cover. The total mattress height is 12 inches.
Belmeadow comes in a Tight Top Firm configuration for support that is designed to be firm, but without stiffness. The 9 inch mattress is composed of a half inch layer of quilted MD-3 foam, 2.5 inches of memory foam over a 6 inch layer of supporting polyurethane base foam.
Smooth Stone. The Smooth Stone model comes with a Tight Top Plush comfort layer, and has a total of 10.5 inches in height. Its memory foam layer is 4.5 inches high. The foam is the same type of memory foam used in the Olivewood model. It also has 4.5 lbs. per cubic feet density.
Caramel. The Caramel model of Memoryworks mattress comes with a Tight Top Cushion Firm comfort layer. It is the cheapest of all Memoryworks mattress models. It is only 8 inches in height, and its memory foam layer measures only 2 inches. Fortunately, it is still made with the same 4.5 lb. high density foam.
Macy's Memoryworks vs. Tempur-Pedic
Macy's memory foam mattress is often compared with Tempur-Pedic, the leading provider of memory foam mattresses. Each brand has its advantages and disadvantages.
Macy's Memoryworks mattresses are definitely cheaper, so they're the better choice if you want a memory foam mattress but also want to save money. Its being cheap leads other people to thinking that it is nothing like the highly comfortable, widely advertised Tempur-Pedic mattresses.
However, based on feedback from reviews, the quality of a Memoryworks mattress is almost comparable to those of the more expensive brand's products, especially in terms of overall comfort and consumer satisfaction. Memoryworks also has three models of memory foam mattresses, and it is easier for you to choose the right model for you.
Tempur-Pedic has a wide range of memory foam mattresses, which are divided into three different collections, namely Tempur-HD, Tempur-Cloud, and Tempur-Contour. Although it's nice to have options, some consumers find the different collections and models quite confusing.
Tempur-Pedic's quality is unquestionable, though, which is to be expected from the company that first launched the memory foam mattress commercially. However, many consumers also think that while Tempur-Pedic beds are really comfortable, they simply cost too much. Thus, they are all too happy to settle for a cheaper brand with almost the same level of quality.
How Much Does A Memoryworks Mattress Cost?
The price of Memoryworks mattresses includes a 20-year warranty, regardless of which model you buy. Prices vary depending on the model and size that you choose. The Olivewood model is the most expensive. The queen size sells for around $1500, while the king and Cal king sells for around $2000.
The Smooth Stone king and Cal king versions, on the other hand, sell for $1700, while the queen size sells for $1100. This is the mid-priced offer of Memoryworks mattress.
The cheapest model is the Caramel. For this model, the king and Cal king versions sell for $1500, while the queen size retails for only $800. While this is not the cheapest mattress, it is definitely a good price for a memory foam offer.
More Reviews
Bob-O-Pedic Reviews - Bob-O-Pedic Vs. Tempur-Pedic Mattress
Serta iComfort Mattress Reviews - iComfort Vs Tempur-Pedic
Sleep Innovations Sure Temp Memory Foam Mattress Review
Lucid by LinenSpa 12 inch Memory Foam Triple-Layer Plush Mattress Review
Share Your Mattress Review!
Have you slept on a memory foam mattress? Tell us how you feel about it!


Your Memoryworks Reviews
Love My Macy's Memoryworks Memory Foam Mattress
by Jeffery G.
(Kalamazoo, MI)
The Memoryworks mattress from Macys is the best!

I have had all kinds of mattresses in my 50 plus years and this one is the most comfortable yet.

Will it hold up over time? I don't know, I only had for a couple of weeks so far. I'm hoping it does because my back is loving it and I can get some rest, which was kinda hard with my old bed.

The mattress I previously was sleeping on would cause pain in my side, back and hips even my shoulders and I must have woken up several times every night just to roll over or 'toss and turn' as they say.

Who know how many times I did that without waking up?

Anyway, this Memoryworks mattress is very comfortable and sometimes I seem to wake up in the same position I layed down in. That never happened before. But I still feel like my back has good support because it doesnt curve down in to a saggy bed that is too soft, a good thing.

I hurt my back at work a few times and there are only about two good positions I can sleep in without pain.

This thing is foam all the way through, theres no springs or anything inside but somehow its firm and soft at the same time, pretty cool.

Before buying this bed from Macy's (by the way I think its only sold at Macy's) I looked at Temperpedic, and a few waterbeds and the Air beds from Sleep Number. The Memory works mattress was my final selection because of how it felt in the store - like sinking into a firm cushiony cloud.

Theres something inside the cover of the mattress that keeps cool air flowing around it which I like because I tend to get sweaty and I cant sleep on a hot bed. My friend has a foam bed and I cook in it because it holds heat in, but my new bed stays cool.

The one I got is called Cushion Firm and cost me around 700 bucks. Money well spent if you ask me and alot cheaper then the Swedish Tempurpedic or the Sleep Numbers, which had prices over 3 thousand each!

Like I said its a new bed to me and I hope it lasts at least four or five years, but even if I get a new one at that time I figure I can buy five or six of these for the price of some other high-end mattresses. -Jeff
Return From Memoryworks Mattress Reviews To Mattress Wiz