Tempur-Pedic Cloud Reviews
A New Breed of Memory Foam Mattress
The Tempur-Pedic Cloud mattress, as well as the enhanced Tempur Cloud Supreme, are Tempur-Pedic's softest creations.
Often dubbed the softest Tempur foam mattresses in their collection, these two mattress models belong to the Tempurpedic Cloud series.
This series features mattresses made using Tempurpedic's innovative new type of memory foam and the customary high prices.
This is the answer to consumer opinions saying that they wanted a softer memory foam mattress from Tempurpedic since the original Tempur is a bit firm and the Tempur-HD collection focuses more on support.
As a result, the beds in the Cloud series are called the most highly recommended beds in America.
This is one of the things that help Tempurpedic maintain its rather dominating hold on the memory foam market. It does not just stick with what it already has.
The Newest Tempur Memory Foam Formula

Tempur-Pedic Cloud
Despite the breakthrough success of the Tempur memory foam material, Tempurpedic continuously tries to improve its products by coming up with modified memory foam types.
One of its innovative creations is the Tempur Cloud memory foam material, also called Tempur-ES, a new memory foam formula especially designed to provide the softest and most responsive cushioning a Tempur foam can manage.
The Tempur-ES is not just the company's softest memory foam material. Despite its breakthrough softness, it still delivers the perfect balance between softness and support, to make sure you get a comfortable but also healthy sleeping experience.
When the Tempurpedic Cloud line of reformulated memory foam mattresses first came out, it brought about a significant increase in Tempurpedic International's income. So far, there are only two beds in the series, but the company will add more, according to reports.
The Tempurpedic Cloud Bed
The
Tempurpedic Cloud
is known as soft and responsive and it provides contouring support. The mattress is simply soft, in a luxurious kind of way.
Yet, it still provides effective body contouring therapeutic support. It can also relieve pressure points and has a special breathable technology in the base layer to ensure that, although a memory foam bed, the Tempurpedic Cloud is not the same heat-retentive memory foam bed that other brands offer.
It is made up of:
A 1.2-inch Tempur-ES Comfort Layer with 4.1 lbs./ft3 density
A 1.6-inch Tempur Support Layer with 5.3 lbs./ft3 density
A 5.5-inch Airflow System base layer
Tempurpedic Cloud Prices
Prices for the basic Cloud beds range from about $1100 for the twin up to around $2000 for the California King size. Add $250 for a high-profile foundation.
The Tempurpedic Cloud Supreme Bed
The
Tempurpedic Cloud Supreme
, on the other hand, is known for striking a better balance between softness and support. Its many different layers are made up of:
A 2-inch Tempur-ES Comfort Layer with 4.1 lbs./ft3 density
A 2-inch Tempur Support Layer with 5.3 lbs./ft3 density
A 7-inch Dual AirFlow System base layer made up of a 3-inch AirFlow layer and a 4-inch AirFlow base layer
Common Features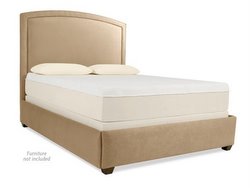 Tempur-ES Cloud Supreme Mattress
There are other common features and benefits shared by these two soft mattresses in the Tempur Cloud collection.
Soft, stretchable Tempur mattress top
Removable, easily washable cover
Non-skid bottom
Concealed cross-braced handles
Hypoallergenic and resistant to dust mites and microbes
20-year pro-rated warranty
90-night in-home trial
The
Tempurpedic Cloud Supreme
, however, adds Microsuede sides and accent piping to the mattress top.
Cloud Supreme Prices
The Tempur-ES Cloud Supreme goes for about $800 more than the base Cloud bed. The popular Queen size costs $2,399 and the foundation is an extra $250. An electric adjustable base - called the
Advanced Ergo Adjustable Base
- is available for another $1600.
Pros And Cons
But so far, this is all expert and technical information. As a consumer shopping for a Tempur-ES Cloud mattress, you also have to know what your fellow consumers say about these mattresses.
This is why it is important to read Tempurpedic bed reviews; they provide unbiased feedback about the beds.
Here are the advantages, disadvantages and most commonly voiced opinions about the Cloud and Cloud Supreme...
Pros:
As soft as it claims to be; very plush
Feels great when you initially sink into it
Provides ultimate comfort, especially when relatively new
Relaxing feel so you wake up refreshed, at ease, and not under stress
Relieves pressure points
Can provide relief for neck pain and joint trouble
Excellent for patients recovering from injuries
Great as a primary bed
No need to flip or rotate
Available from twin size to king size; also comes in a California King size
Can be used with ordinary box spring foundation or adjustable foundation
Cons:
Prices are too high - only meant for high-end shoppers
Does not handle regular wear and tear very well
Takes some time to adjust to
Softer than expected/Firmer than expected
Initial chemical smell - this goes away after some time
A Tempur memory foam mattress is quite heavy
Related Reviews
Tempur-Pedic Grand Bed Review - Experience Tempurpedic's Most Luxurious Mattress
Memoryworks Mattress Reviews - Macy's Memoryworks Mattress Vs Tempur-Pedic
Tempur-Pedic Cloud Luxe Review - What Is The Truth Behind The Hype?
Tempur-Pedic Cloud Supreme - What's So Special About It?
Share Your Review!
Have you slept on a Tempur-Pedic Cloud mattress? If Yes, please tell us what you think of it!


Your Tempur-Pedic Cloud Reviews
The "Big Bambino" of Beds: I Give Tempur-Pedic Cloud 5 Stars!
by Lisa P.
(Oxford, MS)
After many months of mattress shopping and comparing and sales pitches, we have had the pleasure of sleeping on a Tempur Pedic Cloud mattress for a little over 2 years now, and this mattress's awesomeness is just as awesome as it was on the first night!
The Tempur Pedic Cloud is so comfortable. It's so soft it feels like you melt into it when you lie down, yet it's firm enough to allow you to actually get out of bed without earning a hernia from trying to climb out of a too-soft mattress. And the tempur material on top is just amazing! It conforms to your body's every curve and makes you understand why it's called "Cloud."
It is the perfect marriage of soft and firm I've ever experienced. Not to mention, it was one of Tempur Pedic's more affordable mattresses- bonus (oh, plus it came with a 20 year warranty). We ordered ours online from their website and the price was right around $1,500. And it was WORTH EVERY PENNY. I NO LONGER DREAD WAKING UP.
My back used to feel like I slept on a tiny army of cavemen just pounding away on my back all night with their clubs. I would dread going to bed because I knew how I would feel when I woke up- a cave woman, hunched over and moaning in agony as I dragged my sorry, aching butt out of bed to face the day. Not with the Tempur Pedic Cloud.
It is amazing, and makes me feel like no mattress has made me feel before! It removes all "pressure points" by contouring to your body (that's the glorious melting feeling). No more back pain! No more wanting to cry in the morning! The only thing I would change is getting the king size instead of the queen, which is what we have. When we get the king size Tempur Pedic Cloud, we will move our queen to our guest room. I bet our guests will never leave! :)
I would recommend this bed to anyone who has back problems, can't sleep, tosses and turns, bad hips, bad knees, stiff neck, or just needs a new mattress. The Tempur Pedic Cloud mattress is rated 5 Stars in my opinion! I never dreamed that a mattress could ever be as comfortable and heavenly as the Tempur Pedic Cloud.
I'm never, ever, everrrrrrrrr..... getting out of bed, forever.
I Have Never Slept On A Better Mattress
by John R.
(Columbus, Ohio)
I sleep on a Tempur-Pedic Tempur Cloud king sized mattress that I bought through the Tempur-Pedic website and it cost about 2000 dollars plus tax. I was very pleased with the delivery time because it only took one day.
I have had it for almost a year now and have never slept on a better mattress. One problem that I had with it at first was that it smelled kind of funny the first few nights. My eyes sometimes got red and my allergies were acting up a little bit as well.
After about five days, however, the smell went away and my allergies were not bothering me anymore. I previously owned a king sized bed that I bought from Costco. It was almost nine years old when I decided that it was time to replace it and it was very uncomfortable compared to my new one.
I had spine surgery in high school because I have scoliosis, so my back was usually sore in the morning when I had my old mattress. When I wake up in the morning with my new mattress I am not nearly as sore as I was with the Costco one. I would say that it was definitely worth the price because I sleep well every night and it is the most comfortable mattress that I have ever owned.
I would give this mattress a rating of five out of five stars because it is comfortable and relatively affordable. I would recommend this mattress to any of my friends and if I needed to buy another mattress, I would either get this model or the Tempur Cloud Supreme, which is the next level up. This is the perfect mattress and is definitely worth the price.
Very Expensive But Well Worth the Money
by D.B.
We currently got rid of our Serta pillow top queen size bed. It was TERRIBLE!! We always had back problems, tossed and turned all night, and wake up feeling more tired than when we first went to bed. We now own a Tempur-Pedic Cloud, and it is Wonderful!! Complete opposite from our last mattress.
No more waking up with a bad back and neck pain. We cannot say enough about our new mattress. It is a very expensive mattress but well worth the money when you feel well rested in the morning. The Mattress contours and adjust to your bodies pressure points and gives you the exact amount of support.
Our Tempur-Pedic mattress also absorbs movement, and you won't disturb your bed partner even if you move around on it. This mattress not only supports your spine, but your entire body by distributing your weight. This mattress is also very good for people who suffer from allergies like me.
When we were purchasing this mattress we were told that it prevents dust mites and other household allergens.
As a bonus our Tempur-Pedic Cloud came with removable cover that was washable. Which is very nice considering when you make an investment like this, you'll want to keep it clean.
Along with the good of this mattress I must also tell you about the bad or cons. I would start with the tempature of the mattress, it heats up and I find myself removing most of the covers during the night - even on really cold nights. Another drawl back would be the smell. The mattress has a chemical smell and at first it can be a little overwhelming.
I would recommend doing your shopping and taking the time to compare, compare, compare. These mattress are not cheap and should be considered an investment. Make sure you get the mattress that is right for you.
We love our Tempur-Pedic Cloud. The pros of this mattress outweighs the cons. After suffering for years and years with a bad back, and tossing and turning, and neck pains, the right mattress could make all the difference.
This Bed Has Made My Life Better In Every Way
by Erica
(Nevada)
We just recently moved to Las Vegas and when my husband and I got here the movers really messed up. Our mattress came all torn up and there was nothing we could do about it.
At first we were resistant to buying a mattress because we didn't think any mattress could possibly be worth our time or any amount of money. We were so wrong! After about a week of sleeping on the ground, we decided it was time to buy a mattress.
We kept seeing the advertisement for the Tempurpedic Cloud. We went on the website and after seing that it was not much more than any regular matress, we splurged, on a whim, and bought it. That is by far the best decision we have ever made. This is the best bed I have ever in my life layed on.
I could not believe it. It is hard but soft at the same time. It molds to every part of my body, legs, back neck, it amazingly takes away andy pressure and stress on my body.
When I woke up after the first night, I couldnt believe how I felt! No aches, pains or complaints whatsoever. That was the first night that me or my husband had gotten a solid nights sleep in two years.
I will never buy another matress again. This has made my life better in every way possible. Well worth the money. I have never been happier to spend a day in bed.
For once I can not wait to go crawl in bed, the Tempurpedic Cloud is the best bed in the whole world, I am convinced.
It Is Not A Cloud
by Bev
(Colorado Springs, CO)
We bought the Tempurpedic Cloud four months ago for $3000. I have been trying to adjust to it.
It is a whole new way of a mattress. I can't get any kind of refund because it only lasted 60 days. It is a horrible experience. It is not a cloud. It is a rock. I am stuck with a $3000.00 very uncomfortable bed.
Do not buy it. Stick with conventional mattresses at less cost and more comfort.
Very Comfortable, Perfect Firmness
by Nick
(Long Island)
My Tempurpedic Cloud mattress is very comfortable. I was surprise how firm it was when I first bought it. It has the perfect firmness for me. I like how it takes the shape of my body when I lay down on it. I like it much better than a traditional spring mattress.
I feel like I am sleeping on a piece of wood when sleeping on a tradition spring mattress. My Tempur-Pedic mattress doesn't have any bumps and lumps like a traditional spring mattress. I never toss and turn on my bed. My Tempur-Pedic Cloud is really smooth and feels like a cloud, hence the model name cloud.
I bought my mattress at the local Sleepy's Store at Long Island and I have been using it for four months. I have slept well since then.
My mattress cost me one thousand dollars plus tax. When I first bought this mattress I felt ripped off but after sleeping on it for a while I now say it is worth the price.
My Tempur-Pedic is far better then any bed I own previously or slept on.
I would give my mattress I currently own five stars with honesty. I would recommend this mattress to anybody who wants to sleep comfortable.
I Give My TempurPedic King Size Cloud 3 Stars Out Of 5
by Jenn
(OH)
I currently use a Tempurpedic King Size Cloud mattress which was given to me as a gift so I am unaware of the cost but I do know that they are very expensive. I like the firmness of the mattress and my husband no longer has back pains after sleeping on the mattress.
This is a giant compliment considering my husband has had back trouble for over 20 years. We both sleep wonderfully on this mattress. My dog who never used to jump on the bed is up there everyday now. The mattress has also held up extremely well over the years. We have had this mattress for over 3 years and it was a hand me down so it has to be approaching that magical 8 year mark for replacement.
I would consider keeping it longer but, we are getting ready to move upstairs and it is almost impossible to carry this mattress upstairs. It is extremely heavy. The only complaint I have for this mattress has to do with the way it absorbs heat. The mattress is very hot during the Summer months. I would not recommend this mattress for those residing in hot climates or who are naturally hot.
I would also recommend paying extra for delivery and installation as this mattress is extremely heavy so maneuvering it into the bedroom can be difficult if not impossible for those who have upstairs bedrooms.
Overall I would rate it a 3 star out of 5 mainly because of the heat factor. If you are naturally cold or live in a cooler climate it would be great but, just isn't the best option for me. I would be excited to have car seats made from this mattress material though, it would make road trips a delight!
No More Sleepless Nights
by Annmarie D.
(Idaho)
I sleep on a Tempurpedic Tempur-Cloud Mattress that my husband and I purchased brand new in 2007. It is extremely comfortable to sleep on and has been ever since we bought it. We previously slept in a full-size bed (which I can't even imagine at this point) and as soon as we discovered not only a Tempurpedic mattress, but also a California King size, it was like night and day.
I love that it conforms to my body and is comfortable no matter what position I sleep in. My husband and I no longer have restless nights of sleep and I love that when he moves around, I cannot feel the mattress move on my side of the bed and vice-versa and our sleep is not disturbed.
The Tempurpedic Cloud provides excellent back support as the mattress is not too firm and not too soft. It's perfect for both of us. We bought it in 2007 and although it was way more than we initially wanted to spend on a mattress, we knew it would be worth it and it would last. It is now 2014, and we still have it and love it just as much as the day we purchased it. It has held up for the most part. There is a bit of a dip on both my side and my husband's side of the bed where we sleep, but that is expected after 7 years of every day use.
It is not enough to make our nights uncomfortable or make either of us unhappy. We paid $2995 for it and it was worth every penny. We were able to get zero percent financing and paid it off completely in about two years after purchase. My husband and I both agree that it has been extremely worth the price and when the time comes that we will need to decide on a new mattress, we will most definitely be getting another Tempurpedic.
We currently have a California King and we would definitely get a California King again. After all, we are not the only ones sleeping in the bed as our dogs like to share it as well. It doesn't even compare to other beds we have owned. We did about 3 months of research before purchasing this mattress and once we went to the store and tried it, we were sold. I would give it a 5 star rating. We love this mattress!
I'm Sleeping Softly On A Cloud
by Daisy V.
(Jackson, Michigan)
My husband and I purchased a Tempurpedic Cloud just over 4 years ago. We purchased a queen size mattress, though I really wish we had the room for a King. We had already gone through 3 other cheaper mattresses and were tired of having worn spots and trying to flip the mattress. We had also tried a soft-side waterbed that had cost a pretty penny, only to wake up in a soggy blanket freezing.
We spent about $2500.00 on the Tempurpedic Cloud. I don't regret that though, it has been a back and neck saver. We both sleep so much better and ache so much less in the mornings. It gives us both the support we need and comfort we want, all without flipping, turning or moving mattresses. The bed shows no signs of wear even after more than for years. Plus the great warranty that they give their mattresses puts my mind at ease if we do encounter a problem down the road.
I LOVE almost everything about this bed! It conforms to my body shape and my body temperature. I use to wake up too hot in the summer and too cold in the winter, but now it stays just right all night. I won't lie though it does take about 15 to 20 minutes in the winter to adjust. When you first lay down it seems stiff and freezing cold to the touch, just give the cloud a few minutes and it will warm right up to you.
We looked into a number of different mattress options before settling on the Tempurpedic brand. One of which was the latex foam beds. They were a close runner up, but after not knowing anyone personally that had owed one, we decided to go with Tempurpedic. My father had owed a Tempurpedic and really liked his. He has a long history of sleep problems, so if he can sleep on it… anyone can. The initial soft cushion when you climb in is why we went with the Cloud series.
Overall I would give this mattress 4 stars. I am so glad that we made this purchase. Myself having a long history of neck and back issues, I find myself no longer waking up with stiff sore neck. I wake up so much more refreshed and not tossing and turning through the night. I also notice that I don't get woke up by my husband getting in or out of bed.
The pets even jump in and out of bed through the night without it disturbing me the way it did before with our traditional spring mattress. We will be Tempurpedic owners for life. I am sure of that!
TEMPUR-Cloud is the bed you wish you could take with you!
by M.K.
(PA)
My bed is made by Tempurpedic and the model is a TEMPUR-Cloud. This mattress is absolutely the most comfortable mattress I've ever slept on before. It forms exactly to my body, and what is great about it is that It lays right on top of my harder mattress underneath, yet I don't even feel a thing.
My back is completely formed to so there is no worrier that I will ever wake up with my back hurting. I've even accidentally slept on top of something in the middle of the night, but the mattress actually formed to my back AND the item!
Some people might consider too soft, but I don't mind it being that way. I've slept on too many firm mattresses in my life. The only thing I would say that I dislike is when I'm wanting to read or work on my computer in the middle of the night. There isn't much firm support when I'm trying to sit up.
It was actually given as a gift, but I was told it was a little over 1,000 for the twin size. I've been using it for about 4 months now with no regrets. I'd give it a rating of about 4 stars just because I do enjoy doing work in bed, or reading, and it doesn't really provide the best kind of support for that. I would buy it myself without a seconds hesitation.
So far it's been pretty durable and has not lost any comfort. What makes this even more astounding is that it was previously owned for a few months. I think I will probably stick with Tempurpedic for the rest of my life.
The only downside is the price, but, honestly, it is a really good price because of just how long and how comfortable the mattress actually is. Would recommend to anyone with back problems, or looking for an almost lifelong mattress!
Feels Like A Cloud Hugging You
by Scott M.
(Michigan)
Last year I purchased a used TEMPUR-Cloud Tempurpedic bed, as I've heard a lot about these memory foam mattress growing up, and had still yet to actually use one, and as my back and shoulder have begun to get sore during sleep, I figured it's time for a new bed. Also, I have to preface this with a 5 star rating, only to assure you know what you're getting into when you purchase one, cause they ain't cheap.
When it arrived and was set up, I had to wait a few hours for everything to settle before I could use it. The second I laid down on this bed, all of the questions I had for it were answered. It felt like I was on a cloud, no pressure at all on my shoulders or back, and I was enveloped in the softness of this incredible sleeping device.
After a week, my back and shoulder pain were non-existent, and the benefits of having a Queen sized cloud in your bedroom are too numerous to count. Compared to a normal springy bed, there is no contest, one feels like something soft with springs in it is pressing against you, the other feels like a cloud hugging you, reminding you that everything is going to be alright.
While the bed does take some getting used to from a regular mattress, I have never felt better about sleep than after spending quality time with my cloud bed, and I'm never going back to a conventional mattress again unless it's got a mighty fine memory foam pad on top.
Love My Tempur-Cloud, Never Going Back To Spring Beds!
by Jennifer R.
I have owned a Tempur-Cloud queen size mattress for about 5 years now, and I would never go back to a spring based mattress ever again! From the moment I first sat on my bed, I instantly felt the difference in how well it supported me and how it distributed the support.
I have never once felt the pain of pressure spots while I have owned my Tempur mattress. I love it so much that when I go to hotels and they don't have memory foam, I am highly disappointed and I never sleep as well as I do on my memory foam Tempur-Pedic bed at home.
Spring mattresses are just so awful at distributing support and you feel every move people make which was a terrible experience for us. My husband is disabled with back and muscle problems and bed-bound most of the day, and the bed has been a life saver. When we were looking at the various models Tempur provides, we found there were slight differences in firmness and support across the various ranges.
When we tried out the Cloud model, we instantly knew because it just felt "right". There wasn't a position we could find that was uncomfortable. I would give the Tempur-Cloud 5 stars all around, and recommend the brand to all my friends and family!
Tempur-Pedic Cloud Is Wonderful
by Danielle
(Cherry Hill NJ)
I have had the Tempurpedic Cloud bed for a little over a year. I needed a new bed and i had a tempur-pedic pillow that i loved, so i decided to get the bed. When the bed was first delivered i did not like the lingering smell, it lasted about a week.
The bed was also very firm and uncomfortable at first. Once the bed "settles" it begins to feel how it should, and it's wonderful. You do not move around when someone else enters or exits the bed, and your entire body is in comfort. I have bad back issues, and before sleeping on this bed i would wake up in SO much pain. Now that i have my Tempur-Pedic bed the pain has definitely lessened.
So far the mattress is still in perfect condition. I currently own a queen and i wish i purchased the queen. My bed was purchased on President's Day sale weekend, so i believe i paid around 990. It was definitely worth it! On a scale of 1-5 i would definitely rate this bed a 5!
Well Worth The Price
by Miles H.
I have a Queen-sized Tempur-Pedic Cloud. This mattress is very comfortable. I would liken it to sleeping on a cloud; it is seriously that comfortable. I like that it gives me just the right amount of back support and proper spine alignment. It contours to my body in such a way that I always sleep comfortably.
I tend to move around a lot when I sleep - I am sometimes a side-sleeper, sometimes a stomach-sleeper, and sometimes flat on my back. More often than not, I wake up or fall asleep in a weird, contorted position, but this mattress works with my unusual and inconsistent sleeping habits and positions. I never wake up sore from sleeping in an awkward position on this mattress, because it supports my body in any sleeping position. It isn't too firm or too soft - I would compare it to Baby Bear's mattress in the Goldilocks and the Three Bears fable, it is 'just right.'
I have no problems or negative criticism with the way this mattress supports me at all. I live with my girlfriend, who also sleeps in this bed, and she says it's probably the most comfortable bed she has ever slept on. She used to have problems falling asleep in her cheap spring mattress at her place, before she moved in with me, and now she falls sleep easily on this Tempur-Pedic Cloud Mattress.
I bought this mattress a little over a year ago at a store in my area, late summer of 2013, for about $1,800. It kind of strained my pocketbook at the time. I had never spent so much money on a bed, and that was really my only reservation in considering purchasing the mattress. That might be my only criticism actually, is the high cost. But I have to say, it was well worth the price, and I'm glad I invested the money for a good bed like this.
I have actually recommended the Tempur-Pedic brand to my friends and family, as I care about them and want them to sleep as well as I do, on a good mattress like the one I have. My parents bought a similar mattress, but in King-size, and they are very happy with it. This bed, my bed, is very durable. I have not really seen any signs of wear and tear; it is holding up as well as I had hoped it would, better even.
I anticipate sleeping on this bed for at least a couple more years, at which point I will probably upgrade to a King-sized Tempur-Pedic mattress, as I am very happy with this brand and the products this company makes. I give this mattress, the Queen-sized Tempur-Pedic Cloud Mattress, a Five-star rating.
A Little Pricy But Holding Up Well
by Becca S.
(Milwaukee, Wisconsin)
My Tempurpedic Cloud is very comfortable to sleep on, and that is what I like most about it. I believe it gives good back support but I'm young and don't have back problems, so my opinion on this may not be justified. The mattress is more on the soft side, but I still like it. The only problem I've had is finding big enough sheets to fit on it. They have to be queen and deep.
I bought the bed in August 2014 and have slept on it since then. For the 3 months that I've had it, it seems very durable. It is holding up well. It costed me about $1000 and I think it has been worth it for the quality. It's a little on the pricy side but that's ok, given the quality and life span it's guaranteed to have.
I've only had a twin bed, and this one is much much nicer. I would buy the same mattress again. When I bought this bed, it was between a Temper Pedic and Sealy Serta. I think I would give a Sealy Serta a try, just because I'm not picky when it comes to beds and where I sleep, but The Tempur Pedic is nice and depending on my spouse in the future, it would have to be a joint decision.
The biggest downfall of the Tempur beds is that they are little bit pricier that their similar counterparts, but they have longer warranties and apparently are made more durable. My twin bed was a Sealy Serta and I personally didn't have any problems with it except for that it was small. And It was much cheaper, so I would consider getting a different brand of bed in the future.
I love the way it smelt when I first received it. I know, weird, but that was an added bonus. I hate when beds smell like plastic for the first month you sleep on it. Also, I think a huge deciding factor in when people buy beds, me included, is the retailer it comes from, because they give certain deals and added bonuses, such as free delivery and bed frames. TemperPedic should obviously keep that in mind when supplying stores with their mattresses.
Comfort: 5 stars, Quality: 5 stars, Price: 3 stars
Do you own a Tempur-Pedic Cloud mattress? Please tell us about your experience by sharing your review...
---
Return From Tempurpedic Cloud Reviews To Mattress Wiz