Serta Air Mattress - Best Serta Air Beds Reviewed
The Serta air mattress collection consists of inflatable air mattresses that can come in handy when you have guests over or you need an extra bed and you don't want to make a big investment.



Based on outward appearance, it would seem that the air mattresses offered by Serta are like any ordinary air mattress. But making that assumption would be wrong.

Serta packs quite a lot of punch into its air mattresses in the form of unique features, some of which are not offered by other brands.

What makes Serta air mattresses stand out? Based on popular acclaim, here are a few reasons:
They come with built in rechargeable pump devices that are very easy and hassle-free to use.
These pump devices can inflate the air mattresses in just a few minutes.
Serta uses a patented horizontal single-beam support system that provides excellent orthopedic back support, something you wouldn't expect from an air mattress.
Serta air mattresses use 26-gauge vinyl sheeting, a highly durable material.
You are perfectly comfortable thanks to the soft nylon flocking that wraps around the bed, so the air bed is actually soft to the touch.
The Serta air bed models are significantly cheaper than other brands of air mattresses.
What Consumers Say About Serta Air Beds
Consumer experience says that the Serta air mattresses work well even when placed on harder surfaces.

Many consumers who instantly become fans of Serta air beds are camping experts and outdoor enthusiasts, all of which have pretty high standards when it comes to portability, durability, convenience and overall quality of mattresses for outdoor use.

According to these consumers, the Serta air beds have exhibited enough resistance against potential punctures that the mattresses are turning out to be excellent choices.


Is a Serta Air Mattress Right for You?
Mid-Class Product - Though not particularly high end and not the most advanced air mattress on the market, the Serta models stay at the mid-range level and provide reliably good quality. This is something you would expect from a top brand. If you are after a high end luxury air mattress, Serta is probably not your best choice.

Great Value Price - And their prices, though affordable, are not the most budget-friendly out there. The only consolation is that the mattresses are actually usually worth more than they charge because of their reliable quality. As a tip, consider making the little extra investment and get a Serta instead of trusting a more budget-level air bed from an unknown brand.


Two Popular Serta Air Mattresses
Serta Air Sleep Inflatable Mattress

The Air Sleep model in Serta's collection of inflatable mattresses is a popular choice in online air mattress reviews. The classic Serta air mattress features the horizontal I-beam design, soft nylon flocking top, and the vinyl sheeting mentioned above.

However, Serta adds some extra features:
two quick inflate and deflate flapper valves to make the mattress easier to use
a rechargeable inflator that can be used with both a 110 volt AC wall plug and a 12 volt DC care adaptors; a single full battery charge can complete six inflate-deflate cycles
a nylon drawstring carrying case
Serta Elevated Diamond Coil Queen Size Air Bed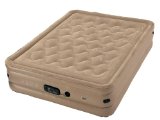 You can also check out the Serta Elevated Diamond Coil Air Bed. This is a raised air mattress model available in a queen-sized version.

Unbelievably comfortable for an inflatable mattress, this air bed from Serta is definitely a standout. Amazon.com reviewers give this air mattress model a high score.

One of the main reasons why is its unique Diamond Coil construction, which simulates the feel of a traditional mattress better while still maintaining the benefits of air mattresses. This is the main technology used by the air mattress, and is supported by several others:
Integrated electric pump that can be recessed into the bed to make sure there are no stray parts jutting out of the mattress; the pump can inflate the bed in under 4 minutes
A portable design that makes taking out and storing the air bed easy
An 18-inch height makes sure you have plenty of cushioned space between you and the ground
Soft polyester top to make you feel comfortable and to prevent early signs of surface damage
Durable and puncture-resistant heavy gauge PVC construction
SureGrip bottom to create stability regardless of where you put the mattress
The disadvantages are that Serta does not give many options to consumers who want to obtain their products. The only color available is tan, and the only available size is queen size.






Serta Air Mattress Related Articles
AeroBed Air Mattress - Sleep on the Great Value of Aero Air Mattress Beds - AeroBed air mattresses have been keeping consumers consistently happy. When you compare air mattresses you will find owners are extremely satisfied with their Aero air mattresses.
King Size Air Mattress Reviews - Plenty Of Sleeping Space With King Size Air Beds - A king size air mattress can be particularly useful in larger households. Just inflate the king size air bed and there's plenty of space for everyone.
Full Size Air Mattress, Full Air Mattress - Comfortable, Convenient, and Affordable - A full size air mattress is designed to give you a sleeping experience that is not far from sleeping on an actual full-sized mattress, except that your mattress is lighter, easier to move around, and can be deflated when not in use.
Eddie Bauer Air Mattress - Eddie Bauer Air Bed Reviews - The Eddie Bauer air mattress is blazing its own trail in the industry. It has one of the most colorful air bed collections, both literally and figuratively.
Intex Raised Downy Queen Airbed with Built-in Electric Pump Review - Our in-depth review of the inflatable Intex Raised Downy Air Bed reveals why it is one of the very best air mattress choices on the market, either for camping, sleepovers or accommodating guests.
Serta iComfort Mattress Reviews - iComfort Vs Tempur-Pedic - Serta iComfort reviews are your best source of information before buying. Learn the pros and cons and compare the Serta iComfort mattress vs Tempur-Pedic memory foam mattresses.
Serta Vera Wang Mattress - The Glorious Mattress from Vera Wang - Serta Vera Wang mattresses are a high-end choice for people looking for the perfect night's sleep. But are they really the perfect choice for you?
Serta Suite Dreams Mattress - The Hilton Hotels Mattress - The Serta Suite Dreams mattress is widely used in hotels, making it one of the most sought after mattresses around.
Coleman Air Bed - Features, Technologies And Best Models - A Coleman air bed is one of the best choices you can make. Coleman has made a name for itself in the outdoor equipment market.
Return From Serta Air Mattress to Serta Mattresses
Return From Serta Air Bed Reviews to Mattress Reviews - Home
Popular Pages
Related Reviews
Serta Mattress Models - You Don't Have to Look Far to Find Great Mattresses - Serta mattress models offer the consumer a wide range of different products and styles from which to choose. Today there are many Serta mattress styles on the market, including inner spring and latex.
Serta Latex Mattresses - Serta Foam Mattresses for Sleeping Comfort - Serta latex mattresses are a great way to get a good night's sleep. These Serta beds are supportive, they breathe and you can add any number of different cushioned toppers.
Serta Perfect Sleeper Northstar Stellaris - The Serta North Star Mattress - The Serta Perfect Sleeper Northstar Stellaris is one of the Serta North Star mattress models in the Perfect Sleeper collection which is one of the prime innerspring mattress collections manufactured by Serta.
Finding The Best Air Beds - Reviews Reveal The Number One Convenience Sleep Solution - A comparison of air beds, reviews from consumers, and air mattress technology reveals that consumers are rating air beds with greater overall satisfaction.
Serta Perfect Night Mattress - Can It Make Your Nights Perfect? - The Serta Perfect Night mattress is the other half of Serta's Perfect Day mattress collection and made quite a lot of noise when it debuted many firsts for Serta mattresses.
Share Your Review!
Have you slept on an air mattress? Tell us what you thought of it!
Consumer Air Mattress Reviews
are all written by visitors to this site. You can help others make a better buying choice.
---
Like Mattress Wiz? Please Tell A Friend
---
Please Take A Quick Poll
&nbsp