Sleep Innovations 12 Inch SureTemp Memory Foam Mattress Review
Say Hello To The Chameleon Mattress
You know those nights when you're hanging out with friends and no one can decide where to eat? Everyone's got a favorite place but no one can agree on the perfect spot?
It's kind of like that with mattresses too. We've all got different preferences and no one really wants to compromise.
The Sleep Innovations 12 Inch SureTemp Memory Foam Mattress will either send you off to dreamland, or make you long for the simple days of metal coils and box springs.
At the end of day, the debate over whether the SureTemp is "medium to soft" or "medium to firm" continues. Personally speaking, I can't imagine life before memory foam. What's not to love? I'm with the buyer who describes his new unwrapped mattress like a flower unfolding in the morning sun. A mattress that inspires poetry has to be pretty darn special.
Design and Materials
While we're on the topic, ever wondered where memory foam comes from? Fun Fact: Back in 1966, NASA's research center was testing a polymer matrix looking for innovative ways to improve aircraft cushion safety. They wanted a material that could respond easily to temperature. Over time, Dynamic Systems in collaboration with NASA began to commercialize this versatile foam. Suddenly it was popping up everywhere. By the 1980s it became mainstream when NASA released it to the public domain.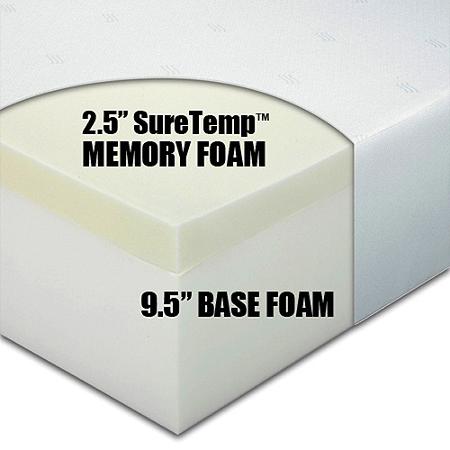 Why do we love it so much? This polyurethane material has a high density which allows it to mold perfectly to a warm shape (i.e. your body). Memory foam has "fast recovery" so it springs back to its original shape-a cool feature for a mattress. You can feel cradled all night and enjoy your handy built-in thermostat. Sleep Innovation's 12-inch Made in the USA mattress offers a medium-soft to medium-firm feel.
This company sells a range of thicknesses from 8 to 14 inches so the 12 inch SureTemp hits that perfect middle ground. An ultra-plush support of 3lb density memory foam in the 2.5 inch top layer is responsive and breathable. (Just be careful not to spill liquid on it. You could easily damage the foam).
SureTemp foam promises top-notch therapeutic comfort. With a base layer of 9.5 inches, this mattress is considered premium support in the Sleep Innovations line. The specific measurements for the 12 inch Queen mattress are 12 inches high, 80 inches long and 60 inches wide. If delivered, expect a 90 to 100lb box that is 4.5 feet x 2 feet deep to arrive, roughly the size of a dorm room fridge.
Who Makes It?
Sleep Innovations is a well-known American company with an established track record. They're a little different from other mattress manufacturers because they team up with researchers who actually study sleep. Their mantra "Sleep better, be better" speaks to their goal to be innovators (explains their name) on a quest to find new designs and cutting-edge materials. They are an affiliate of a major private investment firm, Sun Capital Partners, Inc.
Advantages
No more ouch!
If you sleep on your side and put pressure on your hip or shoulder, this mattress offers great relief. Pressure points are relieved.
Stay in your favorite sleep position longer.
Sink into a bed of memory foam and you won't be moving around much. Because it takes a little extra effort, you'll probably stay put. Memory foam also helps reduce motion transfer. If you do get up, your partner won't be disturbed.
No more sagging!
Some current owners of this mattress actually went back to update their reviews after a few years to let us know how their mattress held up. They report that they didn't have to flip their mattresses (unlike many innerspring and latex mattresses).
Open cell technology for better airflow
This is a fancy way of saying breathable but actually refers to some serious scientific breakthroughs. The idea is to keep you not too cool, not too warm. Visit the Sleep Innovations website to learn all about why open cell technology enhances airflow.
Avoid allergy problems associated with natural latex.
While natural latex is awesome, it's not for everyone. You may be allergic and not even know it!
Sleep Comfort
The vast majority of current owners agree that this SureTemp Memory Foam Mattress is as comfortable as the much higher priced Tempur-Pedic. Seems like a no-brainer…pay a lot less and get the same comfort. Expect to melt into your mattress about one inch, which seems just about right to me.
You won't lose yourself in the foam (unlike many extra plush foam mattresses). The flipside is that this product might be more firm than expected. Once you've settled in, you might notice the slightly hard support. This is the main concern for sleep comfort. Many also have concerns about the mattress getting too hot, but admit it's great for those long winter months.
Pros
Dust mite and allergen resistant high density memory foam
Excellent relief from pressure points that can make you wake up at night
No mattress flipping required. (Good thing-this mattress is heavy)
Reduced tossing and turning. (Keep curled up in the same spot all night with help from gentle foam cradling)
Cons
Too hot, too cold. So which is it exactly? Good to know that this mattress takes 24 to 48 hours to adjust to room temperature. Be patient!
Liquid will break down the polymers in this mattress. Drink coffee in bed? My advice is to use a safe travel mug. Don't even think about a hot blow dryer to fix things.
You might have to invest in an extra topper if the mattress feels too firm. But considering the value on this product, I'd say go for it.
Watch: SureTemp Memory Foam Mattress Video
Warranty
There's a 20-year limited warranty. Just be careful not to remove the white cover or you might run into trouble returning your product. It's supposed to be spot cleaned only. The good news is that you probably won't have to return this product since so many reviewers report no issues with sagging, even after months of use.
What Are Current Owners Saying?
"I will never go back to springs!" pretty much sums up the feeling of most. The verdict is that you could easily pay up to five times more for a Tempur-Pedic bed. This is great value for the money. Just be prepared for more firmness than you might expect, and if you get hot at night, this mattress may not solve your problem.
Any Complaints?
Once you get past the first heavenly moment of softness, you might start to feel the harder/firmer support layer underneath. If you suffer from chronic back pain, beware. You might find it difficult to readjust your sleeping position at night once you're cradled in. As for that new mattress smell? A visitor will just think you've been painting. Keep your room ventilated the first few weeks and it will disappear. Also, be prepared to buy new sheets. The topper plus mattress can measure in at a colossal 15 inches!
This mattress offers great value. If you're about to drop $3,000 or more on a mattress, reconsider. Take some time to watch the many personal YouTube reviews from satisfied buyers. Just don't be fooled into buying a memory foam topper to place on top of a busted bed. I think this mattress is your best investment down the road. It's US made with an environmentally friendly manufacturing process and backed by a 20-year manufacturer's warranty. Expert tip: Put your mattress on the frame before cutting open the plastic.
Price & Best Place To Buy
You can get the Sleep Innovations 12 Inch SureTemp Memory Foam Mattress in Queen size from Amazon.com for less than $450. Also, Amazon provides the fastest delivery service and easy returns.
More Reviews
DynastyMattress Cool Breeze 12 Inch Gel Memory Foam Mattress Review
DreamFoam Ultimate Dreams Latex Mattress Review
Lucid 12 Inch Memory Foam Triple-Layer Mattress Review
Luxury Grand 14 Inch Memory Foam Mattress Review
---
Return From Sleep Innovations 12 Inch SureTemp Memory Foam Mattress To Mattress Wiz