Sleep Innovations Sure Temp Memory Foam Mattress Review
Did you excitedly jump on the memory foam mattress bandwagon only to be disappointed? It's probably because your memory foam mattress isn't the Sleep Innovations Sure Temp memory foam mattress.
Currently one of the most promising memory foam mattresses on the market, the Sleep Innovations Sure Temp mattress is climbing up the charts at record speed.
It's not surprising, either, given that the mattress meets all the important requirements that make a good memory foam product and that it not only satisfies but also exceeds consumer expectations in most of these factors.
Let's look into the details of why the Sleep Innovations 10-inch Sure Temp memory mattress is worth considering.
What are its greatest strengths?
There is quite a selection of memory foam mattresses on the market these days, so you should be prepared for a rather confusing and challenging time when you decide to look for one.
But if you keep a few important features in mind, you won't go wrong.
And it just so happens that these most important features are also the greatest strengths of the Sleep Innovations Sure Temp mattress:
1. Proper air circulation
2. Pressure point relief
3. Proper spinal support
4. Reduced motion transfer
5. Hypoallergenic and antimicrobial
6. Quality materials
7. Eco-friendliness
8. Fire protection
The Right Temperature, Always
One of the strongest suits of the Sure Temp mattress, as implied by its name, is the excellent flow of air through the mattress.
If you've done basic research on memory foam mattresses, you will easily see a pattern: most of their features are great, except for the temperature problem.
Due to the nature of memory foam, the foam material tends to retain heat instead of allowing it to dissipate freely. This makes temperature a major problem in almost all memory foam mattresses.
But for the Sure Temp mattress, Sleep Innovations uses a special, patented open cell foam structure. The top layer of the mattress is made of 3 inches of this specially formulated memory foam. This technology ensures that air flows freely through, so you will get a neutral sleep temperature that isn't too hot and isn't too cold.
As you are well aware, getting the right temperature can have a significant effect on how comfortably you sleep at night, and the Sure Temp gives you just that.
No More Pressure
Pressure point relief is a memory foam specialty. Despite this, not all memory foam mattresses are able to truly relieve pressure points or simply do not get this feature right. Thankfully, the Sure Temp mattress from Sleep Innovations takes pressure points seriously.
Pressure points are key areas in the body where pressure tend to accumulate when you sleep, and they are very prone to joint pains, especially in the knee and hip areas where the pressure is strongest. They are also the number one cause of tossing and turning, which can definitely disturb your sleep.
To solve this problem, Sleep Innovations came up with pressure maps that show where people experience pressure when they sleep. Then they provided extra comfort in these key areas to reduce pressure points and allow blood to circulate more freely throughout the body. So when you wake up, everything simply feels well-rested and perfectly comfortable.
Say No to Back Pain
It is very important for a mattress to provide proper spinal alignment and support. If you find yourself waking up with pain in your neck, upper back or lower back (lumbar region), then the problem is that your mattress does not properly support your back.
When a mattress is too soft, your back curves and sinks into the mattress in a way that it's not supposed to. If you don't do anything about this problem, it can leave a lasting effect on your posture.
This is not a problem with the Sure Temp memory foam mattress, which comes with a sturdy 7-inch base layer of memory foam that's especially formulated to provide superior support. This keeps the spine properly aligned when you lie down.
Great For Bed Partners
Is your partner waking you up? Do you share a bed with someone? This can be a particularly challenging setup if you have the wrong mattress. Some mattresses tend to shake and jolt you awake with every movement from your partner.
Well, as it turns out, the Sleep Innovations memory foam mattress can also effectively isolate motion vibrations on each side of the bed, so you and your partner can sleep without getting disturbed by one another.
Say Goodbye to Allergies
Dust mites, mold, and unseen microbes are too small to see but they can wreak havoc not just on your sleep but also on your health. These can trigger asthma and other breathing problems. Unfortunately, most people don't just live with them but also sleep on them - every night!
If you are prone to allergies or find yourself itching and scratching a lot when you're in bed, you definitely should consider the Sleep Innovations 10-inch Sure Temp memory foam mattress. It can resist dust mites and also has anti-microbial properties to keep your sleep environment clean, safe, and healthy at all times.
Rest Assured
With the Sleep Innovations memory foam mattress, you can rest assured that you are sleeping on a well-made, highly durable mattress.
It is made in the USA and combines two layers of especially designed memory foam, one to provide comfort and the other to provide support. The layers come in 3 inches and 7 inches, respectively, and are wrapped together using an elastic and durable all-in-one mattress cover with a circular knit for a luxurious look and feel.
Save the Environment and Sleep Easy at Night
You can also sleep easy at night knowing that you are doing your part for the environment. Sleep Innovations use an eco-friendly manufacturing process that meets the standards of the federal government. Thus, your mattress is not just healthy for you but also for your surroundings.
Sleep Safely
You'll also be glad to know that this mattress has inherent fire retardant properties to help keep you and your household safe.
How Much Should You Expect to Pay?
The Sleep Innovations Sure Temp memory foam mattress normally sells for over $700 for the queen size, but you can get it at a cheaper price when you buy from the right sources, such as Amazon.com. The queen size sells for around $450 with free shipping, so you can save a lot off the original price.
The mattress also comes in four other sizes: California King, King, Full, and Twin.
What's in the Box?
The box contains the Sleep Innovations Sure Temp mattress, with dimensions of 80 x 60 x 10 inches and a shipping weight of 81 pounds. Take note that the mattress is tightly compressed and wrapped when it is shipped, so you need to unpack it and let it expand to its full size before you sleep on it. This usually takes around 48 hours.
Does It Come With A Warranty?
A warranty is a must for a mattress. But while other mattresses offer just 5 to 10 years, the Sleep Innovations memory foam mattress comes with a 20-year limited warranty from the manufacturer.
What Consumers are Saying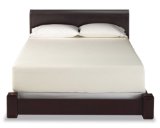 Sleep Innovations Sure Temp Memory Foam Mattress
According to online reviews, over 70% of consumers who have bought the product give it five stars. Here are some of their rather convincing comments:
"Best sleep I have had in years. Well worth the price."
"I have sleep issues, but not with this bed."
"We had a record-breaking heat wave, but I did not wake up hot at night."
"It's so comfortable I'm having trouble getting out of bed in the morning."
"I have some back trouble but I've been sleeping much better since I got this mattress."
"Haven't slept like this in years or ever!"
"I have had 3 back surgeries and this is the only bed that I can be comfortable in."
Some Feedback to Take Note Of
Although majority of comments are nothing but positive, here are some feedback that you should still take note of:
"If you don't like firm mattresses, this will be a problem."
The Sleep Innovations memory foam mattress is a bit firm and is therefore not for those who prefer cushier beds. But you can also use a mattress topper to soften it up a bit, so this is not really a major problem for most.
"Comes with a mattress topper which supposedly can't be taken off."
The mattress cover is built-in and should not be taken off. Taking it off may void the warranty. You may try using a washable or waterproof mattress pad or putting an additional cover over it to protect the mattress.
Where It's Available
The Sleep Innovations Sure Temp memory foam mattress is available at many retailers and online shopping sites that sell Sleep Innovations products.
Best Place To Buy: You can get this mattress for the lowest price on Amazon.com.
Related Articles
From Sleep Innovations Sure Temp Memory Foam Mattress Review to Best Mattresses
Go to Memory Foam Bed Reviews Main Page
From Sleep Innovations Sure Temp Memory Foam Mattress Review to Mattress Reviews - Home