Tempur-Pedic Cloud Supreme Review - What's So Special About It?
The Tempur-Pedic Cloud Supreme is one of the products of leading memory foam mattress manufacturer, Tempur-Pedic. It is the mid-range model of the company's Tempur-Cloud collection, and is one of the current favorites among consumer reviews. Is this mattress for you? Here's a buying guide to help you determine whether the Cloud Supreme is the mattress you've been looking for.
The Tempur-Cloud Supreme is one of three models that belong to the Tempur-Cloud collection. The first is the Tempur-Cloud Luxe, which is extra soft, and the last is the Tempur-Cloud, which has more pronounced support.
The Cloud Supreme is designed for consumers who prefer softer mattresses to firmer ones. It comes with an extra deep comfort layer that provides a pillowy-soft feel.
That's not to say that the mattress is all fluff and softness, though, because it still has just the right level of Tempur-Pedic's renowned body-contouring support. Nevertheless, this is categorized as one of the company's "soft" mattresses with medium body-conforming support.
The mattress itself is 11 inches high, and this can be broken down into different layers.
2 inches of soft Tempur-ES foam
2 inches of traditional Tempur memory foam
7 inches of air flow base
The main material used in this mattress is the Tempur-ES comfort layer, which is designed to cradle the body in additional softness while gently conforming to the body too. This material offers plenty of advantages, including:
Supports and aligns the body
Relieves pressure points
Allows optimal air flow and breathability
Reduces motion transfer
Aside from the Tempur-ES, the secret of the Tempur-Pedic Cloud Supreme also lies in its other features:
Removable and washable cover. The Tempur-ES material is then covered with a white super stretch cover with a luxurious swirl design and white accent piping. The cover is removable for easy washing.
No flipping or rotating. There is no need to flip or rotate the mattress. It has been designed to last long using a unique patented one-sided technology.
Stability. The mattress comes with a non-skid bottom that helps keep it steady.
Healthy and safe. The mattress is equipped with an allergen and dust-mite resistant barrier
Aside from the standard mattress sizes, the Tempur-Pedic Cloud Supreme is also available in split or 2-piece sizes.
Cloud Supreme Reviews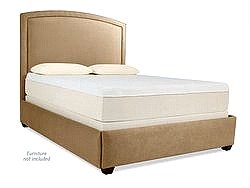 Tempur-Pedic Cloud Supreme Bed
According to reviews, the mattress is quite durable. It quickly returns to its original shape once the pressure has been removed, even though it has been used for years.
Consumers also liked the stylish cover. And whether it is because of the cover or the construction, they also noticed that the mattress is more breathable than other Tempur-Pedic mattresses.
This is not the mattress for everyone. More specifically, this is not ideal for heavier people and for those who have chronic back pain or injury pain. But this is great for average consumers who want luxurious softness and balanced support. It is also ideal for first-time memory foam users because it is not too soft or too hard so it is easy to get used to.
Just don't forget that although it is not too soft and not too firm, the Tempur-Cloud Supreme is still softer than firmer. This is how it is designed, and many people like it that way. But if you are looking for something firmer, this is not the right model for you.
Cloud Supreme Pros and Cons
The Cloud Supreme may be a great bed, but it sure isn't perfect. If you're trying to decide whether it's the right bed for you, compare its advantages and disadvantages.
Pros:
Has a soft initial feel that many people love
Despite its softness, it does not fully sacrifice support
More breathable
Comes with a removable, washable, and extra stylish cover
Long lasting
Can be used with adjustable beds
Cons:
Too soft for some people
Not for those who need more back support
Not ideal for heavy people and pregnant women
Does not provide extra firm support
Important Details Before You Buy The Cloud Supreme
The Tempur-Pedic Cloud Supreme starts at $2,099 for the twin size, and it also comes in the special twin long size, which sells for $2199. The double or full size sells for $2399, while the more popular queen size retails at $2599.
The king and Cal king sizes sell for $2999 both. The split versions are more expensive, with the split king and split Cal king selling at $4400.
The mattress comes with a 20-year limited warranty from Tempur-Pedic. This is not the market's longest, but it is enough considering that Tempur-Pedic has a good reputation when it comes to durability.
If you're unsure, you can avail of the 90-night tryout period. However, this is only available if you buy your Cloud Supreme directly from Tempur-Pedic.
More Reviews
Bob-O-Pedic Reviews - Bob-O-Pedic Vs. Tempur-Pedic Mattress
Tempur-Pedic Cloud Luxe Review - What Is The Truth Behind The Hype?
Have You Slept On A Tempurpedic Bed?
If yes, please share your experience by using the form below.
Tempur-Pedic Bed Reviews
Click below to see reviews from current mattress owners...

Cloud Supreme Is The Very Best Not rated yet
We had a temper Cloud Supreme for 4 years in queen and loved it. We recently upgraded to a king size bed and I gave the queen size mattress to my father. …
Your Tempur-Pedic Cloud Supreme Reviews
Can't Imagine Sleeping On Anything But My Cloud Supreme
by Anita H.
(Kent, WA)
When I purchased my most recent mattress I had one thing in mind after the way my last mattress treated me. I wanted to avoid having sharp metal springs jabbing me in the back and to do that I bought a Tempurpedic Cloud Supreme mattress for $2,699.

All of that money was just for a king sized mattress, the entire bed with the foundation, frame and mattress protector cost me $3,387. It was a bit more expensive than other foam mattresses, or even other Tempur-Pedic beds. It made up for that in being far above all others in terms of quality.

I was first introduced to the Tempur-Pedic mattress brand through a friend, and as I sat on his bed I realized how much better it was than both my old spring mattress and any the other foam beds I had seen in stores. When I went to buy my mattress I was a bit weary of buying something like a bed online but with free shipping and a to the door delivery it proved to be more convenient than lugging it home from a store myself.

As advertised the bed is very comfortable and responsive to where your body needs support. If you are like me and like to change sleeping positions this is the bed for you. I love to sleep on my side but in a standard bed it puts a lot of stress on my neck and spine, this bed however keeps them perfectly straight to reduce stress and pain.

In fact, if you have any aches and pains at all that your normal bed aggravates I would recommend this mattress, as it seems to be gentle enough on your body to reduce the pain. Over all I would give this bed a full five out of five stars, the only real draw back to the bed is the price.

Because it is so expensive the TEMPUR-Cloud Supreme mattress is only really fit to be used in the master bedroom. Even the double sized bed is far to expensive to sit in an unused guest room or trust with young children who love to eat and drink in bed.

I have only had this bed fully assembled for two weeks so far but I can say I would buy it again for sure. I can't imagine sleeping on any thing else ever again.
Cloud Supreme Is Not A Luxury, It's A Necessity
by Gwen
I might be in my early 30s, but inside, my body is that of a little old lady -- so when I say I need to be taken care of, I'm not talking as a prima donna, but as a woman with physical disabilities. Having already had arthritis for over 20 years, tendonitis for almost 10, a circulatory disorder my entire life, and having recently been diagnosed with fibromyalgia, I know very well the value of mattress which is kind to your joints.

If you can't sleep well because your body is too uncomfortable, and you can't do anything with your day because you're in too much pain, then your other investments are more or less moot anyway.

I was always willing to splurge on a good mattress; I just wasted a lot of time, money and pain killers not finding the right one.

Then I took an offer for a free sample of Tempur-Pedic material, and I have to say, I never thought I'd fall in love with a 2x4" rectangle of foam...but I did. I knew a Tempur-Pedic was my best chance at a fresh start, and decided to go for the free trial (pain does cloud the mind, after all, so I could have been wrong) of their softest mattress.

The Tempurpedic Cloud Supreme was delivered flawlessly, my older mattress moved for me out of the way (they would have hauled it away completely, but after all, my free trial would begin that night), and I found myself looking forward to bedtime without the slightest trepidation, for the first time in a long time. I have to tell you, were it not for my husband nearly hauling ME out of bed, that bedtime might have gone on and on and on, because I did not want to get out of bed.

I don't think I'd ever felt as comfortable in my life as I did on that first, awe-inspiring night simply lying on that mattress. More surprising yet was that when I finally DID get out of bed, I found I was in almost no pain at all, with none of the usual soreness and stiffness and sharp cramping.

Even my husband, who has a bad back which sometimes does better on firmer surfaces, had no complaints. The mattress managed to be fully supportive without putting any tension on the body - amazing!

Now my bed feels as indulgent as it looks. But if you're like me and need a little extra help sleeping at night and getting up in the morning, purchasing one of these is not a luxury, it's a necessity.
Tempur Cloud Supreme Is Pretty Good
by April
(CA)
We recently purchased the Tempurpedic Cloud Supreme in March. My husband and I had just gotten married and wanted to find a really good bed as we have back issues.

Overall, it is a pretty good bed. The great thing about it is that you can hardly feel your partner turning over in the night. It's also hard to detect when pets jump on the bed. So you will be able to sleep better just because there is less movement felt.

However, it is a little bit soft for those who need a little more back support. For those who are heavier weight, it may not be the best choice for you. But you really have to try it to see.

I recommend laying on it for five minutes on each side and your back. It's a pretty good bed and definitely is better than many poorly made spring mattresses.

This mattress definitely took a while to get used to; our backs actually hurt at first, but it seems like my body has adjusted to it. We are still in our trial period, so we are not completely sure we will keep it. It has its positives and negatives like any other mattress.
Return From Tempurpedic Cloud Supreme To Mattress Wiz