Tempur-Pedic Cloud Reviews
A New Breed of Memory Foam Mattress
The Tempur-Pedic Cloud mattress, as well as the enhanced Tempur Cloud Supreme, are Tempur-Pedic's softest creations.


Often dubbed the softest Tempur foam mattresses in their collection, these two mattress models belong to the Tempurpedic Cloud series.

This series features mattresses made using Tempurpedic's innovative new type of memory foam and the customary high prices.

This is the answer to consumer opinions saying that they wanted a softer memory foam mattress from Tempurpedic since the original Tempur is a bit firm and the Tempur-HD collection focuses more on support.

As a result, the beds in the Cloud series are called the most highly recommended beds in America.


The Newest Tempur Memory Foam Formula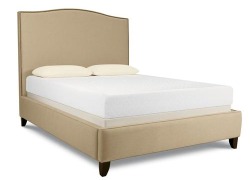 Tempur-Pedic Cloud

This is one of the things that help Tempurpedic maintain its rather dominating hold on the memory foam market. It does not just stick with what it already has.

Despite the breakthrough success of the Tempur memory foam material, Tempurpedic continuously tries to improve its products by coming up with modified memory foam types.

One of its innovative creations is the Tempur Cloud memory foam material, also called Tempur-ES, a new memory foam formula especially designed to provide the softest and most responsive cushioning a Tempur foam can manage.

The Tempur-ES is not just the company's softest memory foam material. Despite its breakthrough softness, it still delivers the perfect balance between softness and support, to make sure you get a comfortable but also healthy sleeping experience.

When the Tempurpedic Cloud line of reformulated memory foam mattresses first came out, it brought about a significant increase in Tempurpedic International's income. So far, there are only two beds in the series, but the company will add more, according to reports.


The Tempurpedic Cloud Bed
The Tempurpedic Cloud is known as soft and responsive and it provides contouring support. The mattress is simply soft, in a luxurious kind of way.

Yet, it still provides effective body contouring therapeutic support. It can also relieve pressure points and has a special breathable technology in the base layer to ensure that, although a memory foam bed, the Tempurpedic Cloud is not the same heat-retentive memory foam bed that other brands offer.

It is made up of:
A 1.2-inch Tempur-ES Comfort Layer with 4.1 lbs./ft3 density
A 1.6-inch Tempur Support Layer with 5.3 lbs./ft3 density
A 5.5-inch Airflow System base layer
Tempurpedic Cloud Prices
Prices for the basic Cloud beds range from about $1100 for the twin up to around $2000 for the California King size. Add $250 for a high-profile foundation.


The Tempurpedic Cloud Supreme Bed
The Tempurpedic Cloud Supreme, on the other hand, is known for striking a better balance between softness and support. Its many different layers are made up of:
A 2-inch Tempur-ES Comfort Layer with 4.1 lbs./ft3 density
A 2-inch Tempur Support Layer with 5.3 lbs./ft3 density
A 7-inch Dual AirFlow System base layer made up of a 3-inch AirFlow layer and a 4-inch AirFlow base layer
Common Features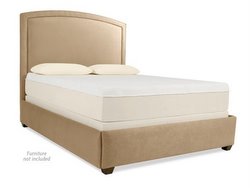 Tempur-ES Cloud Supreme Mattress

There are other common features and benefits shared by these two soft mattresses in the Tempur Cloud collection.
Soft, stretchable Tempur mattress top
Removable, easily washable cover
Non-skid bottom
Concealed cross-braced handles
Hypoallergenic and resistant to dust mites and microbes
20-year pro-rated warranty
90-night in-home trial

The Tempurpedic Cloud Supreme, however, adds Microsuede sides and accent piping to the mattress top.


Cloud Supreme Prices
The Tempur-ES Cloud Supreme goes for about $800 more than the base Cloud bed. The popular Queen size costs $2,399 and the foundation is an extra $250. An electric adjustable base - called the Advanced Ergo Adjustable Base - is available for another $1600.






Pros And Cons
But so far, this is all expert and technical information. As a consumer shopping for a Tempur-ES Cloud mattress, you also have to know what your fellow consumers say about these mattresses.

This is why it is important to read Tempurpedic bed reviews; they provide unbiased feedback about the beds.

Here are the advantages, disadvantages and most commonly voiced opinions about the Cloud and Cloud Supreme...
Pros:
As soft as it claims to be; very plush
Feels great when you initially sink into it
Provides ultimate comfort, especially when relatively new
Relaxing feel so you wake up refreshed, at ease, and not under stress
Relieves pressure points
Can provide relief for neck pain and joint trouble
Excellent for patients recovering from injuries
Great as a primary bed
No need to flip or rotate
Available from twin size to king size; also comes in a California King size
Can be used with ordinary box spring foundation or adjustable foundation
Cons:
Prices are too high - only meant for high-end shoppers
Does not handle regular wear and tear very well
Takes some time to adjust to
Softer than expected/Firmer than expected
Initial chemical smell - this goes away after some time
A Tempur memory foam mattress is quite heavy
Share Your Review!
Have you slept on a Tempur-Pedic Cloud mattress? If Yes, please tell us what you think of it!


More Consumer Reviews
This Bed Has Made My Life Better In Every Way
by Erica
(Nevada)
We just recently moved to Las Vegas and when my husband and I got here the movers really messed up. Our mattress came all torn up and there was nothing we could do about it.
At first we were resistant to buying a mattress because we didn't think any mattress could possibly be worth our time or any amount of money. We were so wrong! After about a week of sleeping on the ground, we decided it was time to buy a mattress.
We kept seeing the advertisement for the Tempurpedic Cloud. We went on the website and after seing that it was not much more than any regular matress, we splurged, on a whim, and bought it. That is by far the best decision we have ever made. This is the best bed I have ever in my life layed on.
I could not believe it. It is hard but soft at the same time. It molds to every part of my body, legs, back neck, it amazingly takes away andy pressure and stress on my body.
When I woke up after the first night, I couldnt believe how I felt! No aches, pains or complaints whatsoever. That was the first night that me or my husband had gotten a solid nights sleep in two years.
I will never buy another matress again. This has made my life better in every way possible. Well worth the money. I have never been happier to spend a day in bed.
For once I can not wait to go crawl in bed, the Tempurpedic Cloud is the best bed in the whole world, I am convinced.
---
It Is Not A Cloud
by Bev
(Colorado Springs, CO)
We bought the Tempurpedic Cloud four months ago for $3000. I have been trying to adjust to it.
It is a whole new way of a mattress. I can't get any kind of refund because it only lasted 60 days. It is a horrible experience. It is not a cloud. It is a rock. I am stuck with a $3000.00 very uncomfortable bed.
Do not buy it. Stick with conventional mattresses at less cost and more comfort.
---
Very Comfortable, Perfect Firmness
by Nick
(Long Island)
I own a Tempur-Pedic mattress. The model is call the Cloud. My mattress is very comfortable. I was surprise how firm it was when I first bought it. It has the perfect firmness for me. I like how it takes the shape of my body when I lay down on it. I like it much better than a traditional spring mattress.
I feel like I am sleeping on a piece of wood when sleeping on a tradition spring mattress. My Tempur-Pedic mattress doesn't have any bumps and lumps like a traditional spring mattress. I never toss and turn on my bed. My Tempur-Pedic Cloud is really smooth and feels like a cloud, hence the model name cloud.
I bought my mattress at the local Sleepy's Store at Long Island and I have been using it for four months. I have slept well since then.
My mattress cost me one thousand dollars plus tax. When I first bought this mattress I felt ripped off but after sleeping on it for a while I now say it is worth the price.
My Tempur-Pedic is far better then any bed I own previously or slept on.
I would give my mattress I currently own five stars with honesty. I would recommend this mattress to anybody who wants to sleep comfortable.
Related Articles
Return to Tempurpedic Mattress Reviews
Return from Tempurpedic Cloud to Mattress Reviews - Home