What Is The Best Mattress For Me? How To Find A Mattress That Matches Your Sleep Preferences
Answering the question: What is the best mattress? can be a bit like a trek through the jungle.
All you can do is keep searching and hope that eventually you'll find your way out.
Unfortunately, no one can definitively tell you what the right choice is. Instead you have to look around and find which mattress is the best for you.
A new, high-quality mattress can go a long way to helping you get the rest you deserve.
The real question we need to answer is: which mattress is right for me and my individual sleep preferences?
Because everyone has different sleeping habits and needs, there isn't one mattress that is ideal for everyone. This can make mattress buying a confusing and frustrating process.
What Is The Best Mattress Type?
To help you get started, you will want to look at the different types of beds. There are three main types of mattresses from which you can choose: foam, air and inner spring mattresses.
Within these three categories there are so many brands, styles, and models that your choices can be overwhelming. Before you get to that point, do some research and learn what is the best choice of mattress type for your individual sleeping needs.
Every type of mattress has certain strengths and weaknesses.
Are you a side or back sleeper? Do you toss and turn at night? Do you spend some time sleeping on your stomach?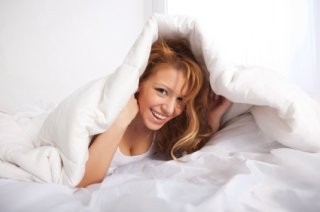 The answers to these questions like these will determine which type of mattress would work better for you.
We will cover the various types of mattresses and outline their advantages and disadvantages.
Once you know what is the best mattress type for you, we can move on to comparing the best mattress brands against each other.
After that, there are essentially three different ways to figure out who makes the best mattress. You can go by price, features, or consumer mattress reviews.
Beware of consumer reviews however. You have to read them carefully and learn how to make the most of them. No one sleeps the same way.
You could read literally hundreds of positive reviews about a certain kind of mattress and then find you can't even get comfortable on it.
If you plan to do your mattress shopping online to save money, try and do an in-store test before ordering. This just means that you should go to a brick and mortar store and actually lie down on your preferred mattress choices before making your online purchase. You may be surprised at the results.
What Is The Best Mattress Made Of Memory Foam?
Memory foam mattresses are made of high-density foam that has a certain amount of viscosity to it. This means that it will slowly mold itself to your sleeping form, especially as it warms up to your body heat.

Many people like memory foam mattresses because of the individualized support they provide as well as the fact that in a double bed, the movements of one sleeper don't disturb the other.

However, memory foam is difficult and costly to produce and therefore makes memory foam mattresses one of the most expensive varieties.

If you want to know which is the best mattress in the memory foam department, the answer is TempurPedic mattresses. The Swedish company was the first to manufacture memory foam in the early nineties and is still improving their design techniques today.

Now they use layers of coils of memory foam in addition to a top layer of flat foam.

Another collection of beds we can recommend for the best memory foam mattress are the Bragada mattresses. Available at a much lower price than TempurPedic, these models are highly recommended by consumers who have purchased them.

Often recommended by chiropractic physicians, Bragada has been awarded the Seal of Approval by the Orthopedic Research Institute.
What Is The Best Latex Mattress?
If you find you don't like memory foam, you might want to consider another type of foam mattress made out of latex. Latex mattresses have been in use since World War II.
They are dense and resilient and are known to last for forty or fifty years. They can be made from natural or synthetic latex or a combination of the two.
Some people don't like latex mattresses because they are so firm. They will mold to your body more quickly than memory foam, but you won't sink down into them.
Some of the best latex mattresses include the FloBeds Posture Select and Jamison's Choice of Comfort Sleep System.
Consumers swear by FloBeds because it is able to evenly disperse your weight as you sleep. The Jamison Choice of Comfort is highly rated in both industry and consumer reviews.
What's The Best Inner Spring Mattress?
Traditionalists will tell you that the best mattress to buy is the inner spring variety. These mattresses are topped with upholstery and padding, but the support comes from a layer of tightly coiled springs.
They allow the mattress to bend in accordance to the pressure of your body and give your bed a bouncy touch.
Older inner spring mattresses can get squeaky and as the upper upholstery layer breaks down the coils have the potential to poke the sleeper. However, they are much cheaper than other types of mattresses so many people still prefer them.
Sealy Posturepedic and Serta Perfect Sleeper make some of the best inner spring mattresses. They combine a high coil count with a high quality upholstery topper. Most consumers say that the Posturepedic is firmer than the Serta, but you may find that this not true for you.
Finally, if you don't like traditional inner spring mattresses, you might find your best mattress is an air mattress.
What Is The Best Air Mattress For Me?
When you sleep on these mattresses you are literally sleeping on a cushion of air. You pump up the plastic or rubber chamber of an air mattress, cover it with a sheet and then go to sleep. Most air mattresses are used for temporary sleeping solutions such as guest rooms or camping.
Air mattresses are very inexpensive but they are not as durable as other mattresses. They can leak, and are easy to puncture. In order to keep them in top working condition you should deflate them after each use, something many people don't want to take the time to do.
If you are looking for the best air mattresses you should check out the Coleman Quickbed or the Select Comfort Sleep Number p5 Bed.
The Coleman Quickbed is a high quality version of a regular air mattress that should last for years. This model is well suited as a spare bed or for travel and camping.
The Select Comfort Bed is more like a traditional bed in design and pricing. This air bed mattress is one of the "Sleep Number Beds" you may have heard of. It has a foam topper for comfort and the firmness is fully adjustable by changing the air pressure inside the mattress.
As you search for the answer to what is the best mattress, keep in mind that it is the quality of your sleep that matters the most. No matter which mattress you choose, make sure that it is the best type for you and your individual sleep preferences.
Related Articles