Choosing The Best Mattress For The Money
The best mattress for the money is the one that will help you get quality hours of sleep, but at a value price. The Better Sleep Council reports that 65% of Americans lose sleep because of stress and 32% of Americans lose sleep at least one night per week.
We need at least 7.5 hours of sleep per night, but perform better during physical activity and at work when we get 9 hours of sleep consistently.
If your mattress is more than 7 years old, or has sags, lumps or exposed sections, you may sleep better with a new mattress. You will want the best mattress for your money and should consider size, brand and type of mattress before buying.
Research two or three mattresses on the manufacturer's websites to help you decide before you buy. We recommend the following best value mattress models...
Disclosure: If you make a purchase after following a link from this page, my website gets a commission (at no extra cost to you). See our full disclosure details here.
Best Value Mattresses
Coolest and Most Affordable Queen Size Mattress - Sleep Innovations Shea Memory Foam Mattress
The Sleep Innovations 10-inch Shea Memory Foam Mattress gets excellent ratings from consumers. Amazon.com reviewers give it 4.1 stars and it is available there at a discounted price of just over $400 for the queen size.
If you are curious about memory foam, but concerned about the reports of sleeping hot, consider the Sleep Innovations Shea mattress which is designed to disperse heat and give you a comfortable and cool sleep.
The mattress is made of 7 inches of high-density foam topped with three inches of SureTemp memory foam. The special foam is made with patented technology that produces foam cells with open-cell construction that maintains airflow throughout the mattress. The result is a mattress with increased air circulation - eliminating the trapped heat problem.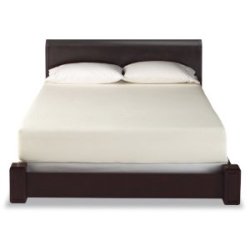 Sleep Innovations Shea
Memory Foam Mattress
Shea mattress owners from hot climates report a much reduced heat issue or none at all. The innovative mattress technology addresses the common complaint of memory foam being too hot for some sleepers. This is a firm mattress with good support and the top layer adapts to your weight and body heat to cradle your body and eliminate pressure points.
If you prefer a very soft mattress, this is not the bed for you. The supporting layer of foam is quite dense which results in a mattress with a firm, supportive feel.
Very affordable price
Temperature-regulating SureTemp memory foam keeps your bed cool
Effectively reduces pressure points - less tossing and turning
Reduces motion transfer across the bed
Comes with a mattress cover made of breathable knitted fabric
Resists dust mites and is naturally antimicrobial
Meets all flammability safety standards
Available in Twin, Full, Queen, King and California King sizes
Made with an environmentally-friendly manufacturing process
Best Mattress Under $500 - Comfort Dreams Select-A-Firmness Mattress
The Comfort Dreams Select-A-Firmness 11 Inch Memory Foam Mattress is a high quality memory foam mattress that sells for a very reasonable price. The queen size only costs around $400. This mattress comes in three levels of firmness - firm, medium, and soft, so you can choose the level of firmness that gives maximum comfort.
This mattress completely eliminates motion transfer across the bed, so if you tend to move a lot in your sleep, you won't disturb your partner. The Comfort Dreams mattress can also be used with a platform bed or even with your existing box spring.
Another advantage of this mattress is that it completely conforms to the contours and shapes of your body and relieves pressure points, which is the primary cause of tossing and turning during the night.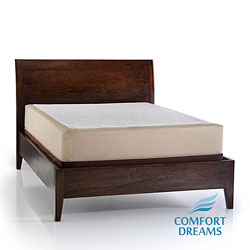 Select-a-Firmness Memory Foam Mattress
Why Memory foam?
The breakthrough foam material, originally developed by NASA for astronauts, has been of benefit to us all by creating a mattress material that literally molds itself to the sleeper. By layering the memory foam with high-density foam and using different weights of memory foam the overall firmness level can be adjusted, creating a bed with just the right balance of softness for comfort and firmness for support.
The Comfort Dreams mattress gets a 4.5 out of 5 star rating from over 2700 reviewers on Overstock.com, with a common comment that the medium is firm enough for most people and the mattress can easily handle someone who is "pleasantly plump".
Made of high quality memory foam material.
Available in three levels of firmness - firm, medium or soft.
Eliminates motion transfer across the mattress.
Adapts to your body contours to relieve pressure points.
Provides equal support for each part of the body.
Reduces tossing and turning.
Ideal for sleeping partners of differing weights or sizes.
Works equally well on a box spring or platform bed.
Costs less than $500.
Mattress Buying Tips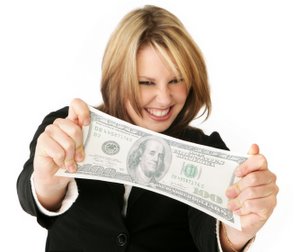 What's the Best Mattress for the Money?
To get the best mattress for the money, plan to comparison shop, looking for the best value including delivery, financing, warranty and service such as removal and recycling of old bedding.
You'll need to have a tape measure and small notebook and pen when you are out comparing mattresses before you make your buying decision, to note mattress brands, sizes, prices and special features.
"Test drive" as many mattress sizes and types as possible by lying down on the mattress flat on your back, on your stomach and in your favorite position for sleeping. Note how the mattress feels on your back, shoulders and neck. If you share a bed, bring your partner with you when comparison shopping.
Your new mattress size, twin, full, queen or king, depends on the size of the people who will be sleeping in it, the space it will be in and the bed frame you have or will purchase for it. Queen and king size mattresses and bed frames can be difficult to move and transport, so measuring spaces is important.
Make sure you measure more than once, especially if you are considering adding a larger bed to your sleep space, and be sure to consider the traffic patterns in the room and size of other furniture nearby. You should also measure the entrance to your home and bedroom, especially if you are purchasing a new bed frame or box spring with your mattress.
Keep in mind that if you decide to buy a pillow top mattress, it will be higher than a standard mattress and your old sheets may not fit. Also remember that queen and king size sheets and covers are more expensive than full size.
Beware of pushy sales people and high-pressure sales tactics when comparison shopping. Don't be fooled into "one-day only" special prices or complicated discount schemes. Make good use of a tape measure and notebook to educate yourself about the best mattress for your needs and your money.
Tempur-Pedic
Tempur-Pedic mattresses are made of trademarked proprietary material that is sensitive to body temperature, evenly distributes weight and returns to its original shape.
They do not put their mattresses on sale or offer promotional pricing, but price them with everyday value pricing that reflects their quality to offer the best mattress for the money. Tempur-Pedic offers three collections of mattresses, from soft to firm feel, starting at $949 for a twin size.
Sealy
Sealy mattresses are available in traditional innerspring, memory foam or latex foam, in several brands, including Sealy, Sealy Posturpedic, Embody by Sealy and Stearns & Foster. The Sealy brand traditional innerspring queen size mattresses start at $399, offering twice-tempered steel springs to prevent sagging and a patented edge system for firmness and stability.
Serta
Serta mattresses offer the iComfort Sleep System and the Serta Perfect Sleeper with nine mattress collections. The iComfort Sleep System includes the Cool Action Gel Memory Foam, and the Serta Perfect Sleeper developed with input from the National Sleep Foundation to target 5 common sleep and mattress issues.
The iComfort System features a foam core with edge support, with queen size mattresses starting at $1,074. The Perfect Sleeper mattresses start at $899 for queen size.
How to Find the Best Mattress Prices and Deals
Find the best mattress prices and deals, and get the best mattress for the money, by starting with research. Use the internet to compare brands, features, service and quality, and consider your space and your budget to narrow your choice of mattresses before you drive out to the stores.
Compare, talk to sales people and take notes to narrow it to the top two. Visit local retailers and compare their prices to on-line vendors until you find the best deal.
You Might Also Like
How To Choose A Mattress - Best Tips On Choosing A Mattress
---