Mattress Topper Reviews - Best Memory Foam,
Tempur-Pedic & Latex Mattress Toppers
Updated October 12, 2017
The following reviews of mattress toppers are sure to help you find the best mattress topper for your unique needs and comfort preferences. Toppers, especially latex, memory foam and Tempur-Pedic mattress toppers are becoming an increasingly popular option to people all over the world - simply because mattresses are becoming more and more expensive.
The good part is sleep technology is improving - the bad part is that new technology brings higher costs.
A mattress topper is essentially what it sounds like, something that goes on top of your existing mattress. You put the topper on top of your bare mattress, and then you put a fitted mattress pad over both pieces, followed by a fitted sheet. That should keep it in place for all practical purposes.
If you have an inner spring bed, and chances are you do, you will find that over the years the coils start to break down and your bed begins to sag. If this is the case, you are the perfect candidate for a topper. Reading mattress topper reviews will guide you to the best choices.
If you are purchasing a new bed and really want a memory foam or latex mattress but simply can't afford it, purchasing a less expensive bed and a visco memory foam or latex topper can give you the firm, responsive feel you want without completely clearing out your bank account.
A Tempur-Pedic mattress topper is somewhat more expensive, but can be a surprisingly affordable option because of the durability that comes along with such a high quality product.
The two most popular types of mattress enhancers today are memory foam and latex. Both of these products can be firmer than traditional mattresses but they also conform to the contours of your body when you sleep.
Disclosure: If you make a purchase after following a link from this page, my website gets a commission (at no extra cost to you). See our full disclosure details here.
Memory Foam Mattress Toppers
Memory foam toppers are made from visco-elastic memory foam, a type of viscous polymer that molds to your shape as your body heats it up. Even after you get up from memory foam it still holds your shape for a minute or so.
People like memory foam because:
It is more responsive than traditional mattresses.
It takes stress off your joints and your back.
Complaints often found in memory foam mattress topper reviews are:
The cost.
An unpleasant smell when the mattress is new.
Its ability to retain heat and make you hot when you sleep.
With a mattress topper the cost is reduced from thousands to hundreds of dollars. Most models cost no more than $200 for a queen-size. You can even air your foam topper outside for a few days and the smell should dissipate.
Sleep Joy 3 Inch ViscO2 Ventilated Memory Foam Mattress Topper
The Sleep Joy ViscO2 Ventilated Memory Foam Topper is one of the best memory foam mattress toppers available. It can add a welcome layer of cushioning to your bed while helping to keep you cool while you sleep.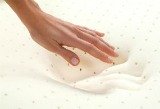 Sleep Joy Ventilated Mattress Enhancer
If you have a mattress that sleeps hot, you'll be extremely glad to know that there is one solution to your problem: specially ventilated mattress enhancers from Sleep Joy - a well-known manufacturer of mattresses, pillows, and mattress toppers. They are extremely popular for their ViscoFresh mattress toppers.
Consumers who wrote a memory foam mattress topper review praise this model for providing good support while adding a layer of comfort to their mattress.
Best Features:
Made of durable, high-density memory foam
Over 600 reviews - 4.3 star average customer rating
Adds softness to beds that are too firm
Reasonable price
Designed to stay cool and comfortable
Reduces motion transfer across the bed
Iso Cool Memory Foam Mattress Pad with Outlast Cover

Iso Cool Memory Foam Mattress
Pad with Outlast Cover
The SleepBetter Iso-Cool Memory Foam Mattress Pad with Outlast Cover is a success with people who have concerns about excess heat from memory foam and is also a good way to improve the feel and comfort of your bed. Amazon customers give it an excellent rating of 4.3 out of 5 stars and it is available for a discount price under $200.
This mattress topper is a little different from your usual mattress pad. Firstly, it is 3 inches of 2.5 pound density memory foam with an extra dense core that helps make the pad more durable. Secondly is the quilted cover that goes over the pad that is designed to dissipate heat for a better night's sleep.
The hypoallergenic quilted cover itself is 100% cotton quilted with 11oz polyester fiber and is removable for washing. Owners of the Iso Cool Memory Foam Mattress Pad are impressed by how comfortable but cool this pad makes the bed.
Best Features:
Temperature-regulating Outlast adaptive comfort material
3 inches of 2.5 pound density memory foam to provide support and comfort
Washable, high quality quilted cover
Pressure is equalized by the plush molded foam
Stays in place on your bed without shifting
Hypoallergenic cover
Sleep Better 2 Inch Visco Elastic Memory Foam Mattress Topper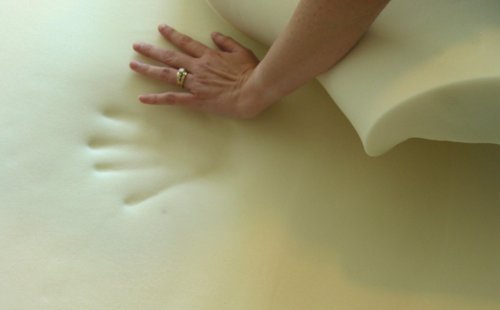 Sleep Better 2 Inch Visco Elastic Memory Foam Mattress Topper
If you are searching for a mattress topper with a low price tag, your best bet is the Sleep Better 2 inch Visco Elastic Memory Foam Mattress Topper, which is a bestselling item on Amazon.
This mattress topper sells for under $100 for the queen size. It provides 2 additional inches of comfort to your mattress for a very reasonable price.
The firm 2 inch topper is also more ideal for those who prefer their beds firm for extra support and a no-sag feel. It also helps relieve pressure points to make you comfortable and healthy.
The Sleep Better mattress toppers are made of 100 percent foam and are guaranteed clean and long-lasting. It has 2 1/2 lbs of density in each cubic foot. According to consumer reviews, the mattress topper from Sleep Better really helps you to sleep more soundly and to prevent frequent tossing and turning by ensuring a comfortable feel.
And while some low-cost mattress toppers tend to make the users sweat, this is not the case with the Sleep Better mattress topper, even if it costs you very little. This is because the Sleep Better mattress topper uses a special feature called temperature-smart, which uses an open cell foam that helps keep everything cool when you sleep.
Best Latex Mattress Topper
If you really want to purchase a natural and sustainable mattress addition, a latex mattress topper might be way to go.
Many latex toppers are made from natural latex, which is produced by processing sap harvested from tropical rubber trees in a manner that does no harm to the trees themselves.
Latex toppers are:
Allergen and mold resistant.
Made from natural products.
Breathable and disperse your body heat.
Firm but flexible and will conform to your body's shape.
On the other hand, complaints about latex concern it's:
Weight.
Rubbery smell.
Firmness; some people find it too firm.
Can be easy to tear when being handled off the bed.
The All Natural Latex Non Blended Mattress Topper from Organic Textiles is a top of the line mattress addition.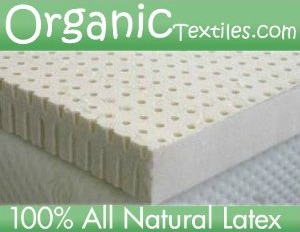 It is made of all-natural materials harvested from the natural rubber tree and is certified organic.
People who use it say that it makes their bed much softer and easier to sleep in and consumers on Amazon.com give it a very high 4.5 star rating for comfort and quality.
Bed toppers are found in other varieties than the two popular models listed above. You can get a more luxurious mattress topper of memory foam or latex in a four-inch thickness, for instance. However, some people also have toppers of simple high-density foam. Others prefer a feather bed topper.
Sweet Jojo White Goose Feather Baffle Box Featherbed
Some people simply refuse to sleep on anything but a feather bed mattress topper. The White Goose Feather Baffle Box Featherbed by Sweet Jojo Designs is an excellent feather bed topper.
It is a featherbed mattress topper made with 95% goose feathers and 5% goose down in a 10 inch box stitch baffle box construction.
Feather beds have created their own special following composed of consumers extremely loyal to this extremely comfortable type of bed.
Here are the top reasons we like this feather bed topper:
Luxurious goose feather and down fill
100% cotton 240 thread count cover
Two inch gusseted sidewalls
Antibacterial-treated fill
Available in Queen and Twin size
---
When you think about what you sleep on, you absolutely cannot compromise on quality and comfort. The time you spend sleeping helps you rejuvenate for the next day. You can't take chances with something so vital to your health.
On the other hand, high quality mattresses can run into the thousands of dollars, especially for something top of the line like a memory foam mattress.
For many of us, that kind of expenditure is out of reach. However, with a topper you can upgrade the comfort of your bed for a fraction of the cost of a new mattress.
Since sleeping is an individual activity, everyone has his or her individual sleep preferences. What one mattress reviewer might have seen will have no bearing on whether or not it gives you a good night's sleep. Therefore, it is important to check on the store's return policy.
Even though a topper is a much cheaper alternative to buying a whole new mattress, you still want to check out mattress topper reviews to be sure that you're getting the best mattress topper for your hard earned money.
More Reviews
Air Mattress Topper - Guide To Inflatable Mattress Enhancers - An air mattress topper can refer to two different types of products: an air-filled mattress topper or a mattress topper that works best for an air mattress.
Sealy Heated Mattress Pad Review
Share Your Mattress Topper Review!
Do you sleep on a mattress topper? Tell us how you feel about it!


Consumer Mattress Topper Reviews
Click below to see reviews posted by other visitors to this page...

Sealy "Heated" Mattress Pad - King Size Sealy Electric Heated Mattress Cover

I have been using this Sealy heated mattress pad cover for about 6 years now. I absolutely love it and would recommend it to everyone. I …
Tempur-Pedic Mattress Toppers Reviews Not rated yet
My TempurPedic Memory Foam Mattress Topper is probably one of the best investments I ever made. I ordered my mattress topper online about six years ago …
---
Return From Mattress Topper Reviews To Mattress Wiz