Comfort Dreams Mattress Review - Comfort Dreams Select-A-Firmness 11-inch Queen-size Memory Foam Mattress - 5 Stars!
by Andrew S.
(Naples, Florida)
Almost three years ago I moved back into the United States, leaving my former residence fully furnished. Needing a mattress for my new platform bed, I visited a local mattress store to test and price mattresses.

Before living in the Caribbean and being introduced to a foam mattress, I was only familiar with innerspring mattresses (e.g. Sealy).

My visit to the mattress store reinforced my preference for a memory foam type mattress. However, I found the prices to be, if not prohibitive, at least exorbitant.

Having a good relationship over the years with Overstock.com, I went back there and found my current mattress. This mattress is called the Comfort Dreams Select-A-Firmness 11-inch Queen-size Memory Foam Mattress and reads Climacool on the cover.

I selected the soft option and paid about $400. The mattress was delivered via UPS within a couple of days as a tightly rolled compressed cylinder.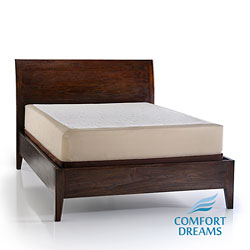 Comfort Dreams Select A Firmness Mattress

As per the instructions I freed the mattress from its bindings and let it decompress for a day to re-achieve its queen size.
Besides being a bargain delivered to my door, this is a fabulous mattress and still almost in mint condition. Memory foam does not create motion on my wife's side when I move or vice versa.
I haven't tried jumping up and down with a glass of wine on the bed, but it's probably doable.
I would rate this mattress 5 out of 5 stars, an excellent product from an excellent company at an excellent price. We would certainly purchase the same mattress again (in fact I got a second one for the other bedroom).
After three years there seems to be no deterioration of the foam itself, no dents or depressions in the bed, and no need to flip or turn the mattress. The durable cover still looks new and shows no discoloration or pilling.
We use a good quality mattress pad with cotton batting (which we also got from Overstock.com) on the mattress, but no other mattress topper.
I have seen this style of mattress deeper than our 11-inch model, but I can't imagine it would provide any more comfort and could require extra-standard bedding.
I don't know the technical differences between this mattress and the similar $1,000+ models, but I believe the comfort and durability comparable. I actually slept on a more comfortable mattress once when my wife and I were visiting a friend at her villa in Tuscany for my 50th birthday.
The setting was serene as we were surrounded by vineyards, rolling hills, and cypress trees as far as we could see in every direction. So the one place I have slept better than on my Climacool mattress was at the villa in Tuscany.
It's possible that the combination of Prima Plati, Secondi Plati, the fabulous wines of Montalcino, and the utter peace and quiet of Tuscany contributed to that better sleep, but it could have been the mattress.
So if you can find a quiet Italian villa with lots of good food and kitchen wine and a great mattress, go for it. Otherwise try a memory foam mattress like mine from Overstock.com.
Comfort Dreams Select-A-Firmness 9-inch Full-Size Memory Foam Mattress Review
by G.B.
For the past five months, I have been sleeping on a Comfort Dreams Select-A-Firmness 9-inch Full-size Memory Foam Mattress and I am a big fan. Overall, I would give it four and a half stars.

I was tentative about buying this mattress because I was buying it online without testing it out. I relied primarily on the reviews of the other buyers and, of course, how the price stacked up against similar mattresses. I bought this from O.co and, with a discount, paid $285 plus $2.95 for shipping.

You have the firmness choices of soft, medium, or firm. I chose medium and was considering the firm. This characteristic is very difficult to gauge with online reviews. Some said it was too firm for a medium and others said it was not firm enough, but you have no idea what one person considers.

So, what do I like about the mattress? For one, it was fairly easy for me to get from my front porch, up my stairs, and to my bedroom. The mattress was delivered rolled up so it was not as awkward to move as a spring mattress. Unpacking it was easy as well. Once it is unrolled, moving it around is a little more difficult because it does not have the rigid structure of a spring mattress.

Most importantly, I love sleeping on it. Before this mattress, I slept on spring mattresses, some with pillow tops, and also a memory foam topper but the full memory foam mattress is a different experience entirely. I was worried that the support would not be there given it lacks the structure of a typical mattress. This was not a problem at all.

It supports my body better than any of my previous mattresses. This surprised me somewhat because I am not a little person. I had images of me sinking through the mattress and waking up inches from the floor. Not at all.

If you are looking at a memory foam mattress, you probably know it reacts to the heat and pressure of your body. This particular mattress does react to heat and pressure but by molding to your body. It continues to support me through the night. I do not sink into it over time and when I change positions, the mattress quickly springs back and molds to my new position.

One of my favorite things about this mattress is it is so quiet. Not only is there none of that squeaking or "groaning" of a spring mattress, but you do not feel anything else in the bed whether it be another person or a 100 pound dog. With my last mattress, I used to wake up easily when my husband shifted in his sleep. Now I do not notice it, and that makes for a more restful sleep.

Time will tell if the great sleep experience I've had so far will continue. I am concerned the integrity of the mattress may fade faster than more expensive, seemingly sturdier spring mattresses. In five months, there has been no change to the support so I am hopeful it will last me for a while. If this lasts me five or more years, I would buy the same model again.