Disclosure: If you make a purchase after following a link from this page, my website gets a commission (at no extra cost to you). See our full disclosure details here.
Serta Gel Memory Foam Mattress Review
Is This The Best Mattress For Heavy People?
Looking for a firm memory foam mattress that also stays cool and won't let you sink too deeply into the foam? That's just what you may find with the Serta Gel Memory Foam Mattress which is designed to deal with the common complaints of sleeping hot and sinking uncomfortably deep into memory foam.
The best part? It's a really good deal - selling for under $800.
This affordable and unique three layer foam mattress, which carries the Serta name but is manufactured by Sleep Innovations, is made with an advanced material called gel memory foam (viscoelastic memory foam infused with gel beads) which helps you keep your cool and enjoy a comfortable sleep.
Contents (Jump ahead to any part of this page)
It is getting very impressive ratings from current owners. The Serta Gel Foam mattress is also winning over heavier people as well as married couples with different firmness preferences because of its very firm but still comfy support.
At one point in my life I was packing a few extra pounds, and in those days I definitely felt that I needed a good firm bed mattress. I would never even consider buying a foam mattress (perish the thought!)
To me, foam beds were lacking in good support and just the idea of a sleeping on a "flimsy" foam mattress could trigger my back pain - but back then I had never heard of the Serta Gel Memory Foam mattress.
So if you and your spouse aren't able to see eye to eye regarding mattress firmness, but you're not ready to get a pair twin beds for your bedroom, I think you may want to take a look at this one.
It's a great value, but for maximum satisfaction, there are a few things you should know about this mattress before you buy.
Serta Gel Foam Mattress Design and Features
The Serta Gel Memory Foam mattress is all foam (three layers of it) but somehow still manages to stay firm with good support for your back or a heavier person. Looking at the customer feedback, it's this ability to create a balance between firm and soft that is driving the rave reviews.
The top layer of the mattress is made with something Serta calls "gel memory foam". You may find yourself asking: just what is gel memory foam?
Gel memory foam is composed of polyurethane memory foam which has been infused with tiny beads of gel. This is a new mattress material that was developed in an attempt to deal with the two most popular gripes about visco-elastic (memory foam) mattresses: heat retention and sinking too deeply into the foam.
Apparently, the gel beads give the foam the ability to distribute your body weight more evenly and allow it to provide a more stable and uniform feel - to prevent that awful sinking feeling. The gel also adds to the durability of the foam, which could possibly add to the lifespan of your bed.
If you've ever "slept hot" on a memory foam bed, you will appreciate what this gel can do - improve the air circulation of the mattress and keep it cooler by improving the heat distribution. That is what gives the much welcomed cool feel to the Serta Gel Foam 3-Layer mattress and is one of the reasons this bed is getting such good reviews.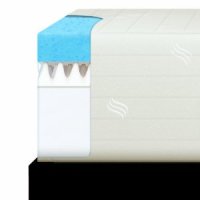 Serta Gel Foam Mattress Layers
The Serta Gel Memory Foam mattress comes in two different versions: a 10 inch and a 12 inch mattress. Both have three layers of foam, with the 10 inch bed sporting 1.5 inches of gel memory foam in the top layer, then 1.5 inches of textured foam, supported by a 7 inch layer of supporting base foam. The bottom layer is designed to provide firmness and support.
The 12 inch deep mattress has 2.5 inches of gel memory foam and 2.5 inches of textured foam over the same 7 inches of base foam.
An extra 2 inches of padding results in a softer mattress with more give, right? Surprisingly, the 12 inch mattress seems to be firmer, with a small number of reviewers complaining that it was unacceptably firm for their taste.
Who Makes The Serta Gel Memory Foam Mattress?
Although this mattress carries the Serta brand name, it is actually manufactured by Sleep Innovations, a well-known supplier of high quality memory foam products since 1996.
They also make the Sleep Innovations Shiloh mattress, Novaform mattresses and a range of very well-designed foam mattress toppers and pillows. Their foam products are made in the USA at manufacturing plants in Baldwyn, Mississippi and Chicago, Illinois.
Comfort
What we find impressive about the Serta Gel Memory Foam mattress is that somehow it manages to please a wide variety of mattress buyers by simply not being too firm and not being too soft. It achieves a good balance between firmness for support and softness for comfort, with quite a few users reporting pain relief.
The foam feels firm at first then allows your body to sink into it without the usual pressure points you feel on a metal spring mattress. The foam also conforms to your body shape, cradling you in soft but supportive memory foam material.
Like a lot of folks, I just can't get comfortable when my bed (or bedroom) is too warm. Gel foam is designed to reduce the heat buildup that memory foam mattresses are famous (or infamous!) for, and from the customer reviews, it looks like it actually works as intended.

Serta 12 Inch Gel Memory Foam Mattress
The Serta Gel Foam mattress compares well to the much hyped Serta iComfort mattress, but has the advantage of a much lower price. This mattress has the potential to make bed partners with different firmness preferences both happy and doesn't create any roll-over problems.
The mattress seems to achieve the impossible by giving you a soft mattress with firm support - it's not too soft and squishy like a pillow top bed and not too hard like some bare-bones innerspring mattresses. It also successfully reduces motion transfer, so you won't feel your bed partner move on their side of the bed.
Note: If you've never owned a memory foam bed before, it may take a little while to get used to the unique feel.
Firmness & Support
The three different layers of foam give good support without feeling too firm. Although the mattress feels firm when you first lay down, even heavy and large sleepers will not sink too far into the foam material. The Serta Gel Foam 3 layer mattress creates a firm sleeping surface with good support, but some people (usually lighter weight sleepers) find it to be a little softer than expected.
Most reviewers claim it is on the firmer side, but almost everyone agrees this bed is very comfortable and gives great support without being overly soft or too hard. Actually, the firmness really depends on the climate and temperature conditions in your bedroom - it will be somewhat softer in a warm room and feel firmer in cool temperatures. Your body heat is what causes the foam to conform to your shape.
The mattress will be firmer for about the first week, so if you think it feels too hard give it at least two weeks. Quite a few owners say that the foam takes a week or two to reach its maximum comfort level.
Durability
Regarding the durability of this mattress, it is really too soon to say as it has only been available for less than a year now. Most reviewers agree this is a quality, well designed and constructed foam mattress and we haven't seen any complaints of premature sagging or foam breakdown. Serta is backing it with a 20 year warranty, which is a good sign.
Note: the Serta Gel Memory Foam mattress is a one sided mattress that can't be flipped. However, it's a good idea to rotate the mattress (turn it from head to foot) which may help increase the longevity and minimize any possibility of body impressions in the foam.
How Does It Compare to the Serta iComfort?
The Serta iComfort has more inches of memory foam and a very long warranty, but costs much more than the Serta Gel Foam mattress.
Serta iComfort Mattress:
Thickness of memory foam: 4.75 inches (gel-infused memory foam)
Base foam: 6 inches
Total mattress height: 11 inches
Warranty: 25 years (first 15 years not prorated)
In-home trial: 120 days
Price range: $750-$5,700
Serta Gel Memory Foam Mattress:
Thickness of memory foam: 1.5 or 2.5 inches of gel memory foam
Base foam: 7 inches
Total mattress height: 10 or 12 inches
Warranty: 20 years
In-home trial: none (30 money-back guarantee from Amazon)
Price range: $475-$750
10 Inch Vs. 12 Inch Mattress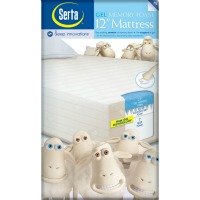 The 12 inch version has 2.5 inches of gel memory foam and 2.5 inches of textured foam, versus 1.5 inches of each in the 10 inch bed.
So what's the best choice - the 10 inch or 12 inch mattress? Although the 12 inch mattress has an additional inch of gel memory foam in the top layer and more supporting textured foam, the 10 inch version has slightly better user ratings right now. This is probably because the 12 inch is just too firm for some folks.
A very small number of sleepers found the 10 inch mattress too soft, but heavier sleepers thought it was just right and enjoy the firm support provided by the sturdy base foam. Here's the bottom line: If you are a back sleeper and need a firm mattress with good support, choose the 12 inch mattress. If you desire something slightly softer, the 10 inch mattress just may be the right choice for you.
Sizes Available & Dimensions
The Serta Gel Foam 3-Layer mattress is available in Twin, Full, Queen, King and California King sizes, in both the 10 inch and 12 inch thicknesses.
10 Inch Mattress:
Twin size: 39 inches wide by 75 inches long by 10 inches deep
Full size: 54 inches wide by 75 inches long by 10 inches deep
Queen size: 60 inches wide by 80 inches long by 10 inches deep
King size: 76 inches wide by 80 inches long by 10 inches deep
California King size: 72 inches wide by 84 inches long by 10 inches deep
12 Inch Mattress:
Twin size: 39 inches wide by 75 inches long by 12 inches deep
Full size: 54 inches wide by 75 inches long by 12 inches deep
Queen size: 60 inches wide by 80 inches long by 12 inches deep
King size: 76 inches wide by 80 inches long by 12 inches deep
California King size: 72 inches wide by 84 inches long by 12 inches deep
Specifications
Manufacturer: Sleep Innovations
Type: Three layer gel memory foam mattress
Material: Gel Memory Foam, Polyurethane foam pad 69%, Gel 31%
Mattress cover: Polyester mattress cover
Shipping Weight (10 inch mattress): 76.8 pounds
Shipping Weight (12 inch mattress): 89 pounds
Model number (10 inch mattress): G-MAT-94040-QN-WHT
Model number (12 inch mattress): G-MAT-94050-QN-WHT
Maintenance: One-sided mattress (can't be flipped), spot clean only, do not remove mattress cover
Warranty: 20 year warranty
Shipping & Set Up
The Serta Gel Memory Foam mattress arrives vacuum sealed in a cylinder-shaped roll inside a plastic bag. The compact 4 foot high box may seem to be too small to hold a large mattress. But when you have removed the plastic, the foam expands, like one of those emergency rubber rafts, and grows before your eyes into its full size and shape. Be careful cutting the plastic bag, you don't want to damage the foam mattress inside.
Tip: Move it onto your bed before breaking the vacuum seal. After the foam expands it will be feel heavier and be more awkward and difficult to move around.
The mattress can be placed on a regular box spring or platform, as long as it is in good condition. There's no need to buy a special base.
Pros & Cons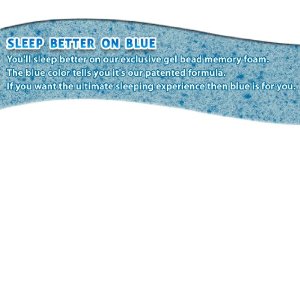 Pros:
Soft and comfortable feel, but still firm and supportive
Good alternative to more expensive memory foam beds like Tempur-Pedic or Serta iComfort
Responds to body heat to match your body shape
Has the right balance between firm support and a soft mattress
You won't sink too deep into the foam while lying down
Seems to be ideal for heavy people
Great for back support - and for back sleepers
Gel foam relieves pressure points
Very few reports of annoying chemical foam smell
Improved airflow helps it stay cool - gel foam doesn't retain as much heat
No noise from squeaky springs
Cons:
Heavy, difficult to move - the dense foam material weighs more than your typical mattress
If you prefer your mattress on the softer side - this one is probably not for you as its most commonly described as firm or very firm
A small number of negative reviews mention that it feels too stiff or firm for their sleeping preference
Only available in one firmness level, but you can choose either the 10 or 12 inch version
Consumer Ratings & Complaints
The Serta Gel Memory Foam mattress is very highly rated by consumers. Current owners love this mattress. Amazon reviewers give the 10 inch model an average customer rating of 4.4 stars out of 5 stars (93% 4 stars or higher) and the 12 inch bed gets 4.1 stars.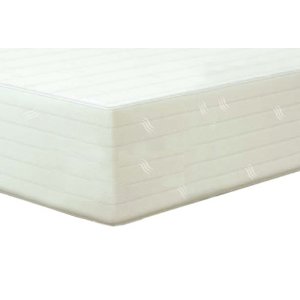 A full 80% of Amazon reviewers give the 12 inch mattress a 4 or 5 star rating. It looks like gel memory foam does successfully tackle the overheating problem found with a lot of foam beds, as that is one of the most common points mentioned by reviewers.
Here are some quotes from current owners:
"far-and-away the most comfortable bed I have ever slept on"

"the best night sleep in years without being on the operating table"
There are very few complaints about the Gel Memory Foam mattress - most reviewers (over 80%) are very pleased with the soft, yet supportive firmness. A handful of users felt the foam was too soft and conforming to sleep comfortably on, but most of the negative reviews claim the mattress felt too firm.
It seems to me that heavy sleepers (as in heavy weight, not deep sleepers) appreciate the firmness provided by the supporting base foam layers. Thinner people may not sink deeply enough into the foam to get the full benefit and therefore find the top layer either too soft or too firm for their own unique sleeping preference.
Warranty
As of this date, the Serta Gel Foam 3-Layer mattress has a 20 year limited warranty. Mattress replacement is only covered once. The warranty covers "severe body contours" which they define as "impressions which exceed 1.5 inches in depth below normal level of the product".
Amazon, where this mattress is sold, has an excellent return policy and a 30 day money-back guarantee.
Prices & Best Place To Buy
Prices for the Serta Gel Memory Foam mattress at the time of writing were just over $700 for the queen size and around $730 for a king size. We recommend buying the Serta Gel Memory Foam mattress at Amazon.com. Their prices are very competitive (actually, they almost always have the best price) and shipping is usually free. Another great advantage about Amazon is that you can find a lot of customer reviews to help you make your buying decision.
More Top Rated Mattresses
DynastyMattress Cool Breeze Gel Memory Foam Mattress Review
DreamFoam Mattress Ultimate Dreams Latex Mattress Review
Lucid 12 Inch Memory Foam Triple-Layer Mattress Review
---
Return From Serta Gel Memory Foam Mattress To Mattress Wiz