Serta iComfort Mattress Reviews
iComfort Vs Tempur-Pedic
The Serta iComfort mattress is Serta's newest and most innovative product. Several years ago, memory foam entered the market and revolutionized the industry.
Now, Serta advertises its iComfort sleep system as the next step that the mattress industry has to take.
These unique iComfort mattresses feature another special material - gel. Find out how this breakthrough sleep system really works.
How the Serta iComfort Sleep System Works
The Serta iComfort mattresses are Serta's newest innovations. Many consumers these days prefer memory foam mattresses because of their ability to relieve pressure points, conform to the unique shape of the body, and isolate motion.
However, memory foam technology has stayed the same since it first entered the market almost 40 years past.
While it is supportive and comfortable, it also has its disadvantages, like how it retains heat and sleeps hot. Many people also find that it is hard to change positions on a memory foam mattress.
Serta tweaked the old memory foam mattress to eliminate its major disadvantages. The result is the Serta iComfort. This is memory foam but with a few modifications. It has been infused with Serta's special MicroSupport Cool Action gel, which provides added support and a much-needed cooling action.
According to Serta, the iComfort is designed to provide more superior pressure relief, provide targeted support, and keep sleepers cool all night long. Serta also added antimicrobial and dust mite resistant agents to keep the mattress safe from allergens.
The Serta iComfort mattresses come in different models, namely:
Prodigy. The iComfort Prodigy mattress offers luxurious comfort coupled with extreme support. This mattress is designed to create the sensation of being properly cushioned in your bed. This bed features a combination of Cool Action Gel memory foam and Serta's special Cool Reaction Slow Recovery latex foam. This combination of materials delivers the plushest feel among all five iComfort models. Prices start at about $2000.
Insight. The iComfort Insight is the most popular Serta iComfort model. It is made up entirely of the Cool Action Gel memory foam. This is also the cheapest model in the collection, selling for only $900.
Revolution. The iComfort Revolution offers supreme comfort and advanced support. This is like the Insight in that it is 100% memory foam. However, for the Revolution, Serta uses not one but two of its special memory foam variants. The Cool Action Gel memory foam is combined with KoolComfort memory foam to enhance pressure point relief and to provide targeted support. This sells at $1600.
Genius. The Genius is a medium firm mattress that balances between plush and extra firm. The reason lies in the unique combination of a soft Cool Action Gel memory foam and a layer of Serta Support Foam. This retails for around $1200.
Renewal Refined. Serta's best iComfort mattress is called Renewal Refined. This mattress features two layers of the Cool Action Gel memory foam, so it is extra resilient and responds to the body's weight instantaneously. It also has a layer of KoolComfort memory foam for added pressure relief and contouring support.
All Serta iComfort models are available in all standard bed sizes.
What Serta iComfort Reviews Say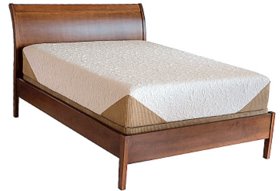 Serta iComfort Mattress
Serta iComfort reviews most assuredly find the mattress to be a product that's worth trying. Consumers can't help but be curious about all its features and promises, and so far, the feedback is quite positive.
According to current owners, Serta iComfort's advantages far outweigh its disadvantages.
Pros:
Breathability and cooling factor
Targeted support
Antimicrobial and dust resistant
Superior pressure point relief
In-home 120-day risk-free trial period
25-year warranty
Cons:
Expensive prices
Not the only gel-infused memory foam mattress - a similar (and much cheaper) product is also produced by Sleep Innovations
Serta iComfort vs. Tempur-Pedic
The Serta iComfort mattress reviews often compare this new product with the leading provider of memory foam mattresses, Tempur-Pedic. Both are well-known and highly respected manufacturers in the mattress industry, and both use premium-grade materials and technologies to make their products more beneficial to consumers.
Both also sell their products at high prices. The only difference is that Tempur-Pedic focuses on memory foam only, while Serta iComfort has moved beyond by adding gel-infused foam and combining memory foam, gel, and latex. Here's a quick comparison of the technologies and materials used by both brands.
Serta iComfort features
Cool Action Gel Memory Foam - delivers pressure relief and contours to the body
KoolComfort Memory Foam - delivers targeted support
Serta Support Foam - creates a firmer feel for those who prefer firmer beds
Cool Reaction Slow Recovery Latex Foam - delivers a plush feel
Tempur-Pedic mattress lineup
Tempur-HD - delivers conforming support
Tempur-Cloud - provides pillow-like comfort and responsive support
Tempur-Contour - provides balanced support and a firmer feel on the surface
Prices & Buying the Serta iComfort
The Serta iComfort models sell at various price ranges to meet the varying budgets of different consumers. The cheapest is the iComfort Insight, which starts at $900, followed by the iComfort Genius, which sells at $1200.
The iComfort Revolution sells for $1600, and the iComfort Prodigy for a bit over $2000. The iComfort Renewal Refined mattresses sell at $2800 for the queen size, and can go up to almost $4000 for the California king split size. All mattresses come with a very long 25-year warranty from Serta.
Serta iComfort mattresses are widely available both in your local home furniture and bedding shop and online. Buying the mattresses online may help you get better deals.
However, most stores that carry the Serta iComfort mattress have shipping restrictions, which means they don't ship to all locations. Also, when buying online, you won't see the actual products in person, so visiting a showroom and reading Serta iComfort reviews before you buy are both good ideas.
Related Pages
Bob-O-Pedic Reviews - Bob-O-Pedic Vs. Tempur-Pedic Mattress
Share Your iComfort Mattress Review!
Have you slept on a Serta iComfort mattress? Please tell us what you think of it!


Latest iComfort Reviews
Click below to see reviews posted by current mattress owners...

Serta iComfort Savant EverFeel Reviews
I've had the Serta iComfort Savant EverFeel Plush mattress for about 8 months now and I don't hate it but I wish I had gone with something else. It's hard …
Serta iComfort Revolution
My mattress is a Serta iComfort revolution. We have had it for approx. 2 1/2 years. It's a king size. It is by far the best mattress I have ever owned. …
Your iComfort Reviews
Couldn't Be Happier With My Serta iComfort
by Heather P.
I can honestly say that until this past September I had never slept in a bed that I felt 100 percent comfortable with. I knew that when we bought our home the most important thing was going to be getting a proper bed to sleep on because I am sick and tired of bad quality beds that have become the norm. My situation is pretty particular because I suffer from herniated discs that are pushing on my nerves, so for a few days a month the only thing I can do is lay in bed.
My friend recommend me to try to see the selection that they have at Sears, so off we went to the Cambridgeside Galleria, here in neighboring Cambridge,Ma. I "lay-tested" a few of the beds with no satisfaction at all. I had always seen people curl up in beds with relief, I was waiting for that magical moment and was losing hope. Then, remarkably it happened. I was laying and all was right in the world, everything seemed to disappear and I knew that I needed this bed in my life ASAP.
Turns out I was laying on a Serta mattress, the iComfort to be exact. For such a high-tech name, it seemed to be the most natural feeling in the world for my back, the bed just swallowed me in with what I later learned was cool-action memory foam. Not too firm, not to soft, I was goldilocks and this was just right for me. My husband was also sucked into it's perfection and we decided right there and then that it was the bed for us.
We were shocked when we saw the price for the mattress but we had agreed that money was not going to get in the way of me finally getting some relief for my back and restless nights due to discomfort. The bed was about $1600 because we opted to get the queen size and to my luck we were able to get it delivered the very next day.
It has been almost 6 months since our big purchase and I couldn't be happier, my back and shoulders are much more relaxed and I am finally able to sleep through the night. My husband is also enjoying less complaining from me. So far it seems to be holding up well, the quality is much superior than all those crappy beds we had slept in our whole lives.
I am so proud of our bed that I even make it a point to have our friends lay on it when they visit. It has become a talking point for me. Needless to say, I have recommended it to anyone I hear complaining about back problems because I know while it hasn't cured my pain it can be the only thing that makes me feel comfortable on my worst days. Five stars completely worth the price!
We Love Our Serta iComfort Memory Foam Mattress!
by John
(Alexandria, LA)
Great Mattress! We purchased a Serta iComfort foam mattress at a local flooring and bedding store. We had looked at Tempurpedics but were concerned about some owners' reviews describing that they felt like they were in a hole when they tried to turn over, increased body heat, and/or an intense odor.
We tried the Serta iComfort firm mattress in the store and liked it, especially compared to the conventional mattresses of all brands. We were still skeptical that the Serta mattress may have some of the same issues as the Tempurpedic mattresses, although Serta and the local store said Serta had developed a new foam that alleviated the heat problem and the sinking into a hole problem.
We had 120 days to try it at home and to return it if we didn't like it, so we took the chance. We immediately loved it! No odor, no body heat problem, and no problems sinking into a hole. The support is the best we've ever had over the years (we are in our late 50's & early 60's).
We can recommend this mattress without reservations and only wished we had purchased it sooner! Finally, there is a 20 year warranty should you ever need it.
iComfort Insight
by Herman Hoelscher
(New Port Richey Fl.)
Well my wife hasn't been able to sleep on this thing since we recieved it. The mattress we recieved was much harder than what we tried in the store.
We were told that we had 60 days to determine whether we liked it or not. Went back to Macy's and suddenly we could return it but to go to something different we had to pay retail or wait another month until they were back on sale.
When I spend $2000.00 for a mattress I expect them to stand behind there warranty not tell us to wait till the next sale to get another. I thought Macy's was the place to buy but now I think I would stay away.
Resources
iComfort Sleep System Overview
---
Return From Serta iComfort Mattress Reviews To Mattress Wiz