Serta Mattress Reviews
iComfort, Perfect Sleeper & Best Serta Mattresses
Serta mattress reviews give us a good insight into their mattresses and tell us which Serta models are best, and which ones we should steer clear of. Serta is a popular company and their beds come in a wide variety of styles from the famous Perfect Sleeper to the newer memory foam and latex models.
But how do you know if the one you're about to buy is worthwhile? The Serta mattress company has been around for a long time - more than seventy-five years - and they're still making excellent quality mattresses.
Serta does its best to invest in the highest quality materials, manufacturing techniques, and innovative features.
Serta has been a leader throughout its long history, and is responsible for many important product firsts.
So far, reviews of Serta mattresses reflect their good reputation in the mattress industry and the well recognized name.
Popular Serta Mattresses
Serta Gel Foam 3 Layer Mattress Review
The Serta Gel Foam 3-Layer mattress scores well with consumers and is available in either a 10 inch or 12 inch mattress. The 10 inch version of this advanced gel memory foam mattress gets an impressive 4.4 stars from Amazon.com reviewers. The 12 inch bed is also does well with a 4.1 star average.
This foam mattress is definitely punching above its weight class, providing enough sleep comfort to challenge the highly touted Serta iComfort mattress, but selling for a third of the price.
Current owners like how the gel memory foam stays cool and produces a more stable and supportive sleeping surface. Its popularity with heavier sleepers could make it a contender for the title of 'best mattress for heavy people'. Read our full review...
Serta iComfort Mattress Reviews
The Serta iComfort mattresses are Serta's newest innovations. In order to compete with the high-quality Tempur-Pedic mattress, Serta tweaked the old memory foam mattress formula to eliminate its major disadvantages. The result is the Serta iComfort collection which includes 5 models: Insight, Prodigy, Revolution, Genius and Renewal Refined.
These beds are made with memory foam but with a few unique modifications. The foam has been infused with Serta's special MicroSupport Cool Action gel, which provides added support and a much-needed cooling action. But how does Serta iComfort fare vs. Tempur-Pedic beds? Read more...
Serta Vera Wang Mattress Review
The Serta Vera Wang mattress is a high-end choice for people looking for the perfect night's sleep. But are they really the perfect choice for you?
Serta has created Vera Wang mattresses in collaboration with Vera Wang, who is best known for her fashion design. These mattresses are designed with an eye on comfort, style, and quality, and every bed is made to provide the best support and an excellent night's sleep.
Mattresses in the Vera Wang collection boast luxurious fabrics and a Free Flex Innerspring, as well as Serta's exclusive Custom Support Foam. The collection includes the Signature Bridal Bed, Sequin Bed, Braid Bed, Floral Bed and Sweetheart Bed. Read our full review...
Serta Suite Dreams Mattress Review
The Serta Suite Dreams mattress is widely used in hotels, making it one of the most sought after mattresses around.
The reason behind its popularity is its unique design, which was created not only by top mattress manufacturer Serta, but also with the help of world-class hotel chain, Hilton.
It is, in fact, also called the Hilton Suite Dreams or, sometimes, the Hilton Serenity bed. The bed is custom-designed to be used in all of Hilton's Homewood Suites, and was eventually made available to the public. Hilton provided the specifications for this mattress, so it is really built to become one of the finest, most comfortable, and most luxurious beds there is. Read more...
Serta Perfect Sleeper Ashwood Plush Mattress
This model is part of the famous Serta Perfect Sleeper line. Always well regarded in reviews, the Perfect Sleeper Ashwood Plus scores points with consumers for its well-balanced blend of comfort and support.
This bed employs five of Serta's patented Comfort Zones that help increase circulation and reduce pressure points during sleep. Additional comfort is added by the Advanced Comfort Quilt layer, which is made of rolling peaks of foam combined with layers of fluffy fibers.
Beneath this are layers of Comfort Foam, which support the body weight while helping to maintain spinal alignment. 532 individual coils rest upon the StablBase double beam foundation for added strength and reduction of motion transfer.
Safety and peace of mind are ensured by the FireBlocker system, which exceeds the national standard for fire safety. Total height of base and mattress is 18.25 inches.
Usually selling for $900-1000, most Serta approved retailers include free set up and removal of your old mattress set. The Serta Perfect Sleeper Ashwood Plush is made in the USA.
Serta Trump Mattress Reviews
With the
Serta Trump Home mattress
line, the Serta mattress company intends to prove that you can sleep richly without breaking the bank.
This collection emblazoned with the Trump name includes twelve inner spring models and five all foam specialty mattresses. Serta claims the Trump Home beds employ the latest in comfort and support features.
All mattresses are compatible with the Active Base, giving you the option of converting to an adjustable bed. The Serta Trump Home spring mattress employs the patented Free Flex inner spring unit or individually wrapped springs working independently to comform to the sleeper's body.
Total Edge foam encasement creates a complete sleeping surface while reducing the risk of rolling off the bed.
Serta's Quilted Kool Komfort memory foam and the Advanced Comfort Quilt, which is a thick top layer of egg crate foam, are two luxurious features.
EcoSense is a quilted layer designed to reduce the overheating problems found with other memory foams. Gold accents are featured on the knit mattress covers. A 10 year limited warranty is standard for this line.
The Trump Specialty Serta mattress uses an environmentally-friendly soy-based latex foam core. The models in this collection are available with a Silk and Bamboo mattress cover, for a cooler and more comfortable surface.
A layer of mattress padding called Body Loft provides a pillow-like feel to the body. Gold accents on the tape edges and jewelry-like corner guards add to the high-end look.
A 20 year warranty only covers manufacturer defects and features vary by retailer for these models.
These Serta mattresses are found in comfort levels firm, euro top, pillow top and plush for a range of choices. With prices ranging from $800 to $1500 for these Serta beds, Trump and Serta have attempted to bring home affordable luxury. Read more...
Serta Delphina Pillow Top Memory Foam Mattress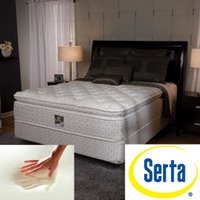 Serta Delphina Pillow-top Mattress
Finding a pillow top bed that pleases sleeping partners with two different firmness requirements is quite a feat. The Serta Delphina Pillow Top Memory Foam mattress seems to accomplish just that.
User reviews reveal that sleepers found this mattress to be firm and yet soft enough to satisfy two very different sets of sleeping preferences.
This popular Serta pillow top mattress includes a layer of temperature-sensitive visco memory foam along with the Advanced Comfort Quilt.
The foam-encased continuous support inner spring creates an edge to edge sleep surface, while providing stable and solid support.
The mattress measures at a height of 13 inches while the box spring base is 9 inches for 22 inches of total height. This set is priced around $800 for a Queen size and up to $1000 for the King sized model. 10 Year Limited manufacturer warranty covers defects in workmanship.
About Serta Mattress Company
An assembly of mattress manufacturers first got together in 1931. They had a single goal in mind - competing with name recognition and creating an excellent product.
They knew that they were going to need to be able to stand up against emerging national companies if they were going to continue to deliver high quality mattresses.
By 1933, these manufacturers were all organized under that one name - Serta.
They set national guideliness that all the companies worked to meet, and their mattresses were marketed under the brand name Serta. They even created a flagship product - the
Serta Perfect Sleeper
.
The company went on to offer many other innovations, as well, including the world's first tuftless mattress, and they're still making excellent mattress models today. Almost everyone has heard of Serta, which has been around for a long time. The company is currently owned by eight licensees, working as a cooperative and it is managed by the largest of these.
Serta sleep sets include both inner spring and foam mattresses in a number of different lines. Their inner spring, or traditional mattress lines include the famous Serta Perfect Sleeper, their Serta Perfect Day elite mattress line, the Sertapedic, and the Vera Wang mattress.
Latex and memory foam bedding is available in their True Response, Pure Response, Vera Wang and Trump Home Specialty lines. Part of a good mattress is using the right materials. Serta mattress models use special fibers in their inner spring beds, and add pressure responsive foams that conform to the body.
This helps reduce pressure points in the body, and prevent tossing and turning. This means a better night's sleep.
Serta memory foam mattresses
such as the innovative
Serta iComfort mattress
can provide a more comfortable night's sleep for people with back trouble, illnesses and joint problems, or simply trouble sleeping.
Price Range And Quality Level
Serta
mattresses are manufactured in a broad range of models, styles and price ranges. This means that nearly anyone can find the mattress they want, including one that fits their budget.
Every mattress company has its benefits and downsides. Our survey of mattress reviews tells us that many of the benefits come from Serta's long history and wide range of mattress models. This means that most people can find the mattress they're looking for.
Of course, the less expensive the mattress, the fewer features it has and generally,the less time it will last. Consumer reviews have also revealed that some models develop support problems and sagging, especially when used by heavier people.
More Serta Reviews
Serta Perfect Sleeper Reviews - Perfect Sleeper Pillow Top and Euro Firm Mattresses
Serta Perfect Sleeper Northstar Stellaris - The Serta North Star Mattress
Reviews By Serta Mattress Owners
If you have slept on a Serta mattress, you are welcome to share your review and tell us about your experiences with this brand of mattresses.
You will help other potential buyers make a better choice and make this site a more comprehensive and accurate source of mattress reviews.
Let us know which model it was, what you thought of Serta mattress prices and warranty, how long you kept it and anything else you'd like to share.
Are You Sleeping On A Serta Mattress?
To contribute your mattress review please use the form below. Thank you!
More Serta Reviews
Click below to see reviews posted by other mattress owners...

Return From Serta Mattress Reviews to Mattress Wiz - Home