Sleep Joy Memory Foam Mattress Topper Review
The Sleep Joy ViscO2 Ventilated Mattress Enhancer is one of the best memory foam mattress toppers available. It can add a welcome layer of cushioning to your bed while helping to keep you cool while you sleep.
Have you ever splurged on an ultra-expensive mattress, like a memory foam mattress, only to wake up soaking in your own sweat after your very first night on it? And if your manufacturer or retailer doesn't allow returns or exchanges, you've got yourself in quite a fix.
Many mattresses these days focus only on comfort and support, but completely forget about breathability, a common problem among memory foam mattresses due to the high density and heat retaining properties of memory foam. That's why mattress buyers are advised to always check the breathability of a mattress before buying one.
But if you didn't hear that advice on time and have already bought a mattress that sleeps hot, you'll be extremely glad to know that there is one solution to your problem: specially ventilated mattress enhancers from Sleep Joy.
Sleep Joy is a well-known manufacturer of mattresses, pillows, and mattress toppers. They are extremely popular for their ViscoFresh mattress toppers.
Mattress toppers are used for various purposes, such as to adjust the softness/firmness of mattresses and protect them from wear and tear. Sleep Joy designed the ViscO2 Ventilated Mattress Enhancer to provide a solution for the temperature problem mattress owners commonly encounter.
Sleep Joy Ventilated Mattress Enhancer: Key Features
The Sleep Joy ventilated mattress enhancer is also known as the ViscoFresh memory foam mattress topper or the ViscO2 ventilated mattress topper. Its key features are:
Breathable ViscO2 memory foam
Environment-friendly mattress formula
Pressure point relief
Motion isolation
MicroSafe anti-microbial treatment
Durability
No more waking up in sweat. The major selling proposition of this product is the ViscO2 memory foam, a revolutionary type of memory foam material that provides optimum breathability. While other types of memory foam tend to trap heat, the 3-pound ViscO2 foam has an open cell structure that allows air to flow and circulate five to seven times more freely to ensure comfort and coolness while you sleep.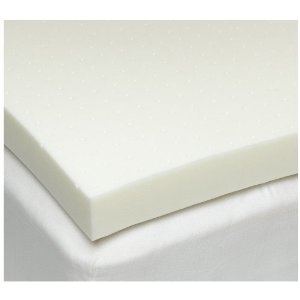 Sleep Joy 3 Inch Memory Foam Mattress Enhancer
This is supported by three zones of air channels to make sure you stay cool and dry from head to toe. That's why it's called ViscO2; it is viscoelastic foam plus more O2 or oxygen.
Go green. Sleep Joy also offers you a chance to go green, thanks to the environment-friendly mattress formula it used to create the ViscO2 ventilated mattress enhancer. The mattress is made using 100% plant-based ingredients including green tea.
As a bonus, the materials used are naturally hypoallergenic and completely free from chemical smells. Thus, you aren't just cool and comfortable; you're also safe and healthy.
Its not gonna hurt in the morning. If you've been waking up with joint pain in the morning, it's probably because your mattress does not provide relief from pressure points.
Even if it's not time to replace your mattress yet, it doesn't mean you have to settle for painful mornings. With the ViscO2 ventilated mattress enhancer you can wake up free from joint pains. The memory foam mattress topper can conform to the unique shape of your body to relieve pressure points.
No more fighting with your partner. Sleepless nights caused by partner disturbances sometimes cause unnecessary fighting between sleep partners. But if you just add the ViscO2 mattress topper to your mattress, both you and your partner can sleep soundly at night.
The memory foam topper can isolate motion so that it doesn't transfer to the other side of the bed, thus protecting each sleeper from motion disturbance.
Health and safety you can be sure of. Aside from using naturally hypoallergenic materials, the ViscO2 mattress topper also features MicroSafe, an eco-friendly anti-microbial agent added to the mattress to help protect it from unpleasant odors caused by bacteria. This also keeps mold, mildew, and fungi at bay to keep your sleep environment clean and healthy.
Peace of mind, finally. A lot of mattress toppers these days don't last long. Since these are just around two to four inches thick, they tend to break down easily. The Sleep Joy memory foam topper, however, is constructed based on the highest standards and is guaranteed to be made in the USA. It has been shown to quickly recover its original shape and size so it does not compress, shrink, or sag.
What Sizes and Thicknesses are Available?
The Sleep Joy ViscO2 ventilated memory foam mattress enhancer is available in three thickness levels/heights, and six different sizes each. You can choose from the 2-inch, 3-inch, and the 4-inch models. The available sizes are California King, King, Queen, Full, Twin, Twin XL.
How Much Should You Expect to Pay?
For the basic queen size mattress topper, you can get up to 67% off on Amazon, with free shipping. The 3-inch queen sized model, on the other hand, normally sells for around $200, but can be bought for under $120.
What's in the Box?
The box contains the Sleep Joy ViscO2 ventilated mattress topper, which is shipped in a compressed form. The mattress topper will easily regain its true shape once you unpack.
Does It Have A Warranty?
The ViscO2 ventilated mattress topper from Sleep Joy comes with a 2-year limited warranty from Sleep Joy.
What Consumers Are Saying
Most ViscO2 mattress topper owners are quite satisfied with the product. Almost 70% of owners gave 5 stars to the 2-inch model, 74% for the 3-inch one, and 50% for the 4-inch one.
Here are the positive points mentioned by current owners:
Soft and thick, with plush feel
Like sleeping on a cloud
Well worth the money
Helps you stay cool and comfortable at night
Relieves back pain
Some Negatives To Consider
Here are some minor complaints this mattress topper also received. Most consumers still felt pleased despite these drawbacks...
Lack of a cover: Most owners agreed that this is a non-issue considering the low price and high quality of this topper.
Makes it hard to turn over in bed: This does not always apply and will only be a problem in certain cases. For example, if your original mattress is already too soft, getting the 3-inch topper will add even more cushioning and softness, so you will tend to sink into it. If your mattress is too soft, get the 2-inch one. If your mattress is too firm, you need more cushioning, so go for the thicker models.
Where To Buy
Sleep Joy itself sells the product through their website. You may also buy the product from other retailers and online shopping websites where mattresses and mattress toppers are sold. The best deals are usually found at Amazon.com, where you can also read more reviews posted by consumers.
---
Return From Sleep Joy 3 Inch Memory Foam Mattress Topper Review to
Mattress Topper Reviews