My Spa Sensations 12-inch Theratouch Memory Foam Mattress Review - California King Size, One Of The Very Best Purchases I've Ever Made
by Donna H.
(Nashville, Tennessee)
I purchased the Spa Sensations 12-inch Theratouch Memory Foam Mattress about 10 months ago, and it is one of the very best purchases I have ever made. I have a California King bed, and mattresses in that size are extraordinarily expensive.

I had been sleeping on the same mattress for many years because I couldn't afford to buy a new one - and even if I did have the money, I couldn't find a mattress I liked. I heard people raving about memory foam mattresses, but they too were very expensive.

Then I noticed that Wal-Mart sells mattresses on their website, and I started searching. I found memory foam mattresses made by a company called Spa Sensations which were reasonably priced. I especially liked the Theratouch model because it was 12 inches thick (they have other models with less thickness).

At first I thought this was too good to be true - an inexpensive mattress bought online must be poor quality. But I took the time to read through the more than 1,000 reviews for this mattress, and I was intrigued. People were simply raving about this mattress, so I decided to try it. Here are the factors that won me over: price, convenience, and comfort. I paid only $409 (plus tax and shipping) for my California King memory foam mattress.

It was incredibly convenient - I could have chosen free shipping to my local store, but I was concerned that I would have trouble getting it home, so I opted for home delivery which added about $25.00 to the price. It arrived at my door via FedEx in a box. The mattress is compressed, folded, and rolled for shipping. There are easy instructions included, but basically all that is required is to place it on your bed frame and open the package.

They recommend allowing about 24 hours for the mattress to fully expand, but mine was ready in about 2 hours. It expanded to the full 12 inch thickness as promised. I was totally amazed. My kids and I practically fought over who would get to try out the mattress first! The mattress has a cover with a zipper so it can be removed for washing.

The comfort level of this mattress is unbelievable. It is rather firm, but still conforms to your body. I sleep so much better than I ever did before, and my back doesn't hurt in the mornings.

I have tried to think of any cons, and the only (tiny) complaint I can think of is the fact that it does have a mild chemical odor when you first take it out of the package. I am normally very sensitive to odors, but this did not bother me at all. After a week or so I didn't even notice it.

I have been using the Spa Sensations 12" Theratouch Memory Foam Mattress
for about 10 months and I love it. I would absolutely buy it again and I recommend it to everyone. It was worth every penny (I would have paid even more!) and I am planning to buy them for my kids' beds.

I still can't believe I got such a comfortable memory foam mattress for about $1,000 less than most of the big brands. On a scale of 1 to 5 stars, I would definitely give it 5 stars! My only regret is that I waited so long to buy this mattress.
Join in and write your own page! It's easy to do. How? Simply click here to return to Memory Foam Mattress Reviews .
Spa Sensations 12 Inch Theratouch Memory Foam Mattress
by Amanda Gray
(Greenfield, MA)
For years, I have been a poor sleeper and have considered buying a special mattress to help me with this.

I looked into purchasing several different kinds of mattresses, but I always found the price off-putting and I just wasn't convinced it'd be worth the money.

A few months ago, I was finally talked into buying a Spa Sensations Theratouch Memory Foam Mattress, and I'm so glad that I was. The quality of the sleep I've been able to get was worth every penny.

This mattress is just so comfortable, I do not have words for it. It's like what I always imagined sleeping on a cloud would feel like. I used to toss and turn throughout the night but now it is so easy to find a comfortable position to lie in.

My husband gets up several hours earlier than I do, and he used to disturb me when he got out of bed, but not anymore! My side of the bed doesn't move when he gets out and I am able to keep on sleeping soundly.

I was worried that my mattress would be difficult to set up, but this was not a problem. You have to let the mattress expand, but this is less daunting and less time consuming then it sounds. I actually found it really entertaining to watch.

I do have one significant complaint about my mattress, and that is that is has a strong smell when it arrives. I had to air my mattress out regularly to get rid of it. I would definitely plan on having to leave your windows open for a while if you're purchasing this mattress, as you'll want to get rid of the smell as soon as possible.

It's not exactly an unpleasant smell, but it's strong and it definitely takes away from the mattress.

If you are in the market for a special comfort mattress I'd definitely recommend this Theratouch mattress. It's a great value compared to other mattresses like it out there, and although I haven't slept on any of those other mattresses, I can't imagine getting a better night's sleep. There is just no beating sleeping so restfully and being able to be so comfortable.
Join in and write your own page! It's easy to do. How? Simply click here to return to Memory Foam Mattress Reviews .
My First Spa Sensations Memory Foam Mattress is a Hit! 5 Stars!
by Rebecca L.
(Atlanta, GA)
My mattress is a Spa Sensations memory foam model. I purchased the Queen sized mattress from Walmart and I have been very impressed with it. I paid around $200 for the 8 inch version. I am a recent college graduate and I needed to buy bedroom furniture on a limited budget.

After a lot of searching around for the best mattresses for my money online and by asking my friends and family, I decided on this one. I have never had a memory foam mattress, but I had slept on some while visiting friends and always got a great night's sleep from them.

This mattress in particular worked well for me because it shipped vacuum-sealed in a box, rather than needing to pay extra to have it delivered as-is. Because it is memory foam, all I had to do was remove it from the packaging and it sprang to its intended size in a few minutes.

This mattress is definitely worth 5 stars to me. The firmness is moderate, which is something that I was looking for in a mattress. After lying on the mattress for a few seconds, I sink in a little bit, making it even more comfortable. Somebody looking for a plush, pillow-top mattress may not enjoy the feel of this mattress as much as I do, but for me it is just perfect.

The combination of the great quality mattress, simple shipping and delivery, and the excellent price of the mattress make me very satisfied with my purchase. I have already recommended this product to several friends and family members and I encourage people to sit on my bed and try it out whenever I have people over. It's become somewhat of a game to have people guess how much I paid for the mattress, and most guesses start out around $1,000. People are always shocked when I tell them that I paid $200 for it!

If, in the future, I find myself in need of another mattress for my home, I will absolutely purchase another one of the Spa Sensations mattresses. I have had this mattress for a few months and have absolutely no complaints. In the future, I may consider getting a thicker version, simply out of curiosity. The 8-inch mattress is plenty comfortable for me, and far surpasses the comfort of other spring mattresses I have had in the past, even ones that had thick pillow tops.

I own a platform bed, which doesn't require a box spring, so I only had to pay the $200 for this mattress on its own to have a great night's sleep. I love my Spa Sensations mattress!
Join in and write your own page! It's easy to do. How? Simply click here to return to Memory Foam Mattress Reviews .
Making the Switch to Memory Foam On A Spa Sensations 12" Theratouch Mattress
by Jenn G.
My husband and I were fed up with our mattress. It was ratty and old, and it even had springs starting to come through in a few places. I slept decently on it, because I can sleep just about anywhere. My poor husband would toss and turn for a long time every night before we could finally manage to drift off.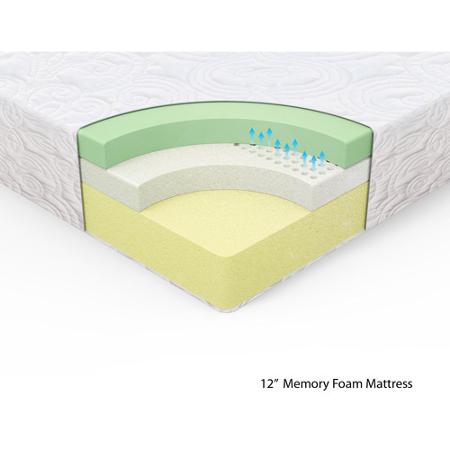 We are a young couple and didn't have a lot of extra cash lying around for such a potentially expensive purchase, so I decided to do my research and see what I could find out. I read a lot of reviews online, but even the mattresses that the reviewers recommended as comfortable and affordable were beyond our budget. I did see some for a couple hundred dollars, but they were rated mediocre at best.
Finally, on a whim, I decided to see what Walmart had to offer. I looked at the pages upon pages of mattresses that popped up and immediately sorted the results in order of best reviews. The winner was a mattress called the Spa Sensations 12" Theratouch Memory Foam Mattress.
I began reading reviews and was impressed with all the people who gushed about this mattress. Many people claimed that they had constant back pain until they began sleeping on the Spa Sensations. It was compared to a quality, expensive mattress, and it was a fraction of the price.
I told my husband about what I had discovered, and we decided to go for it. Anything would be better than the mattress we were sleeping on then. So we ordered the Spa Sensations in a queen for about $350.00. We prefer a queen. A full size is too small, and a king feels like too much space. We like to be close. It arrived in about a week, packed until a surprisingly small cardboard box. We unpacked it and let it expand for a day or two, until it achieved it's normal size, then we put it on top of our box spring and started using it.
It has been wonderful. We had never owned a memory foam mattress before, and it took us a few days to get used to the lack of bounce, but now I wouldn't trade it for anything. It is soft and feels like you're sinking into a big cushion, but it also has enough firmness not to give you aches and pains.
We have had our
Spa Sensations Theratouch mattress
for about a year, and I have no problems whatsoever so far. The cover is removable so it can be washed. I firmly believe that we made the right decision with this mattress, and I would recommend it to anyone who is looking for a good value.
Join in and write your own page! It's easy to do. How? Simply click here to return to Memory Foam Mattress Reviews .
Spa Sensations 8 Inch Theratouch Foam Mattress
by Carol
(Carbondale, IL USA)
I recently needed to get another mattress because I have a pillow top and I decided to go mattress shopping. Granted, I was not going to purchase that particular day, but if I found something that I liked I would take it home.

I went to a couple of mattress shops and I noticed this particular mattress. It was a memory foam mattress. I thought this was a neat looking mattress and when I would rub my fingers over the top it made an indent in the foam. I liked the way it felt. I decided to lay on it in the store, it supported my body and felt soft at the same time.

When I got off of the mattress it when back to its normal shape. That was actually one of my concerns, if it would keep the shape of my body or go back and it went back to normal.

Once I purchased the mattress and took it home, I noticed that the mattress gave me some of the most restful sleep that I have ever had. I have had this mattress for a couple of years now and I believe that this is one of the best mattresses that I have ever had. I noticed recently that you can purchase this mattress at Walmart.com.

One thing that I should note is that I have had back problems and this mattress gave me quite a bit of support. My back didn't hurt as much as before. I would definitely purchase the Theratouch mattress again. I would recommend this to others. The reason why I gave it 4 stars is because it could be better. I would be nicer if it was a little deeper. Other than that I have no complaints.

I give this mattress 4 stars out of 5.
Join in and write your own page! It's easy to do. How? Simply click here to return to Memory Foam Mattress Reviews .
What Are The Top Rated Mattresses?