Tempur-Pedic Mattress Reviews - Make An Investment In Quality With Tempur-Pedic Beds
In spite of their high prices Tempur-Pedic beds have been among the most popular mattresses on the market. There are some complaints, but consumer opinions on Tempur-Pedic always note the high quality. Current owners are raving about TEMPUR memory foam mattresses and their ability to facilitate comfort.
This is the reason why most Tempur-Pedic mattress reviews note the brand's popularity among people who experience difficulty and discomfort when sleeping due to back or joint pains and minor physical accidents.
Let's find out some more about the brand and if it really does "change the way the world sleeps".
The popular Tempur-Pedic mattresses have been around for quite some time. This Swedish company began producing beds in 1991 based on a special foam developed by NASA to make space flight more comfortable for their astronauts.
Tempur-Pedic is the original producer of the Tempur foam mattress that brought a revolution to the industry.
There is an increasing number of Tempur-Pedic reviews available and that helps us to understand the benefits as well as drawbacks of these products.
Tempur-Pedic Cloud Luxe Review
The Tempur-Pedic Cloud Luxe is advertised as the ultimate in comfort, quality, and luxury. Does the mattress live up to this hype or is it overinflated in the advertising?
An evaluation of the Tempur-Pedic Cloud Luxe reviews shows good and bad comments. You also need to consider the specific pros and cons with a Cloud Luxe mattress.
The Tempur-Pedic Cloud Luxe reviews provide a mix of compliments and complaints. Many owners report loving their bed immensely, but others voice disappointment and complaints. You will find that while this mattress is ideal for some it is not right for everyone. Read more...
Tempur-Pedic Cloud Review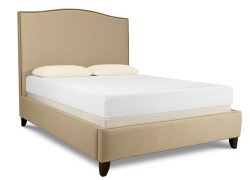 Tempur-Pedic Cloud Mattress
The
Tempur-Pedic Cloud
is known as soft and responsive and it provides contouring support. The mattress is simply soft, in a luxurious kind of way.
Yet, it still provides effective body contouring therapeutic support. It can also relieve pressure points and has a special breathable technology in the base layer to ensure that, although a memory foam bed, the Tempur-Pedic Cloud is not the same heat-retentive memory foam bed that other brands offer.
The Cloud Series is the answer to consumer opinions saying that they wanted a softer memory foam mattress from Tempur-Pedic since the original Tempur is a bit firm and the Tempur-HD collection focuses more on support.
Read more
...
Tempur-Pedic Cloud Supreme Review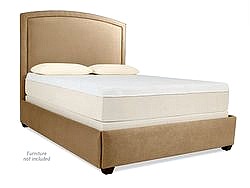 Tempur-Pedic Cloud Supreme
The Tempur-Cloud Supreme is designed for consumers who prefer softer mattresses to firmer ones. It comes with an extra deep comfort layer that provides a pillowy-soft feel.
That's not to say that the mattress is all fluff and softness, though, because it still has just the right level of Tempur-Pedic's renowned body-contouring support. Nevertheless, this is categorized as one of the company's "soft" mattresses with medium body-conforming support.
The main material used in this mattress is the Tempur-ES comfort layer, which is designed to cradle the body in additional softness while gently conforming to the body too. Read more...
Tempur-Pedic Rhapsody Bed Review

Tempur-Pedic Rhapsody Bed
The Tempur-Pedic Rhapsody is one of the Tempur-Pedic models that makes quite a lot of noise on the market. The name Tempur-Pedic Rhapsody is often followed by rave headlines regarding its many good points.
Some call it the Tempur-Pedic mattress with unrivaled support. Some say it is Tempur-Pedic's most advanced creation so far.
Some reviews dub it as the bed that combines all the things we love about the Tempur-Pedic mattresses. Some even say that it is so much better than the more recent innovations - the adjustable mattresses. Read more...
Tempur-Pedic Complaints
Tempur-Pedic mattress complaints and problems are inevitable; after all, even the greatest product in the world won't be able to make every single consumer happy.
This is because there are millions of consumers out there, and each one has different preferences and very unique tastes. Thus, despite the high quality and innovation of Tempur-Pedic mattresses, it cannot be helped that there are some concerns that surface.
But these Tempur-Pedic complaints don't have to be reasons for you not to buy one of the unique memory foam mattresses offered by this high-end brand. You simply have to check whether these complaints are also things that would bother you or not, based on your individual preferences.
Tempur-Pedic Prices
What about those high Tempur-Pedic mattress prices? Is this mattress worth the cost? What complaints can be found about this brand's prices? Does Tempur-Pedic charge more than other memory foam mattress providers? Before you can choose the right mattress you should know the answers to these questions.
Is it possible to find a cheap Tempur-Pedic mattress for a discount price and what kind of warranty is offered with these models? Where can you buy Tempur-Pedic mattresses on sale? These are also important questions that can help determine if Tempur-Pedic is the right choice and worth the cost in your situation.
Tempur-Pedic Mattress Advantages
It is notable that so far, there are not that many serious complaints from actual consumers. In fact, consumers who bought a Tempur-Pedic were much more likely to say they would buy the same brand again.
The patented Tempur foam material seems to relieve pressure as well as earn customer loyalty.
Tempur-Pedic mattress sets are known for providing extra, gentle support to the body. This makes these products perfect choices for people who have difficulty in finding a comfortable sleeping position due to backaches and minor accidents.
Experts and consumers alike recommend Tempur-Pedic because of the unique and high standard of quality. Consumer reviews emphasize the ultimate comfort these mattresses can deliver.
The significant investment required could easily translate into better rest and sleep experiences. This brand recently scored best on owner satisfaction in Consumer Reports magazine's ranking of top mattress brands.
Do Try This At Home
Tempur-Pedic is one of the few brand names consumers ask for by name when shopping. When it comes to superior technology for bed manufacturing these models are always near the top of the list.
These mattresses obviously are not suited for everyone. If you decide for a memory foam mattress, you would be wise to stay with a well known, quality brand like Tempur-Pedic and avoid the cheaper "knock-off" brands.
The Swedish Tempur mattress is the perfect choice for some people. Foam mattresses have a different feel and type of comfort than a traditional spring mattress.
It seems you will either love them or hate them and since they are an expensive line of mattresses you'll definitely want to love it before you buy it.
If you have never slept on one, it's a good idea to try them out or plan to take advantage of Tempur-Pedic's 90 day trial period, which is really the best way to decide if a Tempur foam mattress is the bed for you.
More Tempur-Pedic Reviews
Tempur-Pedic Celebrity Bed Review - Will You Sleep Like A Celebrity?
Tempur-Pedic Classic Bed Mattress Review
Your Tempur-Pedic Reviews
Tempur-Pedic Memory Foam Bed Is A Great Quality Mattress
by James
(California)
This Tempurpedic memory foam bed mattress is an absolutely great buy. The mattress is so soft and it 100% supports my bad back. Before i had Tempur-Pedic my back problems went on and on and on. I had an old spring mattress before this one and it was terrible.
With my Tempur-Pedic memory foam bed I don't have to worry about waking up in the morning with my back more sore than it was at the end of the day! The value is great as well.
My wife and I are both petite people so it's a great fit for the two of us. We even squeeze in our 4 year old daughter occasionally.
Bottom line, this is a great quality mattress, with value, and it will last. I purchased mine 5 years ago, and i havent had one single problem with tears, rips, or any kind of damage at all. This mattress is a tough one.
I definitely would suggest it to anyone i met. Not only does it give back support but it also encourages good sleep. I used to wake up two, three times a night without this mattress, but since i got it 5 years ago, ive hardly had one single sleepless night.
Relating to its size, its big enough for two people, but not so big that it would be a waste to buy if you are living alone. You know that commercial where they put a glass of red wine on the bed and jump up and down around it and it doesnt spill? that actually works too!
Of course i tried it with a less threatening water first, but no spills at all. Amazing. Its perfect when i want to lay in bed and watch football with a cold can of beer sitting by my side without having to worry about knocking it over with a slight movement.
All in all, Tempur-pedic memory foam beds are an awesome buy. GET THIS MATTRESS.
We Sleep Like Babies On Our Tempurpedic
by June
(USA)
For all of my life I have always slept on a metal coil spring mattress. I have a bulging disc in my back, my husband also has back problems.

Every morning we would wake up with back pain, sometimes it was so bad that I had to sit on the side of my bed and lean forward long enough so that the the pain would subside.

We received our income taxes this January and decided we had to do something about this problem that we were having. I was in town one day and saw this place called Home Decor Furniture.

I walked in and started to look around at the different mattress sets. I sampled each one by lying on it. I have heard about memory foam mattress before and how they are supposed to work wonders, like relieving pain, helping you to sleep better etc.

The mattress I fell completely head over heels for was a memory foam Tempur-Pedic. At first I was kind of skeptical. The mattress I was looking at felt a little odd to me being that I was so used to the metal spring coils.

I decided though that I was willing to try anything to relieve the back pain that I have been experiencing for years. I asked the man how much the mattress was and he said the mattress and the Hollywood frame would be $512.00.

Wow! I thought to myself that is a lot of money. I continued with the purchase still having reservations. The man who sold me the mattress said that it had a ten year warranty. I had the man and another worker load the mattress into the back of my truck and brought it home. I fell completely head over heels.

The first night my husband and I slept on this mattress we slept like little babies. I have had no back pain at all since the first night I slept on this mattress.

I now feel rested when I wake in the morning. This piece of furniture is a god send. Thank you tempur-pedic!
Have You Slept On A Tempurpedic Bed?
If yes, please share your experience by using the form below.
Tempur-Pedic Bed Reviews
Click below to see reviews from current mattress owners...

Tempur-Pedic Contour Signature Bed Reviews

I currently own and sleep on a Tempur-Pedic Contour Signature mattress which I purchased just a few months ago. I have to say it is definitely the most …
Tempur-Pedic Advantage Bed Reviews Not rated yet
Those of you who are considering getting a TempurPedic Advantage Bed mattress will not be disappointed in your purchase. I have had one for almost 10 …
Return From Tempur-Pedic Mattress Reviews To Mattress Wiz