Note: If you follow a link from this page and make a purchase, I may receive a referral fee. See full disclosure details here. 
Loom and Leaf Mattress Review
Is It Possible To Sleep On A Memory Foam Bed Without Those Notorious Memory Foam Problems?
Updated April 2019 By Mattress Wiz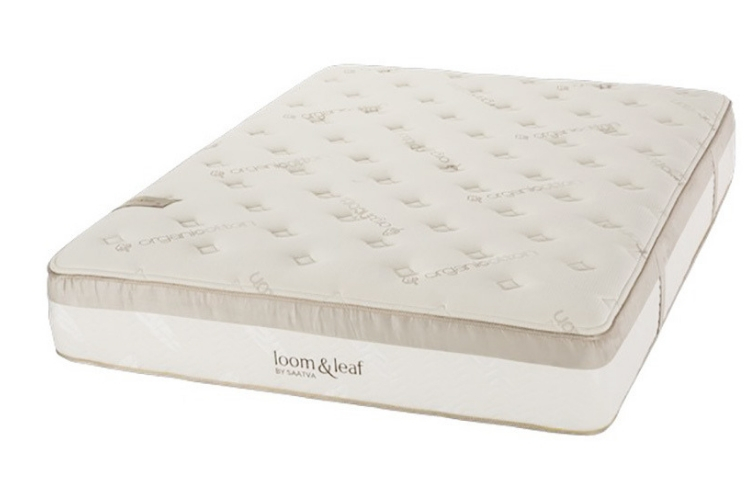 The Loom & Leaf mattress by Saatva
Loom and Leaf Review Quick Summary
Loom and Leaf Ratings
Type
Materials & Layers
Firmness
Thickness
Foam

Cover: Cotton with 5/8" of foam
Gel memory foam (2") w/ gel panel
Memory foam (2 1/2")
Polyurethane foam (2")
Base: Polyurethane foam (5 1/2")

Medium
or
Firm

12 inches
➕
➖

Comfortable for most sleepers


Contouring feel with good firmness


Relieves pressure points


Sleeps cooler than most memory foam beds


Two different firmness options


Effective motion isolation


Delivery and in-home setup at no extra cost


Responsive customer service



All-foam bed without strong edge support


Can feel too firm for thin people and side sleepers


Mattress foam may sag or soften prematurely


Can be too soft for a large/heavy person


Not much bounce


Delivery can be slow
Full Loom and Leaf Mattress Review

This Loom and Leaf mattress review is based on hundreds of Loom and Leaf mattress owner experiences and opinions. I researched and analyzed their feedback, reviews and comments to find out what sleepers actually think about this mattress. 

Loom & Leaf is a popular memory foam mattress, and memory foam can be a wonderful mattress material but it does have some well-known disadvantages.
Has Loom and Leaf been able to successfully overcome (or at least minimize) these drawbacks? Is this mattress a good match for your sleeping style? Let's take a good look at the Loom and Leaf mattress and see if we can get to the bottom of it.
You can click on any question in the box above if you want to go directly to a specific answer. Or if you are in a hurry and don't have time to read the whole review then simply click here to skip ahead to the review summary.
Mattress - What is the Loom & Leaf mattress?
The Loom & Leaf mattress is an all-foam mattress made by the Saatva (pronounced SAHT-VA) mattress company. It was introduced in 2015.
This is a white mattress with a quilted cover that is available in two models with different levels of firmness, called Relaxed Firm and Firm.
You can place the mattress on an ordinary foundation or an adjustable bed base (which you can move up and down).
The Loom & Leaf is only sold online, direct to the buyer and is not available for sale in mattress stores.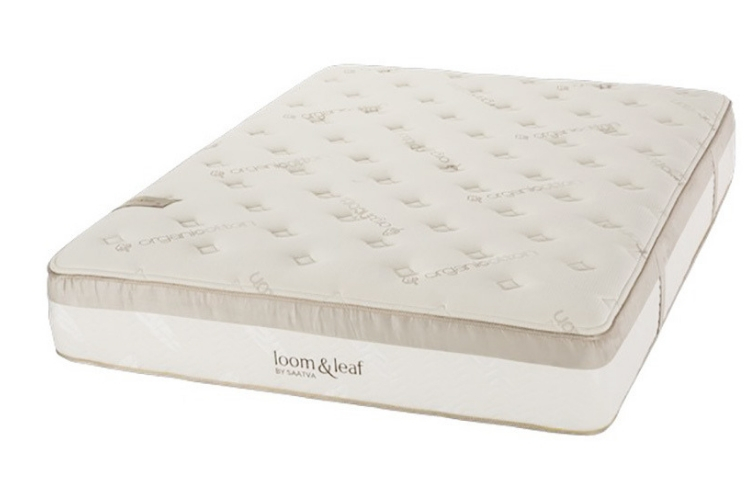 Unlike most foam mattresses sold online, this brand is not compressed into a box for shipping. Instead, the mattress is delivered and set up in your home by a third party local delivery company.

Materials - What is the Loom & Leaf made of?
Except for the cover, the Loom & Leaf mattress is entirely made of foam. The inside of the mattress contains four layers of foam: two layers of memory foam and two layers of polyurethane foam. It does not contain any latex foam or metal springs.
The mattress is 12 inches deep but the quilted cover adds about another puffy inch on top. This is thicker than most memory foam mattresses, but not so thick that you have to buy deep pocket sheets.
The extra height may make getting up onto the bed a bit difficult - especially if you are on the shorter side and place the mattress on a high bed frame or foundation.
The Loom & Leaf weighs 92 pounds - which seems heavy but is actually about average for this type of mattress. A benefit of a mattress with a decent amount of weight is that is more likely to stay in place on it's foundation without moving around too much. The downside of this, of course, is that it's harder to lift, rotate or move the mattress - especially by yourself.
Because it is not roll packed, vacuum sealed and shoved inside a box for shipment, it has the advantage of looking more like a traditional mattress than other all-foam mattresses.
Even though the word 'leaf' appears in the name and the word 'organic' is printed on the mattress cover, this is not an all natural or 100% organic mattress. But it does contain some materials - such as foam made from soybeans - that may be a bit more natural or 'green' than most other memory foam mattresses.
So if you're concerned about the environmental impact of your bed, you can rest assured that this mattress is slightly more natural than an all synthetic, petroleum-based foam mattress.
Cover
The quilted mattress cover is made of organic cotton and has a soft feel. It's certainly a nice looking cover with an attractive design, but everyone I know covers their mattress with a sheet so this may or may not sway your buying decision.
The cover contains a 5/8 inch layer of foam and a natural flame barrier made of thistle (mattresses are required to meet flame resistance standards) instead of a chemical flame retardant.
The pattern of the quilting is tightly compacted and denser in the center of the mattress but looser at the head and foot. The purpose for this quilting design is to provide more support in the middle of the bed, where your lower back and hips will rest most of the time.
Mattress Layers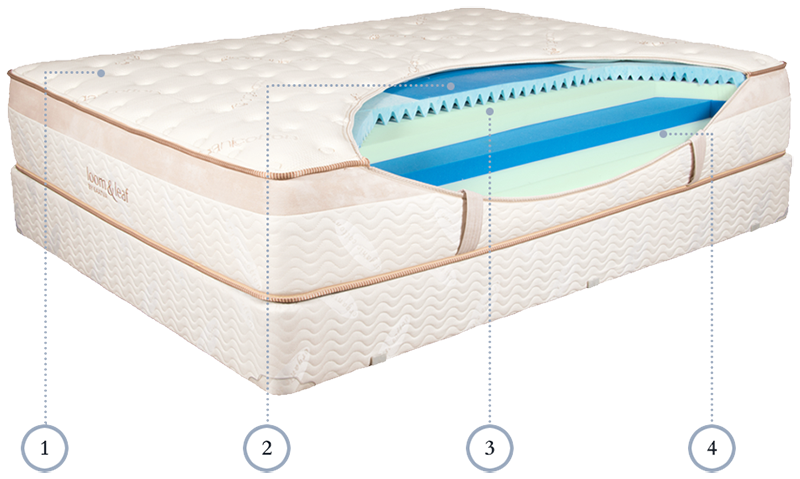 Top layer: The first layer (often called a comfort layer) is made of 2 inches of convoluted 'gel' memory foam with a medium density of 4 pounds per cubic foot. The memory foam material is infused with tiny bits of gel, which are meant to draw heat away so it doesn't build up and overheat the mattress. "Convoluted" just means that the foam is in egg crate shape, which has more air pockets and room for air to circulate through the foam and allow heat to escape.
The gel foam is supposed to help keep the mattress at a cooler temperature and not retain as much of your body heat. There is also a layer of cooling gel laminated onto the middle section of this foam layer. Medium density memory foam is good for conforming to your body's shape and isolating your motions without holding too much heat or making it difficult to move around like higher density foam can.
Second layer: 2 1/2 inches of memory foam (5 pounds per cubic foot). Memory foam is usually made from petroleum, but the foam in this layer is partially made from a plant material (usually soybean oil or corn oil). Higher density foam has a stronger cell structure, which helps make it more durable and better at molding and contouring to your body's curves.
Third layer: This is a 2 inch transition layer of regular polyurethane foam that fills the gap between the softer "comfort" layers above and the harder supporting base foam below.
Bottom (base) layer: Most of the support comes from a 5 1/2 inch layer of firmer foam with a density of 1.5 pounds per cubic foot which acts as a base for the softer layers of foam above it. This foam is of a lower density than you usually find in foam mattresses - especially for the all-important base layer.
Other Features: The mattress is equipped with four handles (two on each side) to help you move it into position, or rotate it - but they're not designed for carrying the mattress.
Company - Who makes the Loom & Leaf mattress?
The Loom & Leaf mattress is made by a company called Saatva which started in 2011 and is located in New York, New York. They also make the Saatva innerspring mattress and Zenhaven latex foam mattress. The company sells mattresses online and their products are shipped directly to the buyer.
Saatva does not have any "brick and mortar" stores or showrooms. Everything is done online or by phone, including purchases and arranging deliveries. Their products are made in 19 factories located in the United States and Canada. They started making the Loom & Leaf mattress in 2015.
Firmness - How firm is the mattress?
Don't get confused about mattress firmness and foam density
It may help you to know that foam density and firmness are two completely different things.
High density foam weighs more because it contains more material. But the density of the foam has nothing to do with how hard or soft it feels.
Just because a mattress is made of high density foam does not mean it will have a high level of firmness. And of course, the reverse is also true: low density foam doesn't always feel softer than medium or high density foam.
Density and thickness are also two different things. Thickness is just the actual measured height of the foam layer.
The firmness of a mattress isn't something that can be measured on an objective scale like its weight in pounds or height in inches. Its very subjective - in other words, it depends on your personal tastes and feelings. That's why firmness feels different to everyone. What really matters is how the mattress feels to you as it yields to weight and pressure as you lay down.
We are all different, so what you would describe as medium firm might feel very hard to someone else. So with that in mind, let's take a look at the Loom & Leaf mattress, which comes in two different firmness levels.
The 'Relaxed Firm' - as you might guess from the name - is the softer of the two comfort level choices. Most people who have slept on one say that the Relaxed Firm has an above average amount of firmness - about 5.5 to 6 on a scale of 1 to 10 (with 1 being super soft and 10 being very hard). So while the mattress can give you relief from pressure points, this is definitely not what you would consider a soft mattress.
Even so, the Relaxed Firm is not supportive enough for some sleepers, with too much sinkage (sinking too deeply into the foam layers). Quite a few heavy people and couples feel the mattress doesn't provide enough support to allow them to get comfortable.
The 'Firm' comfort level is the firmer option, with most sleepers reporting that it feels very firm - around 7.5 or 8 out of 10 on the firmness scale. This firmer option is usually preferred by a larger and/or heavier person. So if you are well over 220 pounds or just prefer a harder bed, it may be the better choice for you.
The majority of mattress owners of average body weight and size are satisfied with the firmness of the 'Relaxed Firm' comfort level. But if you are a large and/or heavy or share your bed with your partner, you may prefer the 'Firm' comfort level because it has a little extra firmness and support which is better for supporting more weight.
▲ Top of the Page
Comfort - Is Loom & Leaf a good mattress?
Everyone knows that comfort is the #1 most important factor you look for when choosing a new mattress. A comfortable mattress relieves your pressure points and allows you to rest in a healthy position that promotes proper sleep posture and good circulation.
The good news is that most owners are happy with their Loom & Leaf mattress and report that it effectively helps reduce pain points and pressure points. The foam material does a better than average job of conforming to your body shape. Good pressure relief means you have a better chance of not waking up with a sore shoulder or hip, or your arm falling asleep.
One of the biggest complaints about memory foam is the unpleasant sensation of feeling "stuck" in the mattress. This happens because you tend to sink down into the foam (which usually isn't very responsive to your movements).This also makes it more difficult to change positions.
The Loom and Leaf mattress reduces this problem with a tightly quilted cover which helps keep you from sinking too deeply.
The cover does not contain any memory foam so it has a quicker response to pressure. This helps improve the responsiveness of the mattress so it doesn't have as much of that slow response typical of most memory foam beds. Also, the memory foam in the top layer is medium density foam which responds more quickly to pressure than a higher density memory foam would.
Sleepers found repositioning (moving around in bed or rolling over) on the Loom & Leaf easier than you would expect from a mattress with over 4 inches of memory foam. Some owners say this bed feels more like a spring mattress and doesn't feel like other memory foam beds they've owned in the past.
Feel and Cushioning Depth
The memory foam layer feels a little firmer than you would expect at first. But the foam reacts to your weight and body temperature to soften and mold to your body and allows you to sink into the mattress. The memory foam material slowly adjusts to your body shape. And when you get up, it slowly returns to its original shape - a very different sensation from your ordinary innerspring mattress made of metal coil springs.
A medium cushioning depth feels about halfway between laying on the top surface of your mattress and sinking down deep inside and being cradled and surrounded by it. Sleepers found somewhat less sinkage with the Firm comfort level compared to the Relaxed Firm.
The mattress is not overly responsive to your movements, which is good for sleeping comfort but makes it a little more difficult to move around or change positions in bed. And it has almost zero bounce which is good for isolating your motion, but owners report that is not so good for romantic activities.
If you jump on the mattress, you will land softly with almost zero springback. This can be considered a disadvantage if you prefer the bouncy feel and response of an old-fashioned innerspring mattress. And it may take some getting used to if you've only slept on spring mattresses before.
Back Sleeping
Laying on your back feels firm at first, then you feel the memory foam activating and softening in reaction to your body's heat. You feel like you are sleeping slightly more sunk down into the mattress, compared to a traditional innerspring mattress, but the quilted mattress cover helps keep you from sinking down too deeply into the foam layers.
On a pressure map, you would see that most of the pressure rests on your (head, of course) but also your shoulder blades and backside.
Stomach Sleeping
When you lay on your stomach, you will feel the mattress to be somewhat firm at first, but then the memory foam material is activated by your body pressure, weight and warmth. Then you sink into the foam while it molds itself to your specific body shape. It's not like a soft foam bed that feels soft and squishy all the time. This mattress material gives you sort-of a customized support because of its unique chemical structure.
If you are a full-time stomach sleeper, you may prefer a bed that feels a little more firm than this one, but most stomach sleepers are satisfied with this brand and comfort level. If you lie down on a mattress pressure mapping pad, the readout shows most of the pressure falls on your mid to upper chest area. If you are much heavier than most people, you may prefer a slightly firmer bed.
Side Sleeping
Although the Loom & Leaf is not the ideal choice for every side sleeper, it still has many satified owners who sleep on their sides for at least part of the time they spend in bed. You will feel some slow compression (as the memory foam material reacts slowly to your body shape and weight) when lying on your side or rolling over onto your side at night. Then the mattress will let you sink down into the memory foam beneath the top layer of gel.
Most of the pressure you will feel will be on your shoulders and hips, which is common for side sleepers.
I gave the Loom and Leaf a comfort rating score of 8 out of 10 because it is a very good choice for most average-sized people - especially back sleepers. My score came down a couple of points because two specific types of sleepers find this bed less comfortable than they were hoping for.
Many side sleepers with lighter body weight feel the bed is just too firm for them and causes annoying pressure points in their hips and shoulders. And many large (weighing over 220 pounds) back and stomach sleepers complain that it lacks support which allows them to sink uncomfortably far into the foam layers.
Comfort Score: 8 (out of 10)
Support - Does it provide good support?
The support your mattress provides while you lay on it is an extremely important factor(and a big part of good sleep health). Second only to comfort, good support is what we always want to look for in a new mattress.
A mattress has to be able to achieve the right balance between comfort and support in order to properly support your spine. While at the same time softening enough to reduce the pressure on critical pressure points such as your shoulders and hips. There are two important types of support you want in your mattress: back support and edge support.
Back Support
The key to good back support is spinal alignment. In other words, you want the mattress to keep your spine in a neutral position, with good support for the lumbar (lower back) area.
Unlike a traditional innerspring bed with coils, the support in a Loom & Leaf mattress comes from layers of foam. The 5.5 inches of firm polyurethane foam in the base layer provides most of the support. This layer has a density of 1.5 pounds per cubic foot, which is lower density foam than you find in most other memory foam beds. Higher density foam tends to be more durable and better at supporting more weight.
Most Loom & Leaf owners of small to average body size and weight find the level of support adequate and say it provides a comfortable sleep experience without being too soft.
Large and heavy people who are back sleepers often report they are unsatisfied with the level of back support because their back and hips sink too far into the foam layers.
Edge Support
Sleeping on a mattress with good edge support is important if you sleep with a partner, because you will be sleeping closer to the edge of the bed. You want it to support you well and prevent you from rolling off. It's a key factor if you plan on sitting on the edge of your bed, such as when you are getting up or tying your shoes.
Because they are made of a soft material with not much stiffness or rigidity, memory foam mattresses usually do not have solid edge support.
Other mattress types, such as an innerspring mattress, are often made with more rigid materials that are better at withstanding the daily battering your mattress takes - such as sitting on the edge of the bed when you get up.
Compared to other all-foam beds, the Loom & Leaf mattress has only slightly better edge support.
When you sit on the edge of the mattress, the foam will collapse quite a bit (further than you may expect) but will still support your weight so you can sit comfortably to tie your shoes or get dressed.
Sleepers of small to average size and weight usually find the edge support satisfactory, although sitting on the edge of an all foam bed is certainly a different feeling compared to a traditional mattress made of sturdier materials.
In consumer reviews, many large & heavy people find the edge support disappointing. If you weigh well over 200 pounds, you may find the edge support is not as strong as you would prefer.
Overall this mattress provides an above average level of support for most sleepers, so I gave it an above average score...
Support Score: 7 (out of 10)
Durability - How long will a Loom & Leaf mattress last?
Of course, the best mattress in the world is not much good if the comfort and support doesn't last. All mattresses will deteriorate over time, but a well constructed mattress will last longer than others.
Almost any decent mattress will feel supportive and comfortable when it is brand new. But how will it hold up over time? If you're like me, a big part of getting your money's worth is knowing that your new bed will continue to help you get good, quality sleep for at least several years.
The durability (also known as lifespan or longevity) of your mattress is a measure of how well it maintains its support, shape, height, firmness and most importantly, comfort, over years of daily (and nightly) use.
Now, it might help you to know that the average lifespan of a modern memory foam mattress is about five to seven years. After that amount of time, the foam has deteriorated to a point where it just can't provide the same comfort and support anymore.
The Loom & Leaf was introduced just a few years back in 2015, so the oldest mattress would currently only be four years old.
Since this product was introduced very recently, we have no real way of knowing exactly what kind of durability to expect. There isn't much of a track record we can look at to give us a clue as to how it will perform over time.
We can only guess at durability in the long term: how well this mattress will hold up over the years. It may also be good to take into account how long similar foam mattresses last before they start to sag and lose support.
A common problem you will find with an all-foam mattress like the Loom & Leaf is that they are susceptible to losing edge support over time, simply because there is nothing but foam to maintain support along the edge of the bed. And foam has a tendency to break down and lose firmness over time, with age and frequent use.
The Loom & Leaf has shown good durability in simulated tests, but simulated testing may not accurately recreate the effects of daily use by actual people over several years.
I found an unexpectedly high number of complaints about the mattress holding up over the long term. Mattress owners often report premature sagging and softening of the foam as well as loss of support as the foam breaks down.
There are several possible reasons for this. Medium density memory foam, while more responsive, tends to be less durable than high density foam. And convoluted foam, such as the foam found in the top layer, may break down and form body impressions faster than a solid layer of foam. Also, the foam in the supporting base layer is lower density than many other memory foam beds.
To my way of thinking, in order to earn a top durability score of 10 out of 10, a mattress must maintain its shape, support and ability to provide sleep comfort for a minimum of 10 years.
Based on the consumer feedback I've seen I am a bit concerned about the long-term durability of this mattress which results in a lower longevity rating...
Durability Score: 6 (out of 10)
How To Maximize The Longevity Of Your Bed
Avoid sitting on your mattress, reading in bed (and of course, jumping on it)

Use it only for sleeping (and romance)

Even though adjustable bases are currently all the rage, sitting for long periods on your mattress will just wear it out faster

Remember: a mattress that breaks in - also breaks down

And naturally, it will last longer if used infrequently, as in a guest bedroom
Coolness - Will it make me sleep hot?
Memory foam has some unique advantages that can add a lot of comfort to your bed. But it also has its disadvantages and one of those is that it tends to "sleep hot". If you tend to feel too warm in bed, you should be aware that memory foam mattresses are (in)famous for holding onto heat which can result in a hot, sweaty and uncomfortable night.
This problem is caused by the unique chemical structure of memory foam, which has a tendency to collect heat. Also, this type of foam mattress often lets you sink down deeply into the bed - causing you to be enveloped by the foam and holding in even more of your body heat. Latex foam and innerspring beds do not have this heat retention problem.
The good news is that the Loom & Leaf memory foam mattress is designed with specific features to minimize the heat problem.
First, the bumpy, undulated and tightly quilted cover helps keep you on top of the bed instead of down inside it. The manufacturer has also added a layer of gel to the middle section of the mattress. This reduces but does not eliminate the possibility of overheating in bed.
The top mattress layer is made of convoluted (egg crate shaped) foam which improves air flow and allows heat to dissipate. This foam layer is also infused with gel swirls which can conduct heat away.
Many owners remark that they were afraid the Loom & Leaf would get hot, but it stays much cooler than expected and doesn't sleep too hot. A few people mention that they can feel the cooling gel panel through the cover. If you tend to feel chilly, this bed may even be too cool for you.
Even with these added cooling features it can still feel too warm for some, based on complaints from current owners. If you tend to get overly warm at night and prefer a nice cool bed, this might be a deal breaker. But most people who have slept on a Loom & Leaf say it does a nice job of not retaining too much heat.
Because this is one of the cooler memory foam beds you will find, it rates a pretty good score...
Coolness Score: 8 (out of 10)
Motion Isolation - Will I wake up or disturb my bed partner?
If you share your bed or sleep with a partner most nights, you're going to want to know how well this mattress isolates your movements in bed. If your mattress has poor stability(also known as motion isolation) then your motions and movements will be transmitted across the bed/mattress and you stand a much better chance of disturbing or waking up your partner (and usually in the middle of the night, when it's still way too early to get up!)
Memory foam mattresses are famous for their motion isolation. That's one of the main benefits of the unique material we call memory foam (also known as visco-elastic polyurethane foam.) The Loom & Leaf contains 4 1/2 inches of memory foam on top of a foam core, and like other memory foam beds, gives you outstanding motion isolation/stability.
In fact, this mattress would certainly pass the "wine glass test" where you stand a glass of wine on one corner of the bed and jump repeatedly on the mattress. The chances of having a wine-soaked bed are very small, because of the Loom & Leaf's effective motion isolation.
That's one reason this mattress is a good choice for couples. You can move around on your side of the bed, or even get up with much less chance of bothering your sleeping partner. Also, this all-foam mattress is completely silent - there simply aren't any metal springs or moving parts that could squeak or make noise.
In my research, I only found a small number of minor complaints about motion transfer, so this bed gets an almost perfect score for stability/motion isolation...
Stability Score: 9 (out of 10)
Odor - Does it smell bad or give off chemical fumes?
Another well-known drawback of memory foam is the annoying chemical smell emitted by the foam. This unpleasant phenomenon is known as off-gassing. Of course, nobody enjoys sleeping on a smelly bed, but some of us are more sensitive to odors than others.
Memory foam is a synthetically manufactured foam made of petroleum-based materials and as a result, it produces smelly chemical fumes. The finished memory foam mattress is then vacuum sealed inside plastic and placed into a box for storage or shipment.
This seals in the smelly fumes, which are released when you unseal the mattress and release it from its plastic wrapping.
The Loom & Leaf mattress is certainly made with memory foam. But the mattress foam hasn't been compressed and roll packed - so it has a chance to air out more effectively before it gets to you. This means it usually has much less unpleasant smell than most other memory foam beds.
Despite this, a small number of mattress owners still report that their Loom & Leaf has an unpleasant chemical odor, which usually lasts for a couple of days to several weeks. Very few people complain of an overpowering chemical odor, unlike other memory foam beds on the market.
The sleepers who say their mattress has an unpleasant odor report that it is a mild to moderate smell that goes away in a couple of days to a few weeks.
Since this mattress is less smelly than your average memory foam mattress, I think it deserves a very good rating for odor (or more accurately, lack of odor).
Odor/Outgassing Score: 8 (out of 10)
Sizes - Which mattress sizes are available?
The Loom & Leaf mattress is made in all the standard sizes, from Twin size up to California King size.

| Twin | Twin Extra Long (XL) | Full |
| --- | --- | --- |
| 38 x 75 (inches) | 38 x 80 (inches) | 54 x 75 (inches) |
Queen
King
California
King
60 x 80 (inches)
76 x 80 (inches)
72 x 84 (inches)
Price - How much does it cost?
Twin
Twin Extra Long
(XL)
Full
Queen
King
California
King
$849
$999
$1399
$1499
$1799
$1799
Loom & Leaf costs a little more, but it has some advanced features - like cooling gel, convoluted gel memory foam and an organic cotton cover - you don't find in other memory foam mattresses in this price range. Overall it has good performance for the price, so I think it's a very good value for the money...
Value Score: 8 (out of 10)
Shipping - How will the mattress be delivered to me?
Most mattresses currently sold online are roll packed and stuffed into a box then shipped to you like any other package.
But Loom & Leaf does things differently. The mattress is not compressed and placed into a box for shipping. Instead, the mattress is delivered and set up in your home by local contractors.
With a typical foam bed-in-a-box, it's on you to carry the heavy box to your bedroom, remove the vacuum-sealed mattress from the box, cut open the plastic wrapper and let the foam mattress restore itself to its full size.
Loom & Leaf is all set up for you - a big advantage and a service that is usually not offered by online mattress brands.
The full-service "white glove" delivery and setup is included in the purchase price. They will also remove your old mattress at no extra charge.
Delivery can take up to 2-3 weeks, but usually takes about a week. And mattress setup usually takes less than 30 minutes.
You do have to be home to accept delivery. Also, Loom & Leaf's complimentary full-service delivery is only available in the lower 48 states of USA and Canada and to Alaska by special arrangement.
Buy - Where can I buy a Loom & Leaf mattress?
You can purchase a Loom & Leaf mattress at the company's website. It comes with an in-home trial of 120 days - which means you can sleep on the mattress for four months and still return it and get a refund if you don't like it.

Bottom Line - Who is the Loom & Leaf mattress best for?
The designers of the Loom & Leaf have truly gone the extra mile in trying to minimize the drawbacks of memory foam - and for the most part they succeeded. And like any bed, it's a better choice for sleepers with specific needs and preferences...

The Loom & Leaf might be the right mattress choice if you...
Prefer a bed that feels more firm than soft
Like a comfortable mattress that relieves your pressure points
Want a mattress with a medium amount of memory foam feel
Don't want to disturb your partner when you get up
Definitely want a memory foam mattress - but need it to sleep cooler
Want a new mattress that is not compressed in a box
Prefer an all-foam bed
Don't mind a small possibility of offgassing
Have a mid-range budget
The Loom & Leaf may not be the best choice if you...
Prefer a very soft mattress
Want a bed with lots of bounce
Do not enjoy the feel of memory foam
Are a large/heavy person and want strong edge support
Do not like all-foam mattresses
Sleep on your side and are a thin/lightweight person
Are extremely susceptible to overheating in bed
Want zero possibility of offgassing
Need a cheap mattress
Let me know what you think about this review...

▲ Top of the Page