Mattress Reviews - Bed Comparisons Ensure The Best Sleep Possible
The reviews in this section includes older, established brands and also some less famous mattress brands that may not be familiar to you. We also explain how you can get the most benefit from our articles and reviews written by consumers.
Mattress comparisons are an important tool for making one of the more important purchases of your life.
If you are going to spend money on a new mattress, a little research will go a long way to ensuring that your money is well spent and that you are getting a good value for the long term.
Think about the amount of sleep you get each night. Most adults get between six and eight hours of sleep. Over your entire lifetime, you will spend more time on your bed than any other item of furniture in your house.
Mattress Brands
Banner Mattress - Custom Made Mattresses And Winning Models
IKEA Mattress Overview - Do IKEA Mattresses Make Cheap And Comfortable Beds?
King Koil Mattress Collection Overview
Kingsdown Mattress Overview - Are Kingsdown Mattresses Overrated or Bedroom Royalty?
Lady Americana Mattress Review - A Lady Americana Mattress for Better Sleep
Sealy Mattress Overview - Sealy Models, Reviews and Prices
Serta Mattress Overview - iComfort, Perfect Sleeper & Best Serta Mattresses
Sleep Number Bed Reviews - Select Comfort Bed Problems and Benefits
Tempur-Pedic Mattress Overview - Make An Investment In Quality With Tempur-Pedic Beds
Mattress Models
Simmons Beautyrest Spa Collection - What's In It for Consumers?
Simmons Do Not Disturb Mattress - Reviews Of The Do Not Disturb Collection
Tempur-Pedic Celebrity Bed Review - Will You Sleep Like A Celebrity?
Why Are Bed Mattress Reviews Important?
Why shouldn't you just go to the store and buy the first one that looks good?
Even though houses and cars are more expensive than beds, you will spend more time in bed than in your car. At the same time, beds have more impact on your health and well being than a house or a car.
You won't find people complaining that they are feeling run-down and achy just because they drive a used car. The same can't be said for a mattress.
You really can't compromise on your mattress purchase. With a good mattress your chances of finally getting that elusive good night's sleep filled with sweet dreams is much better. Without one you could possibly exacerbate joint and back pain and even feel chronically fatigued. There is no reason to compromise your health and comfort.
Most mattresses you purchase will last you for at least ten years. Some mattresses will even last thirty or forty years with good treatment. They don't go out of style and you will always use it. It is not so much a purchase as an investment.
Since they are an investment, don't expect to get a good night's sleep on just any cheap mattress. Many mattresses are expensive. That is because they are employing the latest technology and costly materials.
Mattress Comparisons: Best Ways To Compare Mattresses
Today there are many different types from which you can pick even before you start to compare mattress brands and models. They are: inner spring, latex, memory foam, waterbed, and air mattresses.
Each of these types of mattresses varies in firmness, durability, price, and ease of use. Each type has its benefits and drawbacks. Reading through our objective mattress comparisons will provide you with the facts about each type.
You could go to the mattress company's website to find out about memory foam. But they manufacture that kind of bed and will only tell you the good things. Look for sources of unbiased reviews.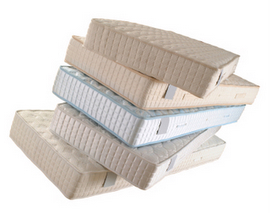 The next reviews you are going to want to read are about specific manufacturers and brands. Look at what other consumers are saying about comfort, durability, price, and firmness.
Reading candid consumer mattress reviews is probably the best thing that you can do before you make your mattress purchase. Even negative reviews will be useful to you.
Once you have decided which type and brand of mattress is right for you, a good idea is to go to a store to compare mattresses. It is very important to lie down on mattresses in the showroom before you choose one. Don't feel shy about taking off your shoes and lying down; that's why the mattresses are there.
Lie on the bed for at least five minutes each in the positions that you most often sleep in. See if you feel any pressure on your joints. Test how easy it is to get on and off the bed. If you share your bed, go with your partner so you can both lie on it together.
After reading bed mattress reviews and doing an in-store mattress test you can either purchase it from the store or from an online retailer. You can usually find a better deal online.
After you read a wide variety of mattress reviews and compare mattresses in person, hopefully you will find yourself with a wonderful bed at a reasonable price that will give you years of great sleep.
Submit Your Mattress Review Here
Share your opinions with other visitors of this site and help them to make a better choice.
Consumer Mattress Reviews
Click below to see reviews written by other visitors to this page...

---
Return To Mattress Wiz Homepage